The Bad Omen of 'Finding Dory'
Does Pixar's worsening case of sequel-itis mean the studio's heyday is already past?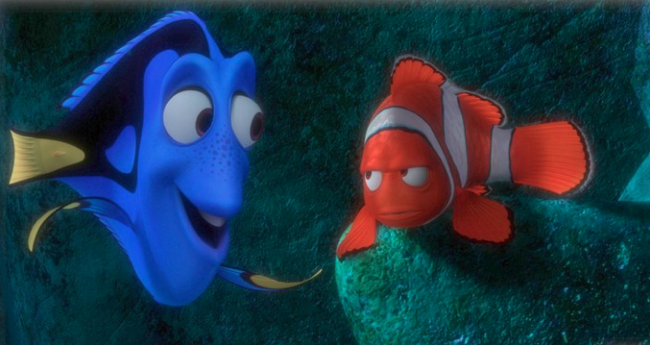 Disney / Pixar
Say it ain't so, Pixar. Yes, Finding Nemo was a lovely film. And yes, Dory, the absent-minded regal tang voiced by Ellen DeGeneres, was the best character in it. But Finding Dory? Coming to a theater near you just in time for the 2015 holidays? Really?
I recognize no equal in my love for Pixar. Twice in a row (Wall-E and Up), I picked a Pixar film for best of the year. Not best animated film; best film, full-stop. In my moviegoing life I have never seen a sustained run of excellence from any director, star, or other studio that can match Pixar's output from 1995 (Toy Story) to 2010 (Toy Story 3). The worst of their movies (A Bug's Life, Cars) were good; the best (The Incredibles, Wall-E, Up) were sublime. Even the sequels the studio produced, which it limited to updatings of its first feature, Toy Story, were brilliant.
Then came 2011's Cars 2, to date the only genuine misfire the studio has produced. Monsters University, due out this summer, doesn't look as though it will be any better, though I'd be delighted to be proven wrong. (Last summer's non-sequel, Brave, while very good, was also a bit of a disappointment by Pixar's excruciatingly lofty standards.) And now, we have Finding Dory sloshing toward us.
To what do we owe this sudden outbreak of sequel-itis? Well, Finding Nemo is the third-highest grossing animated film—and the best-selling DVD overall—of all time, which might have something to do with it.
Moreover, to at least some degree, the original Pixar team has been turning its attentions elsewhere. The studio's first 10 features were all directed by one or another of the immensely talented quartet of John Lasseter, Andrew Stanton, Pete Docter, and Brad Bird. But of late Lasseter has Disney Animation to oversee in addition to Pixar, and Bird (Mission: Impossible—Ghost Protocol, the upcoming 2014 Tomorrowland) and Stanton (John Carter) have been trying their hands at live-action. Of the last three Pixar features—and the next two coming down the pipeline—just one has been (or will be) directed by a member of that original quartet.
So, has Pixar's heyday passed? Only time will tell, and I hope not with all my heart. I can't wait for Docter's The Inside Out (also scheduled for 2015), and it's a reassuring sign that Stanton has agreed to direct Finding Dory. And who knows? Perhaps Monster's University and/or The Good Dinosaur (due in 2014) will rediscover Pixar's unique magic.
What I do know is this: If Pixar's films seem to have been slipping back into the pack of excellent-but-not-transcendent animated features of late, it is in part because that pack has dramatically lifted its game. Kung Fu Panda, How to Train Your Dragon, Despicable Me, Tangled, Rise of the Guardians, and a dozen other recent offerings—animated filmmaking has rarely, if ever, produced such quality in such quantity. And it is very, very hard to imagine that this would have happened if Pixar hadn't been around to show Hollywood that animated films could be such good films (and, not incidentally, such profitable ones).
So here's to you Pixar: Even when you're not making better movies, you're making movies better.