The $5 Million Question: Should College Athletes Buy Disability Insurance?
Gifted student-athletes sometimes buy athletic-disability insurance to secure their potential pro earnings, but the expensive policies almost never pay out.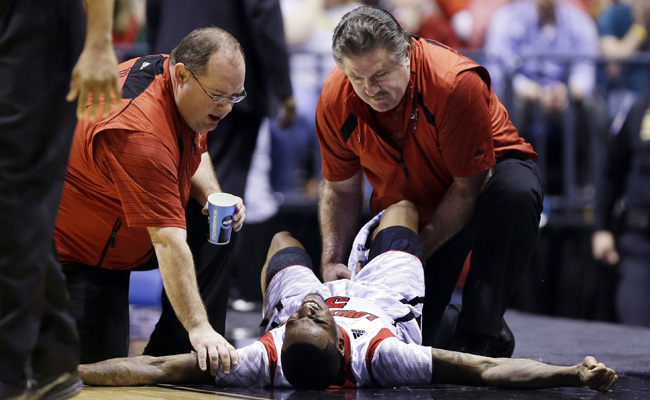 AP / Michael Conroy
Kevin Ware's grisly leg fracture during Louisville's run to the title was excruciating to watch for anyone—but especially so for NCAA athletes, who were reminded of how quickly and violently hopes of an eventual professional career can be put in jeopardy.
Mishaps like Ware's help explain why athletic-disability insurance policies, once reserved for elite professionals and their clubs to protect the fragile appendages of valuable superstars for exorbitant amounts of money, are now fairly common among student-athletes. In just the last couple months, Texas A&M's Heisman Trophy winning quarterback Johnny Manziel and South Carolina defensive back Jadeveon Clowney both garnered headlines for their pursuit of insurance policies against career-ending injuries. Kentucky basketball big man Nerlens Noel, who tore his ACL in mid-February, reportedly paid between $40,000 and $60,000 for a $10 million policy through a private underwriter. Before Noel, Stanford quarterback Andrew Luck had a maximum policy of $5 million through a program known as Exceptional Student-Athlete Disability Insurance (ESDI) that the NCAA provides student-athletes it predicts will likely be high draft picks.
"Oh yeah, a lot more players are getting it, and if you watched the basketball game [that] Sunday, that's the reason why you buy it," said Dan Verdun, private insurance consultant at New York City-based Frenkel and Co., referring to the game during which Ware was injured.
But these policies, meant to hedge against risk, are risky in themselves: None of these student-athletes is likely to ever collect a dime, even if they are hurt. These guarantees cover "permanent total disability," meaning only policyholders who are never able set foot on a field or court again—not simply those who suffer injuries that may reduce their earning potential—can file a claim. With relation to auto insurance, it's the equivalent of having to completely total your car before ever being eligible to receive a payout. Couple that with the prohibitive cost of buying a high-premium policies for these unpaid athletes, and you've got another dubious element in what many believe is an already-absurd amateur system.
Of the thousands of policies bought over the years, virtually no college athlete has successfully filed a disability insurance claim. Verdun said he couldn't think of any. In the last 15 years, only one player is publicly known to have benefited from this kind of coverage: former University of Florida defensive tackle Ed Chester, who was projected to be a first-round NFL draft pick in 1998 before blowing out his knee after returning as a senior. He never played again, collecting $1 million on a private policy that was obtained for $8,000.
Since its inception nearly a quarter century ago, the odds with the NCAA's program aren't much better. Much of the reason for this is that advancements in modern medicine make recovery from once perceived career-ending setbacks much more likely.
"The number of payments has been relatively small through the years," says Juanita Sheely, NCAA travel and insurance director, "probably less than a dozen, and that's primarily because in order to collect on the benefits, you have to be completely unable to play your sport. As medical technology has advanced, there's a lot of good rehab facilities and procedures out there that, except for the most dire of injuries, most of the time you can come back from it."
The University of Miami's Willis McGahee, for example, wrecked his knee in the 2002 Fiesta Bowl and would have collected on a $2.5 million policy, purchased just weeks before the career-threatening injury, had he ultimately been unable to return to the gridiron. South Carolina running back Marcus Lattimore critically hurt his knee this past October, but still stands to be drafted come the end of the month. Likewise, Ware's compound fracture to his leg, a similar injury to the one that ended Washington Redskins quarterback Joe Theismann's playing career in 1985, is now mostly thought of as repairable with surgery and proper rehab time.
Despite the low probability of payout, the fees for players are steep: The premiums for the NCAA's ESDI program, which has existed since 1990, vary by sport, position, and preexisting injuries, but cost upwards of $40,000. It's available to players projected as draft picks in the first three rounds for the NFL and NHL, and first-rounders for the NBA, MLB and, most recently, the WNBA. Between 100 and 120 athletes participate per season, a number that has stayed constant in recent years, according to the NCAA. Increasingly popular commercial underwriters like Lloyd's of London or Frenkel—whose policies may come with fewer restrictions than the NCAA's—can cost more.
The NCAA's ESDI program does provide the advantage of an automatic low-interest loan for the premium where payment is not due until the student-athlete either signs a pro contract, the benefits are dispersed due to a catastrophic injury, or the policy expires (usually when the student leaves school). But if, say, the athlete ultimately never makes big bucks, it's practically a student loan north of the average American's annual salary that immediately comes up for repayment in full. With private underwriters, the risk can be even greater. There, a student-athlete may need to secure the initial cost of the premium through alternate means if that amount of cash up front is unavailable. Premium finance companies are one route, though there are others.
"I've actually seen a family refinance their home to obtain equity from a home to purchase the policy," says Verdun, who has provided athlete disability coverage for six years. "So there are unconventional ways of finding the premium financing."
Even with the price tag and low likelihood of payout, athletes keep buying. The present uptick in popularity for this kind of insurance may have begun with McGahee. Since him, thousands of other college athletes seemingly destined for the pros, including several Heisman winners, from flashy running back Reggie Bush (2005) to high-profile quarterbacks Carson Palmer (2002), Matt Leinart (2004), and Tim Tebow (2007) just to name a few, have purchased policies.
Palmer's father, Bill, told the L.A. Times in 2005 that he labored over the decision to get coverage, but broke down and bought policies for his son's 2001 and 2002 seasons at USC through Lloyd's of London.
"I wrestled with whether or not it was worth it," said Bill Palmer. "We did it because he wanted to. I told him it was a loan."
Ultimately, the impulse to buy, to a greater degree than with forms of insurance, boils down to one of wanting to protect against an eventuality that's extremely unlikely, but that could be extremely devastating.
"Quite honestly, I think the program is really meant to give student-athletes an option," says Sheely. "The student-athlete and his family really just need to take a look at it and decide if it's the best thing for them. They've got to decide for themselves, is it a value to protect their future earnings, or not?"