Michigan's Threes vs. Louisville's Steals: Who Wins the NCAA Championship?
A crash course in what to expect tonight from Louisville and surprise contender Michigan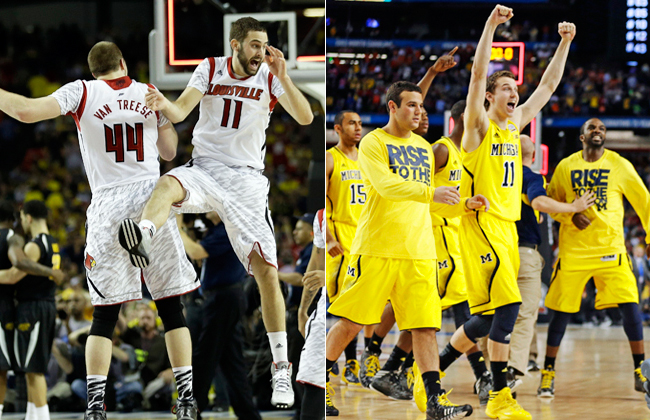 AP

MORE FROM BLEACHER REPORT:
Weird Athlete Faces
Ripped-Off Athletes
The Best Sports Photobombs
---
Tonight's NCAA basketball championship game will feature a lot of bests. Louisville has been the best team in the country ever since the end of January, but Michigan is peaking at the right time.
On the sidelines, Monday's game will feature an excellent coaching matchup between Rick Pitino and John Beilein. On the court, there will be the best college basketball has had to offer this year in Michigan's Trey Burke and the best the NCAA tournament has had to offer in Louisville's Russ Smith.
Here's a preview, along with some matchup breakdowns and a prediction for tonight's title game.
All advanced statistics via KenPom.com (subscription required) unless otherwise noted.
Getting to Know Louisville
Record
34-5 (14-4 Big East)
Seed
No. 1 (Midwest Region)
How They Got Here
Def. North Carolina A&T (16), 79-48; Def. Colorado State (8), 82-56; Def. Oregon (12), 77-69; Def. Duke (2), 85-63; Def. Wichita State (9), 72-68.
Season Breakdown
After making the Final Four last year, Louisville expected to be in this position. The Cardinals started fast out of the gate, winning 16 of their first 17 games.
Then Louisville lost three in a row, dropping games against Syracuse, Villanova, and Georgetown. The offense struggled, and many people around the country cooled on Louisville's title chances.
Since then, the Cardinals have won 18 of 19 games with the lone defeat coming in the five-overtime thriller at Notre Dame. No NCAA team in the country has played better basketball than Louisville since the end of January.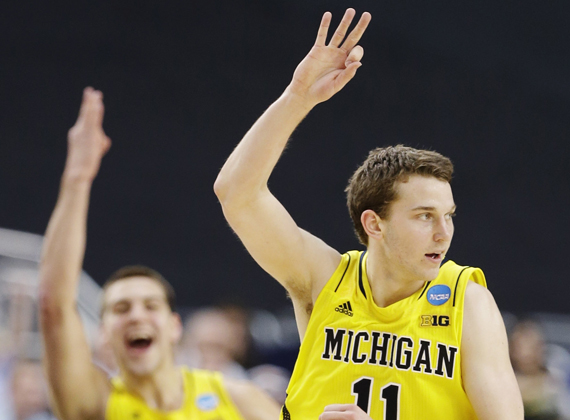 AP
Getting to Know Michigan
Seed
No. 4 (South Region)
How They Got Here
Def. South Dakota State (13), 71-56; Def. VCU (5), 78-53; Def. Kansas (1), 87-85 OT; Def. Florida (3), 79-59; Def. Syracuse (4), 61-56.
Season Breakdown
Michigan is one of the youngest teams in the country. The Wolverines only have two upperclassmen, juniors Tim Hardaway Jr. and Jordan Morgan, in their playing rotation, and three freshmen are in the starting lineup.
Despite its youth, Michigan began the season 20-1 and climbed to No. 1 in the country the last week of January. Then the Wolverines hit a few rough patches, losing six of their last 12 games leading into the NCAA tournament.
Now, Michigan has returned to its early-season form, winning three of its five NCAA tournament games by double digits.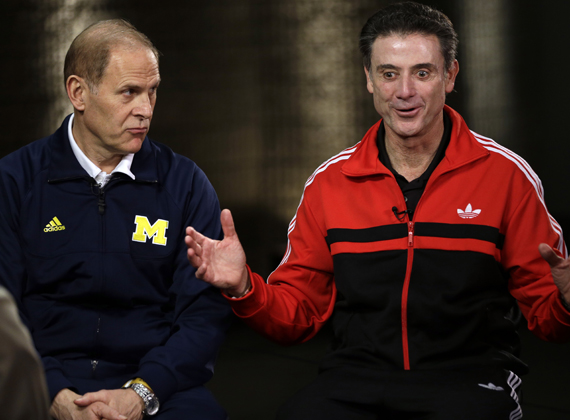 AP
Coaching Matchup: Rick Pitino vs. John Beilein
Pitino's Background
Rick Pitino is in his 27th full season as a college head coach. He has taken three different schools—Providence, Kentucky and Louisville—to the Final Four, and this is his seventh time overall.
If Louisville wins the national title, Pitino would become the first coach in the history of college basketball to win a national title at two different schools. He won the 1996 national championship at Kentucky.
Beilein's Background
From junior college to Division I and everything in between, John Beilein has been a head coach at every level of college basketball. On top of that, he has won everywhere he has roamed the sidelines, with his teams finishing above .500 in 31 of his 35 seasons.
This is Beilein's deepest run into the NCAA tournament. Previously, he made the Elite Eight in 2005 at West Virginia before, coincidentally, losing to Louisville and Rick Pitino.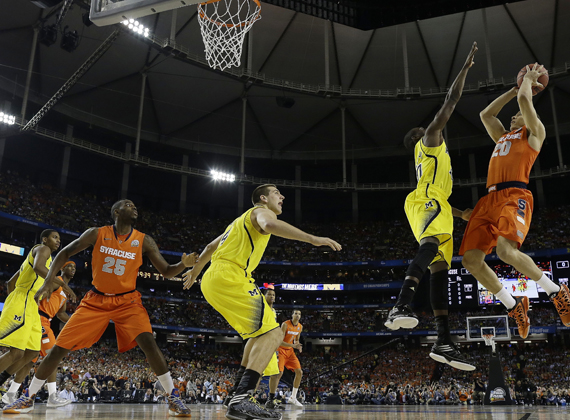 AP
Louisville's Offense vs. Michigan's Defense
Louisville's Offense
Louisville is at its best when attacking the basket and not settling for outside shots. That starts with Russ Smith, who is electric with the ball in his hands.
Outside of Smith, there are a number of guys who could step up to get double-digit points. Eight players have scored at least 10 points in a game for Louisville during the NCAA tournament. Luke Hancock was the latest unlikely hero, scoring 20 points off the bench against Wichita State.
Michigan's Defense
The big question all year for the Wolverines has been whether they played good enough defense to win the national title. Things didn't look great when they gave up 84 points in a loss at lowly Penn State on Feb. 27.
However, Michigan has picked it up in the NCAA tournament, holding four of its five opponents to fewer than 60 points. Overall, teams have shot 44.6 percent from the field and just 24 percent from beyond the arc against the Wolverines.
Key to the Matchup: Louisville's ability to penetrate
Louisville will try to get into the lane, and whether the Cardinals can succeed will go a long way in determining the outcome of the game. Michigan does not have an intimidating shot-blocker down low, so the Wolverines will have to make things difficult for Louisville on the perimeter.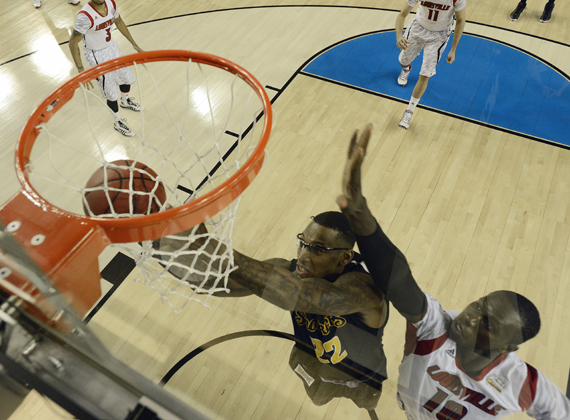 AP
Michigan's Offense vs. Louisville's Defense
Michigan's Offense
Michigan ranks first nationally in offensive efficiency. The Wolverines are excellent at taking care of the ball, which begins with Trey Burke. Burke does a nice job scoring and distributing to a number of outside sharpshooters.
Down low, Mitch McGary has had a breakout NCAA tournament, averaging 16 points and 11.6 rebounds per game. He brings great energy and provides the Wolverines a legit scoring threat down low.
Louisville's Defense
Louisville ranks first nationally in defensive efficiency. The Cardinals like to get out and pressure the perimeter. They have 56 steals so far in their five games in the NCAA tournament.
Center Gorgui Dieng provides a nice security blanket for Louisville, averaging 2.5 blocks per game. If a perimeter player gets beat out front, he knows Dieng can often bail him out and protect the rim.
Key to the Matchup: Michigan's guards against Louisville's pressure
Michigan's offense ranks first in turnover percentage, while Louisville's defense ranks second at forcing them. The Wolverines already carved up VCU in the NCAA tournament, and if Michigan takes care of the ball, it should feel good about its chances.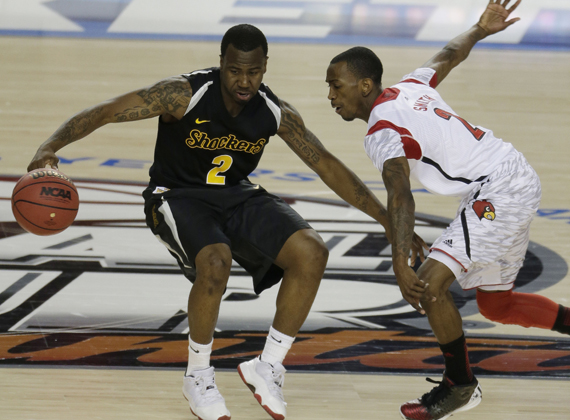 AP
Louisville's Strength and Weakness
Strength: Pressure defense
Louisville's effectiveness begins and ends with its defense. The Cardinals like to press full-court, and they effectively switch between zone and man defenses throughout the course of a game.
That begins with guards Peyton Siva and Russ Smith. They are both lockdown defenders and almost seem to take turns pestering the opposing team's primary ball-handler. Siva and Smith combine to average 4.3 steals per game.
Weakness: Outside shooting
Louisville shoots just 32.9 percent from beyond the arc. Part of the reason Kevin Ware was such a big loss is that he shot 40.5 percent from three. He could come off the bench and knock down an outside shot.
Luke Hancock makes 37.9 percent from three, but no other healthy Cardinals player shoots better than 33.3 percent from deep. If the Cardinals hoist a lot of shots from the outside, that is not a good recipe for success.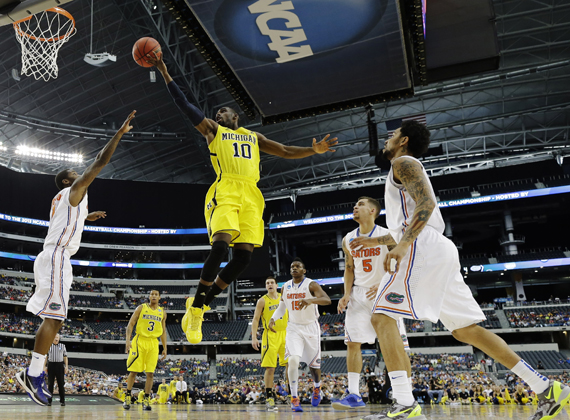 AP
Michigan's Strength and Weakness
Strength: Shooting
John Beilein's offense is known for good ball movement and crisp cuts, but it is also known for great outside shooting. This Michigan team is certainly no different, making 38.3 percent from three on the year.
That makes the Wolverines tough to defend. Teams can't help too much on Trey Burke for fear of leaving a shooter wide open on the wing.
Weakness: Protecting the rim
Michigan does not have a shot-blocker in the middle to discourage opponents from attacking the lane. Mitch McGary is big (6'10", 250 pounds) and physical. However, he is not a shot-blocker, averaging 0.7 blocks per game this season.
Louisville will attack the rim Monday night with little fear that its shot attempts will be sent back.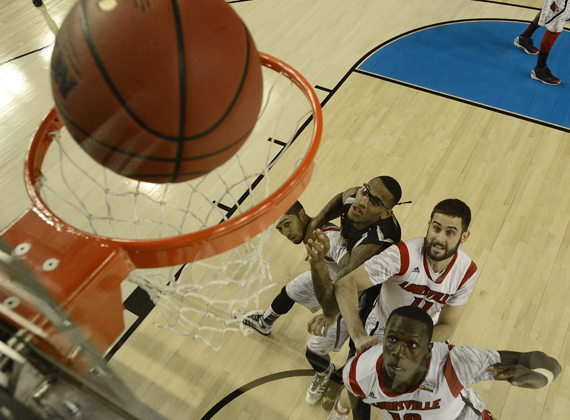 AP
Matchup to Watch: Louisville PG Peyton Siva vs. Michigan PG Trey Burke
What to Expect
Peyton Siva is one of the best perimeter defenders in the country, and he will face the winner of multiple National Player of the Year awards in Trey Burke.
Physically, the two are very similar. Siva is 6'0", 185 pounds, while Burke is 6'0", 190 pounds. Both are solid athletes with great quickness.
Burke has been fantastic as a point guard who balances scoring with distributing. He averages 18.5 points and 6.8 assists per game.
Siva averages 2.2 steals per game and has 10 thefts so far in the NCAA tournament.
Why It Will Matter
Siva doesn't have to win his matchup with Burke for Louisville to win, but Siva at least needs to keep him in check. In Michigan's seven losses, Burke averaged 3.4 turnovers, which is well over his season average of 2.2 giveaways per game.
Burke will attack Siva and try to get him in early foul trouble, something Siva has struggled with a few times this season. With Kevin Ware out, Louisville's depth in the backcourt took a big hit. If foul trouble relegates Siva to the bench, that will be bad news for the Cardinals.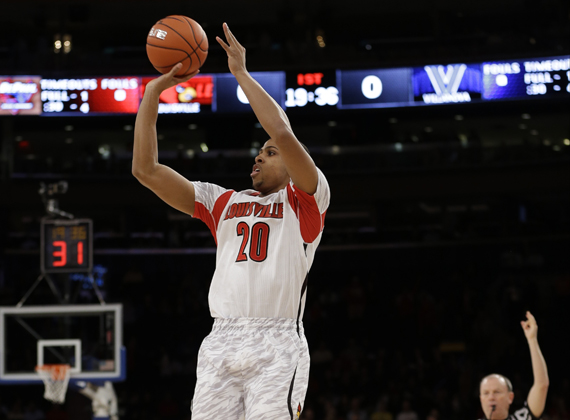 AP
Why Louisville Could Win
Louisville Will Win If...
It shoots fewer than 15 threes.
The Cardinals got away from attacking the basket against Wichita State and struggled with shot selection the majority of the game. Overall, Louisville shot 25 threes compared to just 24 from inside the three-point line.
Tim Henderson came off the bench to knock down a couple big outside shots in the second half, and Russ Smith hit four threes. However, that is not how Louisville ultimately overtook the Shockers.
That happened when Luke Hancock got aggressive and started taking the ball to the basket. The rest of the team followed suit. The Cardinals mixed in some threes from that point, but they were good shots that resulted from Louisville's aggression in attacking the lane.
Louisville's offense has to go inside-out, which typically starts with penetration from its guards.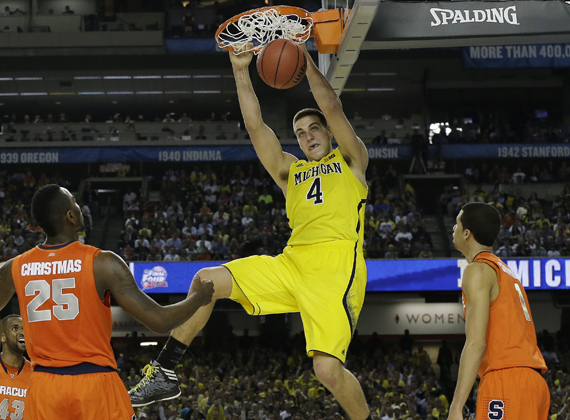 AP
Why Michigan Could Win
Michigan Will Win If...
Mitch McGary has a double-double.
McGary has given a perimeter-oriented team an offensive threat down low, and that is a big reason Michigan will play in the national title game.
His matchup with Louisville center Gorgui Dieng is one to keep an eye on. Dieng is a great shot-blocker who could make life difficult for McGary down low.
However, McGary fared well in the Sweet 16 against Kansas center Jeff Withey, who might be the best shot-blocker in all of college basketball. McGary had 25 points on 12-of-17 shooting and 14 rebounds in that game.
If McGary continues to produce the way he has all tournament long, Michigan will be in good shape.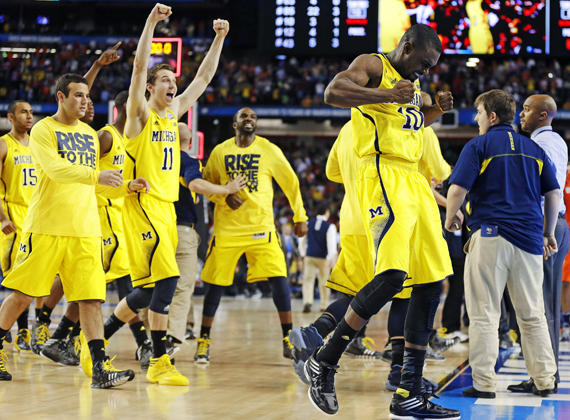 AP
Final Prediction
Monday's national title game should be a fun matchup on one of sport's biggest stages. It features the best defense in the country in Louisville against the best offense in the country in Michigan.
There are intriguing individual matchups all over the floor, from Siva against Burke in the backcourt to Dieng against McGary down low.
Even though Louisville is the top overall seed in the NCAA tournament and Michigan is a No. 4 seed, the Wolverines have more NBA talent on their roster.
No one protects the ball better than Michigan, and with their newfound offensive balance with McGary down low, the Wolverines will win their first national title since 1989.
This post also appears on Bleacher Report, an Atlantic partner site.