Live First, Write Later: The Case for Less Creative-Writing Schooling
An unexpected brush with professional jealousy reminds a writing teacher that it's what you have to say, not how well you've learned to say it, that's the basis for great stories.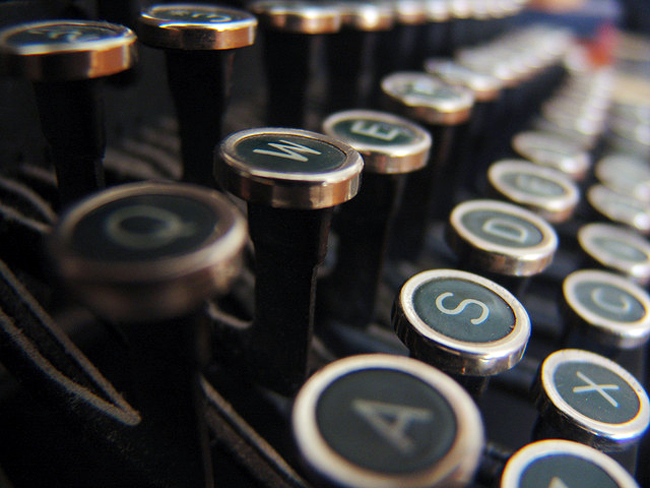 The other day, a college student sent me an autobiographical essay to read, following my visiting lecture to his creative-writing class. I had written my e-mail address on the white board, and he was the only student who took me up on my general offer of help. What I received wasn't well written. It suffered from too much telling and not enough showing—a common shortcoming in student narratives—but buried in its moony diary entries was the germ of a compelling story. I won't spoil it here, but seeded in the essay—as I saw it—was the hook of a young man's shocking decision to walk away from the pinnacle of his adolescent dreams in order to pursue a far less certain adult future. A journey of destiny aborted and reimagined, a tale of courage and risk. Potentially more than a typical student essay.
As my wife and kids watched a TiVoed Glee, I wrote several paragraphs of encouraging and, I hoped, constructive editorial notes, and didn't give it much more thought until I received an e-mail from the student two days later. He graciously thanked me for my comments and wrote ecstatically that his rough piece had just been accepted for publication by The New Yorker online! Apparently, I wasn't the only one who recognized an undeveloped story lurking within the wandering pages. According to him, "I met with the editor I'm going to work with, and it might as well have been you talking." Lucky me.
I shared the news with the student's creative-writing instructor who'd invited me to class, and she—like me, like every coffee-shop writer in New York—was shot through with a mixed serum of emotions: happy for a nice person's success; astounded by the coup of his incomplete writing's placement; envious of the ease at which he'd reached this peak; stunned by the willingness of the magazine to work with material this preliminary and a writer this unproven. Having labored over a finely tuned story that was recently rejected by the same publication, the bite of the student's triumph stung. I'd be lying if I didn't admit that I felt like a fool, trying to chisel perfect sentences when it clearly didn't matter. If you had a story in you—as the student did—the quality of the writing wasn't important, even for the esteemed New Yorker, reflecting this period when writers are tasked to compete with piano-playing cats rather than with F. Scott Fitzgerald. Story is and has always been king, but now more than ever before, it is the entire court. Print and online publications are ginned up to shine an anecdote, an experience, into a gem that will be plucked and dittoed through the social media.
After I was talked down from the ledge by a patient friend, however, I realized that the student's scenario represented something I believe about the essence of good writing: experience matters. And, unintentionally, his success illuminated how the process of teaching writing to aspirants is often misguided or flat-out wrong.
The New Yorker event occurred in the same week that Helen Zell, the wife of billionaire Sam Zell, contributed $50 million to the University of Michigan's graduate program in creative writing, considered to be the largest gift ever of its kind. The extraordinary donation is intended to support in perpetuity "Zellowships," annual $22,000 stipends to program graduates so that they can continue to focus on their writing for an additional year a little more easily, without the need to feed themselves through the time sucks of teaching or waiting tables or joining the Merchant Marine. The idea is noble, but it's a mistake. And I say this as someone to whom a 22-grand cushion would be manna from heaven. The last thing that a young writer needs after the cloister of the classroom is another cloister.
Ideally, creative writing programs should exist to guide students in discovering their voices within the nurturing world of the classroom. But what they can't do is provide writers with real-world experience and the perspective to make sense of it, without which there is no storytelling, there is no "editor I'm going to work with" giving the green light. Creative writing programs can teach you how to write, but they can't teach you what to write. No instructor or Zellowship can transform you into a storyteller without experience strutting your ambition.
The response to the Zellowships from the professional writing community has divided along the fault line of my reaction to the student's New Yorker acceptance—critical disbelief tinged with envy. I can imagine the competitive fever rising now among the elite creative writing programs to recruit other deep-pocketed Zellofactors, but that would only compound the mistake. The sequence is backwards—first, writers need to live outside the classroom, then they can learn how to tell their story. The guy who sold the essay was a non-traditional student; he had come to school after years of plugging through a unique situation that became his source material. That what was got the magazine's attention, not the holes in his sentences. If he'd sat in a classroom during that vital time, he wouldn't have had a story to tell, nor would he be sitting at home eking out the pennies of a stipend. Whether or not this debut break is a springboard to an enduring writing career for him will depend on the other lessons he'll learn in his own way.
I knew this, but, in my hysteria, I forgot it. Years ago, I heard Norman Mailer lecture about how he'd worried that the publication of his debut novel at 23 would rob him of the necessity to first live a life, to have the raw material he'd need to summon at the keyboard, missing out on the imperative to, in his words, "have been forced to work for a man I hate." His particular literary punch hit me at a rough time, and could have sounded like a poor little rich boy's problem. I was a decade out of my own graduate school writing program and floundering and unhappy about the state of things. However, sitting in the packed theater that night, I was awakened to something I'd never heard in the classroom. I've been forced to work for a man I hate, I thought. I've struggled, I've lost, I've failed. I've got it all! It was only then that I realized where my stories should come from, what it was I had to say, that I should stop trying to write like Scott Fitzgerald and start writing like me. For aspiring writers, fighting through the trials of maturation can be infinitely more productive than subsisting on a generous, but limiting, stipend. Zellians beware.
Later this spring, I'll be teaching an evening writing class to adults who've worked all day long, some of them—it surely must be—for a man or woman they hate. In the first meeting, I plan to show them examples of powerful, polished writing, but I'll also have them look at the not-very-good student essay that made it out of the classroom on the strength of the mettle at its core. When one of the men or women tells me during the semester that the draft they've been working on has just been accepted for publication, I'll understand.