Kid Rock, Progressive Hero: Why He's Right to Charge $20 Per Ticket
The most popular touring musicians can afford a pay cut. Why is a conservative rocker one of the few to lower ticket prices so that fans of lesser means can attend?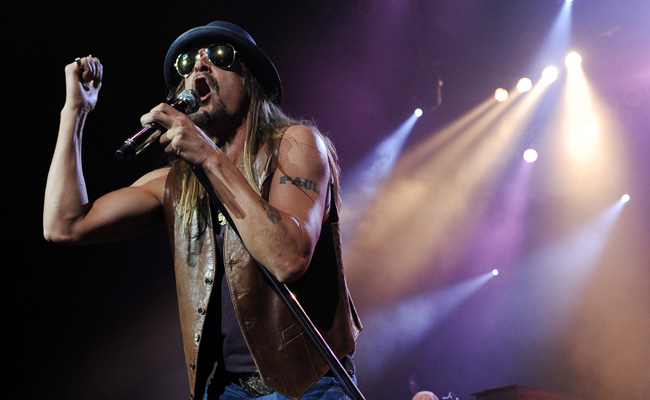 AP / Jeff Daly / Invision
Judging by the touring practices of music's millionaires, rock and pop—once the sound of youth and rebellion—are now intended for the elite.
Justin Timberlake and Jay-Z are charging more than $200 to attend their "Legends of Summer" tour. Admission into Red Hot Chili Peppers concerts costs $150. The Rolling Stones, who in the 1980s were the first band to break the $20 barrier, have priced most of the tickets for their summer tour at a staggering $650 apiece. Mick Jagger, who on "Salt of The Earth" says "let's sing for the hard working people," recently told the Chicago Tribune, "If you really can't afford a ticket, it's sad. I feel bad about that."
But if he and other superstars truly "felt bad" about pricing many music fans of moderate means out of their live performances, they would simply charge less for admission. That'd mean making only a few million dollars off a tour, rather than tens of millions. Alan Krueger, an economist at Princeton University, studied the touring industry, and reported that "big name" artists take between 70 and 90 percent of the ticket fee. In their book, Ticket Masters: The Rise of The Concert Industry and How the Public Got Scalped, journalists Dean Budnik and Josh Baron write that the difference between a $75 and $150 concert cost comes down to how much money the bands want to bring home.
Granted, a few mega-famous musicians choose not to gouge their fans. Garth Brooks, for example, never charges more than $25 for tickets, except when he plays his limited engagement in a 50-seat Las Vegas theater. That's despite incredible demand: Brooks rarely performs, and sold out nine nights in Kansas City in 2007 and nine nights in Nashville in 2010. Even though he manages to make his live performances affordable, no one is likely to catch him clipping coupons.
On this summer's touring circuit, there's a new populist performer—and it's not the "champion of the working class," Bruce Springsteen, who asks fans to pay between $120 and $200 to hear songs about helping the poor.
It's Kid Rock, a Romney-supporting, registered Republican.
No ticket for his co-headlining tour with blues/rock legends ZZ Top will cost more than $20. "Athletes and musicians make astronomical amounts of money," the rocker from Detroit told Rolling Stone. "Shouldn't we all take less and pass some of that money onto others? Think about firefighters, teachers and policemen."
In the same interview Kid Rock said, "We're all so overpaid. It's ridiculous. People stopped going to concerts because they can't afford them. The Rolling Stones are charging $650 per ticket! That just makes me speechless." The self-proclaimed "legends" Justin Timberlake and Jay-Z also caught fire from Kid Rock. In an interview with Piers Morgan, Mr. Rock called their ticket prices "garbage" and "highway robbery."
Kid Rock first showed this side of himself when he broke the industry standard of charging $40 per t-shirt at live shows. Two years ago, he began asking for $20 per item and reportedly ended up selling twice as many as he sold on the previous tour. Rock argues that the same reward might await other musicians willing to introduce a little empathy into their business conduct: "Who doesn't want to play to a packed house?"
The egos belonging to The Rolling Stones, Jay-Z, and U2 might not feel threatened, given that their shows regularly sell out. But their performances still could benefit from being financially accessible for, say, college students and blue-collar workers who might make for a more enthusiastic and grateful audience.
The promise and hope of Kid Rock and ZZ Top's tour is that it will enjoy the success that Rock predicts, and in the process, put pressure on other touring musicians worth hundreds of millions of dollars to, in the words of Kid Rock, "take a pay cut." While explaining his tour to Piers Morgan, Rock said, "I make a lot of money... I'm proud I can look someone in the eye, knowing I haven't taken a dishonest dollar from a working man."
Quotes like that may come off as self-aggrandizing, and Kid Rock's cheap-tickets bid might double as a gesture of gratitude to fans and a publicity stunt. But it's the best kind: one that draws attention to the rest of the industry's hypocrisy and that could have a real effect. The $20 ticket price should ideally embarrass bands and artists like U2, Neil Young, and Bruce Springsteen into lowering their concert and merchandise costs. It should also cause fans to ask whether they should keep rewarding acts that sing about taking care of their own, but act as though they're more interested in taking care of themselves.