How Not to Relaunch the 'Race Records' Label of Ellington and Armstrong
OKeh Records, the jazz imprint that once made history by releasing works by pioneering African Americans, has returned—but with almost no African-American artists.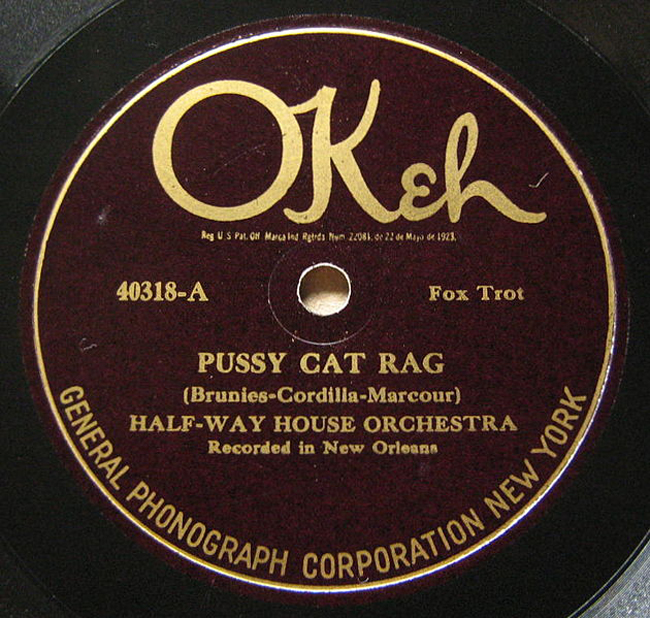 Wikimedia
Update, May 7: In a Q&A with John Murph, Wulf Müller and Chuck Mitchell have responded to the issues raised in the below essay.
OKeh Records could have a new race problem—a peculiar predicament considering that the imprint became a powerful "race records" label in the 1920s, when it started releasing music from such black jazz pioneers as King Oliver, Louis Armstrong, and Duke Ellington.
During the 1920s and 1930s heyday of "race records," OKeh and other labels such as Emerson and Vocalion released blues and jazz 78 RPMs recorded by black American artists, specifically targeting African-American consumers. While the moniker "race records" said more than enough about the United States' cruel segregation lines, those labels provided greater recording opportunities for many black musicians.
After folding in 1970 then reviving in 1994 with distribution under Sony/Epic and then deactivating again in 2000, Sony Masterworks has resurrected OKeh Records once more. In a January press release, Sony Masterworks proclaimed its focus on "global expressions in jazz," regarding the talent roster while also trumpeting OKeh Records' illustrious jazz and blues history. In the release, Wulf Muller, Sony Classical's executive jazz A&R marketing consultant, stated that "OKeh's tradition as a label for great improvised music of its time, its connection to some of the most influential artists in the genres of jazz and blues, made it the perfect label for us to use."
When it announced the kick-off lineup, OKeh Records included pianist John Medeski, guitarist Bill Frisell, a duo project from alto saxophonist David Sanborn and pianist Bob James, and Tunisian oud player and singer Dhafer Youssef. The signing of Dominican pianist Michel Camilo was later announced, signaling more "global perspectives." But with all the label's self-promotional references to jazz and blues, how did black American artists get left out?
The conspicuous absence of black American artists from that initial batch infuriated noted trumpeter, composer, and bandleader Nicholas Payton so much that he questioned OKeh Records' cultural integrity in a blog post entitled, "Why Jazz Is So Not OKeh . . ." He gave a brief history of the label, which was founded in 1918 by German immigrant Otto Heinemann, who initially released whimsical, if forgettable, kitsch before focusing on jazz and blues after nailing a surprising success with Mamie Smith's "Crazy Blues." Not only was it a hit record, "Crazy Blues" was the first recorded blues song by an African American. From there, OKeh Records recruited Clarence Williams in 1922 to function as "race" recordings for its New York studios, and began building its legacy with an array of black stars ranging from Sidney Bechet, Blind Lemon Jefferson, and Ida Cox to Little Richard, Major Lance, and Curtis Mayfield. After Payton's cliffs-note account of OKeh Records and its omission of any black American jazz artists in its new lineup, he quipped: "What a way to show gratitude towards a community that gave you life!" Four months after OKeh Records' reactivation, there have been no press releases announcing the release of any black American jazz artists. That said, DL Media did confirm that that the label has signed tenor saxophonist Craig Handy. As of this writing, though, there's been no announcement made about his forthcoming disc. Handy's presence may be a sign that the label may one day live up to its historical legacy, but if OKeh Records doesn't quickly sign more black American jazz artists, it'll remain open to accusations of tokenism.
Besides the cultural minefield, not having a significant black American presence with the re-launching of OKeh Records seems like a strange move from a business and artistic perspective. Why? Because no matter how much you tout the globalization of jazz, black American talent is very much a strong part of that artistic ecosystem, not just as a historical fact but also as a vital force for jazz's continuous innovation. Just look at the worldwide critical and commercial clout of current African-American jazz artists like Robert Glasper, Esperanza Spalding, José James, Gregory Porter, and Christian Scott. While UNESCO and the Thelonious Monk Institute of Jazz has chosen Istanbul as its host city for this year's International Jazz Day (New York City hosted it last year), there'll be a healthy presence of African-American artists such as drummer Terri Lyne Carrington, bassist Marcus Miller, and singer Dianne Reeves. So while there's no denying the musicianship of Medeski, Sanborn, James, and Frisell, OKeh Records has failed to explain how their music is more "global" than many of their African-American counterparts.
It doesn't make sense to rationalize the oversight with Muller's European roots or the fact that he resides in Madrid. After all, he's an industry veteran who's worked with such African-American titans as singer Dee Dee Bridgewater and saxophonists Sonny Rollins and James Carter. With 29 years of experience, surely Muller knows about the continuing popularity of black American jazz artists on the international festival touring circuits as well as the cosmopolitan jazz-club scene.
A good model for refashioning a cultural brand for an ever-changing market is Blue Note Records, which coincidentally was co-founded by German immigrants, Alfred Lions and Francis Wolff, in 1939. The bulk of Blue Note Records' legacy stands on the bebop and hard-bop LPs recorded by Thelonious Monk, Art Blakey, and Horace Silver. When EMI reactivated the label in 1985, it thrived under the leadership of Bruce Lundvall, who wisely extended its traditional brand by signing artists of varying idiomatic styles and ethnicities—including Joe Lovano, Greg Osby, Cassandra Wilson, Norah Jones, and Kurt Elling—without losing sight of its debt to black America. Same can be said for Blue Note Records' new president Don Was, who recruited saxophonist Wayne Shorter and trumpeter Terence Blanchard back to the label while paying close attention to today's taste with signings of bassist Derrick Hodge (of the Robert Glasper Experiment) and singer José James. For sure, Blue Note Records thinks of the global market; it even has specific Blue Note imprints outside the U.S. in countries like France and Japan. Still, within that multicultural scope, the label understands the artistic weight that modern African-American artists bring when promoting the credibility of its brand.
OKeh Records has time to prevent a PR nightmare around the scant African-American presence on its roster. But for now, the label looks suspect to the global jazz community—a community that includes, as it always has, black America.