How Nina Simone and James Brown Mourned MLK, Jr. Onstage
After Martin Luther King, Jr.'s murder, two of the era's most prominent black musicians gave career-defining performances as they helped audiences grieve.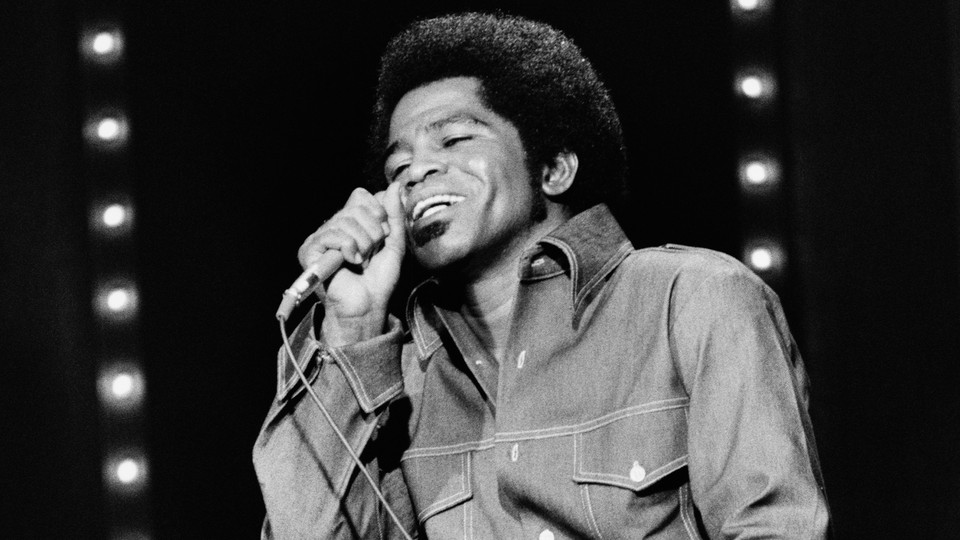 They were born only months apart in adjoining southern states, then rose to worldwide prominence as civil rights icons and peerlessly intense live performers. But for all their similarities, James Brown and Nina Simone's careers never quite overlapped. Brown drove his band through mercilessly athletic shows on the Chitlin' Circuit, essentially willing himself into pop and R&B stardom in the '50s and '60s. Simone leveraged classical piano training and a catholic musical taste into a mellower but broader body of work that brought together soul and jazz. In their parallel journeys, both redefined what it meant to be black in America, so it's only fitting that they ended up leaving some of their most lasting testimonies within days of each other in early April 1968, immediately following the murder of Martin Luther King, Jr.
Simone and Brown both heard the news while on the job. He was filming a TV spot in New York and preparing for a show the next night at the Boston Garden, while she was about to begin her first rehearsals for a concert at Long Island's Westbury Music Fair two nights after that. Before either played a note, the country descended into chaos: Riots broke out in 125 American cities, resulting in 46 deaths and more than 2,600 injuries.
By all rights they should have been playing in each other's venues. The Garden show promised to be majority black, a downtown party in the Northeast's most segregated city. The venue managers elected to cancel the event, which left the city council terrified that thousands of ticketholders would be stranded angrily in the middle of the city with nothing to do. The minute Brown got to Boston, the mayor's office pleaded for him to think as a black leader first and an entertainer second, something that violated his entire ethos. Popular and inspirational as he was to black audiences, Brown was a reluctant civil-rights icon. He was still months away from styling his hair naturally and recording "Say it Loud—I'm Black And I'm Proud," and had scrupulously avoided any overt alliances with potentially controversial black leaders, King included. (Only later in life would he publicly befriend political figures, notably two men who weren't known for their minority activism: Ronald Reagan and Strom Thurmond.) "Instinctively the singer responded to obstacles in his path with a display of money and aggression," wrote biographer RJ Smith. "The idea of a mass movement, of an appeal based on shared beliefs rather than on superior individuality, was not in Brown's makeup." He wanted fame and the independence it brought, and wasn't satisfied playing only for black audiences.
Simone, by comparison, had become increasingly devoted to performing for black people, and for their liberation more specifically. After an apolitical upbringing in North Carolina, she experienced a gradual awakening to racial injustice until the 1963 assassination of Medgar Evers radicalized her for good. Only six months before the Evers shooting, she had declined an invitation to perform at a Student Nonviolent Coordinating Committee-sponsored event at Carnegie Hall. But when four young black girls were killed in an infamous Birmingham church bombing later in 1963, Simone was moved to write one of her signature songs and a seminal protest anthem, "Mississippi Goddam." From that point she became a fixture at civil rights gatherings, and her anger only deepened as the decade wore on. In her memoir, I Put a Spell on You, she called the King assassination "the traditional white American tactic for getting rid of black leaders it couldn't suppress in any other way." The immediate aftermath was "a time for bitterness." Simone's sympathies were for the country's urban rioters, but her professional obligation was to a middle-class concert hall well outside New York proper.
Brown's sympathies, as ever, were with his bottom line. As a crowd-control tactic, the promoters and local government in Boston came up with a plan to broadcast Brown's performance live on public television. Potential rioters would hopefully stay at home to catch it. Brown responded to the idea as a businessman, thinking of his many outstanding contract stipulations that limited his broadcast opportunities. "If I go on TV here tonight, I'll have lawsuits and trouble every which way," he later recalled saying to the anxious city council. Driving by the Garden early on April 5, Brown saw lines of people turning in their tickets for a refund since they now knew they could watch the show for free on their couches. Only after striking a deal to keep the gate profits—essentially forcing the city of Boston to pay him $60,000 for the service of subduing his fan base—did he put pressure on his management to nullify his other obligations, an agreement that was reached easily, "within an hour," according to his memoirs.
If all this wheeling and dealing makes Brown seem more self-involved than socially conscious, the show itself was indeed heroic and became a cornerstone of his legacy. It was his usual late-'60s barnburner, the kind immortalized in the 1967 recording Live at the Apollo, vol. II. A combination of early R&B hits and the more radically propulsive work that he'd begun recording after "Papa's Got a Brand New Bag," the set peaked with "There Was a Time," an epic vamp wherein Brown acted out the history of black American dance, ending with a demonstration of "the James Brown" that sent the audience into hysteria. That song was the most ambitious thing he'd written at that point, possibly ever, and in Boston that night it took on an even more urgent tone. It gathered his black audience together, reminded them of their shared history, and convinced them to follow his relentlessly positive example rather than acting on their understandable despair.
Near the end of the show, a group of teenage boys rushed the stage and a police confrontation seemed imminent. "We're all black," Brown implored, calling of the approaching officers. "Don't make us all look bad... Are we together or are we ain't?" The boys returned to their seats, and greater Boston followed their example. No rioting occurred, and James Brown attained an almost shamanic reputation thereafter.
Two nights later, Nina Simone finally took the stage on Long Island. King had been buried earlier that day, and President Johnson had declared it a national day of mourning. "We're glad to see you, and happily surprised with so many of you," she greeted her seated audience. "We didn't really expect anybody tonight, and you know why... but we're glad that you've come to see us and hope that we can provide... some kind of something for you, this evening, this particular evening, this Sunday, at this particular time in 1968. We hope that we can give you some—some of whatever it is that you need tonight."
Clearly devastated, Simone's stage presence that night was agonized even by her standards. She played "Mississippi Goddam" and another equally forthright protest song, "Backlash Blues," her simmering backup trio leaning heavy behind the beat throughout. But the highlight was a debut, "Why? (The King of Love is Dead)," written by bass player Gene Taylor and first rehearsed only that day. Just as Brown met the King tragedy with a characteristic call for ecstatic distraction, Simone faced it head-on, in a long, sad plea that lasted nearly 15 minutes and included a list of other black luminaries—including Coltrane and Lorraine Hansberry—who had died in the last two years. "They're shooting us down, one by one," she spoke through tears. The audience was caught between occasional applause and stark silence, though all were rapt. "I think my performance that night was one of my very best," Simone later wrote in her memoir, "focused by the love and quiet despair we all felt at our loss."
Both concerts were preserved, Brown's as a television program that's endured on home video ever since, and Simone's as a heavily edited live album, 'Nuff Said, released later that year. Experienced now, they speak to the country's emotional volatility in the wake of King's murder. Just as importantly, they capture two socially vital artists as they respond to a deep spiritual need from their audience. In the preceding decade, James Brown had brought unprecedented self-love and swagger to the black community, while Simone had brought unprecedented depth of feeling and emotional expression to black pop music. Their responses to King's death were complementary and entirely in character, and showed how more than any other musicians, they forced white America to recognize the full humanity of black people during the civil rights era.