Hear the Weird, Lovely A Cappella Suite That Won the Pulitzer Prize for Music
Caroline Shaw's Partita for 8 Voices sounds like music and then some.
The 97th annual class of Pulitzer Prize winners was announced late yesterday, and the Pulitzer Prize for Music has been awarded to a composition for unaccompanied voices for what appears to be, according to a Pulitzer spokesperson, the first time in the its 70-year history. Caroline Shaw's winning work Partita for 8 Voices is, well... tough to characterize—maybe the best way to describe it would be "music as we know it, and then some."
In its four movements—"Allemande," "Sarabande," "Courante," and "Passacaglia," named for Baroque dances—the partita combines rich, closely stacked harmonies with elements of spoken narration and atonal vocalization patterns like whispers, grunts, croaks, sighs, and gasps. (A heads-up about the vaguely NSFW third movement: Even though Shaw's melodies don't have lyrics, keep some headphones handy if you're cubicle-bound!)
Audio samples are also available on iTunes and Amazon.
Shaw, a 30-year-old violinist, vocalist, and composer, is the youngest-ever recipient of the Pulitzer Prize for Music, and she composed the suite for and with her a cappella group Roomful of Teeth.
Here's a live performance—the group's first show together as Roomful of Teeth—of Partita's fourth and final movement, "Passacaglia":
Shaw's surprisingly gorgeous, sometimes jarring collection of mouth noises often doesn't sound like music in the conventional sense—and it doesn't look like it, either. The score for Shaw's Partita, excerpts of which can be viewed on her website, offer a glimpse into how exactly a non-traditional work like this one comes together.
Below, note the abstract geometrical descriptions in the rhythmic spoken intro to "Allemande" and conspicuous absence of key signature, clef, and even standard head-and-stem notes for the opening of the sensual and evocative "Courante" (accompanied by the charming tempo description "silk shoes gliding over marble mosaic").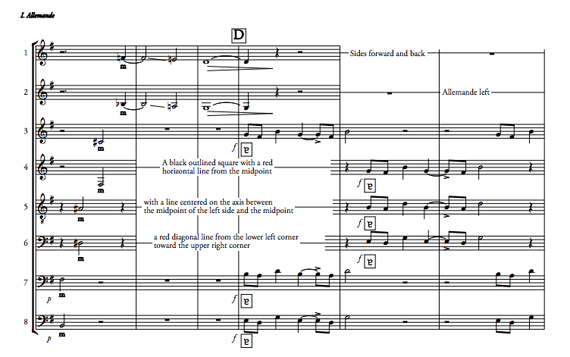 ---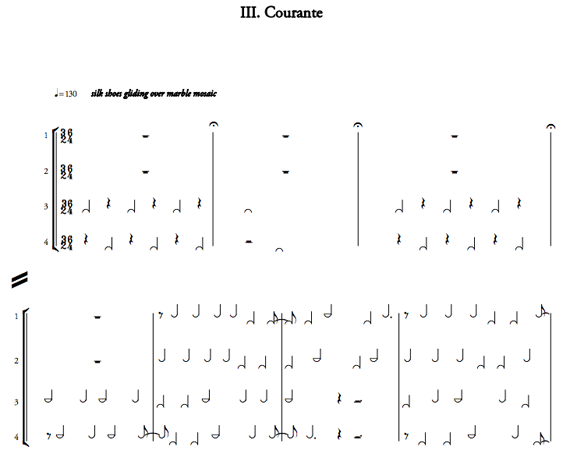 So where in the human psyche does music like this come from—and who listens to it once it exists?
On her webpage, Shaw describes Partita as a "simple" piece, "born of a love of surface and structure, of the human voice, of dancing and tired ligaments, of music, and of our basic desire to draw a line from one point to another." ... Maybe that's open to interpretation.
And it seems the demand for Shaw's brand of experimental a cappella is largely concentrated in the high-IQ enclaves of the Eastern seaboard, as Roomful of Teeth spent last fall and the early months of this spring performing at places like Yale, Wellesley, and New York's classical/avant-garde venue Spectrum. When The Washington Post reviewed a Roomful of Teeth performance last month at the Atlas Performing Arts Center in Washington, D.C.,—the epicenter of the city's "burgeoning 'alt-classical' scene"—reviewer Anne Midgette praised the group's deft navigation through bold, unorthodox music-making styles, like Korean p'ansori singing, yodeling, Tuvan throat-singing, and a distinct, particular style of vowels-only singing that gives the impression of "form[ing] an intriguing, sculptural chord, twisting gently in midair."
Caroline Shaw's win for Partita for 8 Voices isn't the first time a Pulitzer jury has selected an avant-garde or experimental composition as its winner. Pulitzer music juries have a long tradition of selecting cutting-edge entries: In the past decade, the Pulitzer has been awarded to several minimalist or post-minimalist composers, as well as specialists in atonal music. Zhou Long, the 2011 winner, combined ancient Chinese lore with flexible tonality and funky dissonances in his opera Madame White Snake, and 2008's winner David Lang stripped down the story of the Little Match Girl to a chanted chorus setting with sparse percussion for The Little Match Girl Passion.