Don Draper's Dead End
If only Mad Men would spend more time with characters who are changing, not relapsing.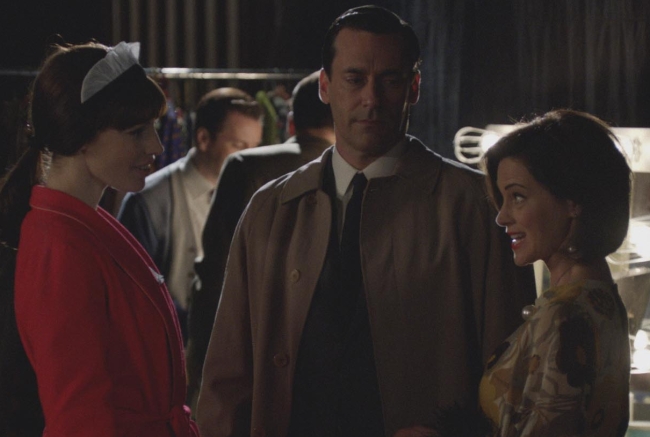 AMC
After last season ended with a woman hitting on Don Draper, and Don Draper giving her--and us--that "I'm up for it" look, I feared we'd get a season just like the one we now have. I know the shot was meant to be ambiguous, but it never really struck me that way. I've written quite a bit about my annoyance with pop culture's current obsession with cynicism, darkness, and anti-heroes. It's not so much that I pine for naiveté, as I pine for something different and new--especially in the same series. Watching Don Draper in his sixth season, I can't escape the feeling that I'm watching Don Draper in his third season.
Except he's lost something. Don is a beautiful philandering stud. That was always there but it was wrapped in so much more--his role as father to a young daughter (gone thus far), his role as a kind of father to Peggy (gone by necessity of plot), his relationship with Roger as some future image of himself (also gone), his relationship with Anna (gone to the grave), his fear of unmasking (seemingly also gone.) What's left is a dude who makes adultery look beautiful. My impulse is to say that this Don Draper is lot less interesting. But I wonder if this Don Draper is all of what we actually came for. Did most of always think of the literature as gift-wrapping for the style?
Who knows. But I'd rather see the camera shift, and Don Draper give some scenes away to those characters who really are changing, not just relapsing. It's true that in real life, real people relapse all the time.  But stories are not real life. They have beginnings and ends chosen by their creators. Or perhaps chosen by their fans. My love for Mad Men has long been on display here. But I like to think the show ended after Season Two. Or Season Four. The fact that I can even say that is a testament to Matthew Weiner and his efforts to actually create something incredible. But I'm just not feeling it right now. I'm not feeling anything.