David Sedaris's Sorta-Secret Side Career as a Speech Writer for High Schoolers
Why does the best-selling humorist's new book include six monologues for teen speakers? Because Sedaris moonlights as a hero in the world of competitive high-school forensics.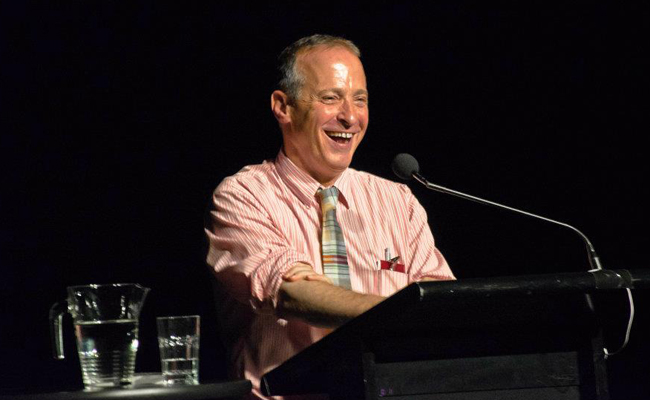 There's a peculiar author's note at the beginning of David Sedaris's new collection, Let's Explore Diabetes With Owls: Essays, Etc. In it, the acclaimed essayist explains why some of the book's vignettes look a little (read: a lot) different from the loosely autobiographical material that's made him famous over the last few decades.
"Over the years I've met quite a few teenagers who participate in what is called 'Forensics,'" he writes. "Students take published short stories and essays, edit them down to a predetermined length, and recite them competitively. To that end, as part of the 'Etc.' in this book's subtitle, I have written six brief monologues that young people might deliver before a panel of judges. I believe these stories should be self-evident. They're the pieces in which I am a woman, a father, and a sixteen-year-old girl with a fake British accent."
Sedaris, in other words, has branched out into writing wacky one-man mini-plays—including one in which he narrates as a high-strung, female, hyper-conservative conspiracy theorist—for high-schoolers to perform at speech-and-debate meets.
With the exception of his animal-themed 2010 short-story volume Squirrel Seeks Chipmunk and some early short fiction, Sedaris's bestselling previous works have largely been collections of wryly funny, often poignant essays based on and inspired by his own life. So why has Sedaris partially ditched his mega-successful formula to write zany stock speeches for teenage theatrical types to perform in front of their classroom Dry-Erase boards?
Well, because in addition to being what Entertainment Weekly calls "the preeminent humorist of his generation," Sedaris is also an unintentional patron saint of high-school forensics. Students on the hunt for entertaining works of prose to perform before a judge have frequently mined Sedaris's well-stocked catalogue of witty narratives—making him a popular source of material on the high-school forensics circuit for the last decade.
That's partly because Sedaris's simple-yet-entertaining storytelling format fits surprisingly well within the strict stipulations of high-school speech. According to the annual Competition Events Guide issued by the National Forensic League (the nationwide speech-and-debate governing body also known, amusingly, as the NFL), every piece performed at a speech tournament must be selected from a published work. Each presentation has to clock in under 10 minutes and 30 seconds, and speakers are prohibited from using costumes, props, or staging. So Sedaris's short, dry, amusing, single-narrator stories often lend themselves beautifully to competition categories like Humorous Interpretation, in which speakers present a comedic selection from a novel, short story, play, or poem from memory, and Prose Reading, in which the presenter reads a selection from a published work written in sentences and paragraphs (as opposed to poetic verse). Books like 2000's Me Talk Pretty One Day and 2008's When You Are Engulfed in Flames can be mined for speech pieces, according to Greg Holtschneider, a forensics coach from Marshfield, Missouri—who just ordered new copies of both so that his speech-team members can peruse them for ideas.
Students usually spend all season long polishing and performing one piece. Josh Allen, a former forensics contestant from Minnesota who's both competed at the national level and coached national finalists, says he's watched and coached many students who performed cuttings from Sedaris's "The SantaLand Diaries"—a monologue about working as an elf in a department-store Santa display—as well as from a one-man show adapted from it. In 2010, a high-school junior from Portage, Michigan, won the national forensics title in the Prose category with his presentation of "The SantaLand Diaries." After that, Allen explained in an e-mail, the speech, which Sedaris debuted on NPR in 1992 and later published in print, was everywhere. "When someone champions with a piece, it usually explodes for a while," he said. Allen thinks "SantaLand" has remained popular with high-schoolers because it's in first-person, drips with sarcasm, and boasts "just the right amount of pee-related humor" to attract teenage speakers and audiences.
Students have also been partial to selections like "Go Carolina," a monologue from Me Talk Pretty One Day about Sedaris's childhood struggle with a lisp, and "Cyclops," a chapter from Naked about the day Sedaris's father unintentionally blinded a child.
"I would say when judging a tournament, you'll see at least one Sedaris piece in three rounds of Humorous Interpretation," Allen wrote. Competition rounds often contain between six and eight competitors—so in his experience, roughly one out of every 18 to 24 performances evaluated in the "Humor" or "Humorous Interp" category, as it's sometimes called, are adapted from a David Sedaris work.
There are, though, some drawbacks to Sedaris's new plan to intentionally write material for teen orators. Holtschneider says he would actually steer his students away from any piece written specifically for forensics because it runs the risk of seeming pre-packaged. "Many kids don't want to take the time to cut a piece for themselves, so they jump on a piece that has already been written with time in mind," he says. "But I would usually recommend cutting a piece for themselves so that it's more 'their own.'"
Others might even avoid Sedaris's new oration-friendly material because it's already a few years behind what's trendy today in the world of high-school forensics. According to Chris McDonald, who coaches a high-school speech team in Eagan, Minnesota, judges have more recently started to favor more "character-driven" material over "narrative-driven" material like Sedaris's—that is, source material that showcases a presenter's acting skills, perhaps by including multiple characters, rather than his or her storytelling. "While Sedaris is still performed in high school competition," McDonald wrote in an e-mail, "I wouldn't say he is any more prevalent than, say, [playwrights] Christopher Durang or Don Zolidis."
And, of course, there's the inevitable backlash on the basis of simply being too mainstream. "Now that his pieces are so frequently used," Allen explains, "most intense competitors know to avoid them, unless they have some brand-new take on it."
It'll be the orators themselves who decide the fate of Sedaris's new forensics-specific monologues. And they'll have their opinions: On the National Forensics League's online forum, you can find years' worth of serious speech geeks' discussions of Sedaris's work, on pages with titles ranging from "Short Story Hall of Fame," "Best Memoirs," and "Best Proses Ever" to "Official Overdone Piece List."