Actually, No, Last Night's NCAA Championship Wasn't a 'Classic' Game
Louisville earned a hard-fought victory, but why is sports media in such a rush to crown every hard-fought victory as one of the greatest ever?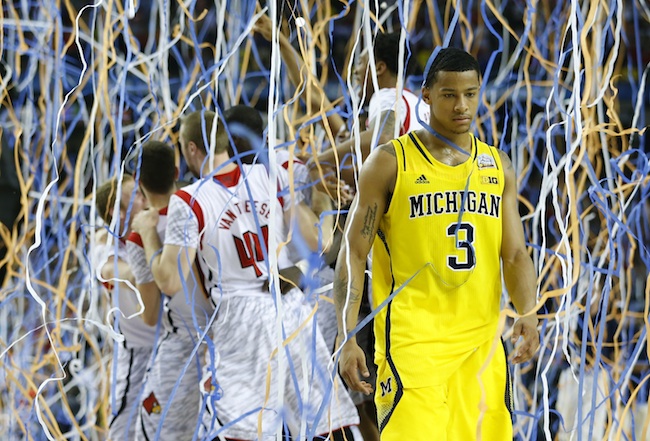 Reuters/Jeff Haynes
Maybe I'm missing something.
It was a good game, hard fought. That's what you expect from any NCAA championship game. But the slavish praise for last night's tilt between Louisville and Michigan has been over the top. There was something unsettling about it all, something forced about the kudos.
Related Story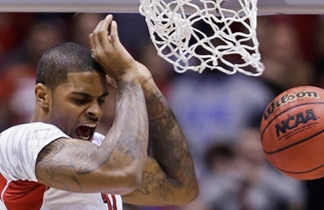 Sure, there were a few nice stories. Kevin Ware, the guard who suffered that horrific on-court broken leg last week, was on the sidelines with his team. After the win, officials even lowered the rim so Ware could cut the net with his teammates. There was pale, skinny Spike Albrecht making himself an instant folk hero by hitting four straight three-pointers in the first half. We also saw Louisville's Luke Hancock beat that number, going 5-for-5 from the three-point line to fuel Louisville's comeback.
But there was no buzzer-beater win last night. There was no overtime. The game was decided by Cardinal rebounding and Michigan foul trouble. The last few seconds even had a massive coaching goof when Wolverine coach Beilein had his team waiting too long to foul because he thought they were already in the 1-and-1.
Still, ESPN dubbed it a classic. Jim Nantz only got midway through the first half before comparing the match to the 1988 Oklahoma and Kansas game, where the score was 50-50 at halftime. Monday night's halftime score at was a significantly less scintillating 38-37. The Quad at The New York Times said both teams played "at an extremely high level offensively." Greg Anthony declared himself dazzled, never having seen the like. Anthony's own UNLV team scored 103 points to beat Duke in the 1991 title game, but he was stunned beyond words at the Cardinals scoring 82 points? Is this what constitutes thrilling hoops in the age of the vanishing buckets?
Some of the wild talk is simply a function media exaggeration and the vested interest in hype. Partly, as Louis CK so beautifully mocked, that's just how we speak now. We live in an all-superlative world where no one has a memory—where everything good is called "awesome" and anything great becomes the "best" whatever of all time.
There was certainly nothing terribly appealing about Rick Pitino's coronation. As the viewing audience was continually reminded, Pitino not only won the championship on Monday, he was elected to basketball's hall of fame, plus he found out his son was named head coach at Minnesota. That's great for him, but Pitino is not an especially admirable human being. Outside of Louisville fans, it didn't seemed like anybody's heart was overly warmed by the idea of Rick and his new tramp stamp, or the strange and enduring image of Pitino ducking from celebratory fireworks like they were gunshots.
Maybe with a more beloved coach, or a smaller school, last night's game would have felt different. Or maybe I've just been swept up by the sea change in American fan attitudes towards the NCAA, brought about in no small part because of this magazine. It's hard to get psyched about a game when its sport's underlying injustice is so front and center.
There, after all, was Pitino making his bonus of $425,000 for winning the game—on top of his $5.7 million pay package and $3,000 rider for car allowance. There, next to him, was the purportedly inspiring Kevin Ware, who will be paid nothing for his work this year, and who faces the prospect of medical bills the university won't cover.
This year, we heard about parity in college hoops. This year, we thought maybe a David would finally beat Goliath. Wichita State got close, but in the end it was two high-powered, tradition-rich schools on the court. We saw two premier programs from power conferences play a good game—albeit one to make you long for the high-scoring days of the 20th century. Then we saw the bigger giant win, and the biggest giant of all, the NCAA, come through without a scratch.