'The Big Lebowski Feels Thrown Together': Cult Films Critics Got Wrong
They may be classics now, but in their original theatrical runs, movies like Office Space, Harold and Maude, and Heathers got savaged by reviewers.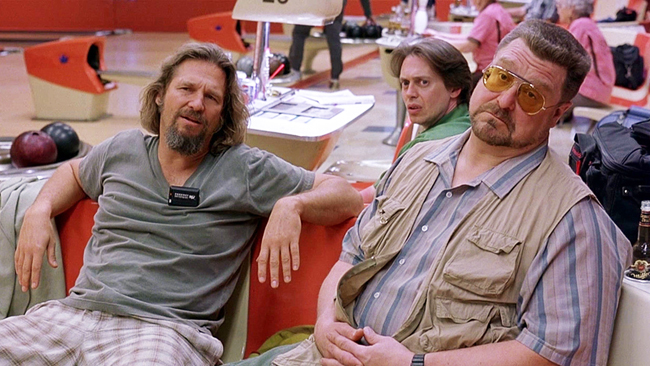 Gramercy Pictures
Buying tip: Alex Cox's odd, cool, darkly comic, and frankly brilliant Repo Man hits Blu-ray this week via the cinematic angels over at the Criterion Collection. It's always a blast to see a movie as subversive and fun as this one getting its respect as a classic, but it's worth noting that many beloved cult movies were less than beloved at the time of their release. Don't believe me? Below, see what some critics had to say, back in the day, about Repo Man and nine more cult classics.
Repo Man
"The world of automobile repossessors is about as fascinating as a barrel of dead spiders. Somebody at Universal has been mesmerized enough, however, to flush down the drain more money than most of us will ever see in our bank statements, on a piece of trash called Repo Man... It stinks from here to Pasadena." - Rex Reed, The New York Post
---
The Big Lebowski
"Adds up to considerably less than the sum of its often scintillating parts, simply because the film doesn't seem to be about anything other than its own cleverness." - Todd McCarthy, Variety
"The Big Lebowski soon spins rapidly and completely out of control. Though the Coens, working as usual with master cinematographer Roger Deakins, are impressive visual stylists and clever writers, this film feels completely haphazard, thrown together without much concern for organizing intelligence... the Coens don't seem to be very interested in it." - Kenneth Turan, The Los Angeles Times
"Scattered, overamplified and unsatisfying... The Big Lebowski is ultimately too clever for its own good. There are more ideas here, more wacko side characters and plot curlicues than the film can support, and inevitably it deflates from having to shoulder so much." - Edward Guthmann, The San Francisco Chronicle
---
Night of the Living Dead
"Until the Supreme Court establishes clear-cut guidelines for the pornography of violence, Night of the Living Dead will serve nicely as an outer-limit definition by example. In a mere 90 minutes this horror film (pun intended) casts serious aspersions on the integrity and social responsibility of its Pittsburgh-based makers, the film industry as a whole and [exhibitors] who book [the picture], as well as raising doubts about the future of the regional cinema movement and about the moral health of filmgoers who cheerfully opt for this unrelieved orgy of sadism." - Variety
"A grainy little movie acted by what appear to be nonprofessional actors, who are besieged in a farm house by some other nonprofessional actors who stagger around, stiff-legged, pretending to be flesh-eating ghouls. The dialogue and background music sound hollow, as if they had been recorded in an empty swimming pool, and the wobbly camera seems to have a fetishist's interest in hands, clutched, wrung, scratched, severed, and finally—in the ultimate assumption—eaten like pizza." - Vincent Canby, The New York Times
---
The Rocky Horror Picture Show
"Most of the jokes that might have seemed jolly fun on stage now appear obvious and even flat. The sparkle's gone." - Variety
"The picture might have made a pretty good college show... But the wit is too weak to sustain a film, and the songs all sound the same." - Dave Kehr, The Chicago Reader
---
Wet Hot American Summer
"Here's how much I laughed: never. I mean, never. It just didn't work for me... This is supposed to be funny? It was so depressing I almost started to cry." - Stephen Hunter, The Washington Post
"The writing here is rarely funny, and often trite and predictable. A couple of scenes are downright disturbing: A child appears to drown while counselors, locked in a passionate clutch, ignore his cries. In another montage, counselors snatch a purse from an old lady and shoot up heroin. What a laugh riot." - Claudia Puig, USA Today
"This movie strains so hard to be funny, it almost ruptures itself." - Desson Thomson, The Washington Post
---
Harold and Maude
"Has all the fun and gaiety of a burning orphanage... One thing that can be said about [director Hal] Ashby—he begins the film in a gross and macabre manner, and never once deviates from the concept. That's style for you." - Variety
"As Harold and Maude, Bud Cort and Ruth Gordon are supposed to appear magnificently mismatched for the purposes of the comedy... Yet, as performers, they both are so aggressive, so creepy and off-putting, that Harold and Maude are obviously made for each other..." - Vincent Canby, The New York Times
"What we get, finally, is a movie of attitudes. Harold is death, Maude life, and they manage to make the two seem so similar that life's hardly worth the extra bother. The visual style makes everyone look fresh from the Wax Museum, and all the movie lacks is a lot of day-old gardenias and lilies and roses in the lobby, filling the place with a cloying sweet smell." - Roger Ebert, The Chicago Sun-Times
---
Eraserhead
"A sickening bad-taste exercise...pulls out all gory stops in the unwatchable climax... the mind boggles to learn that Lynch labored on this pic for five years." - Variety
---
Heathers
"The dialogue is relentlessly fancy without being witty, and the specious moralizing of the plot looks like it was tacked on to appease square adults; the real narrative force behind this movie is nihilist camp, as in Roger Corman's 1966 The Wild Angels but without the same degree of filmmaking skill... its inanities and glib pretensions are so thick that it mainly comes across as tacky and contrived." - Jonathan Rosenbaum, The Chicago Reader
---
Office Space
"Office Space feels cramped and underimagined. I think Judge is capable of making an inspired live-action comedy, but next time he'll have to remember to do what he does in his animated ones—keep the madness popping." - Owen Gleiberman, Entertainment Weekly
"It has the loose-jointed feel of a bunch of sketches packed together into a narrative that doesn't gather much momentum. Its conspiratorial eager beavers are so undeveloped that they could hardly even be called types. You don't care for a second what happens to them." - Stephen Holden, The New York Times
---
The Harder They Come
"The characters aren't consistent, and Cliff eventually becomes so unbelievable that we just stop caring. The movie's ending is an exercise in plot; its beginning and its music deserve better than that." - Roger Ebert, The Chicago Sun-Times
This post also appears on Flavorpill, an Atlantic partner site.