Gonwards: A Reminder of How Elaborate and Playful Album Art Can Be
A boxed set from Andy Partridge of XTC and Peter Blegvad of Slapp Happy repurposes 1930s Russian typography and the Mexican game of Loteria to complement its songs.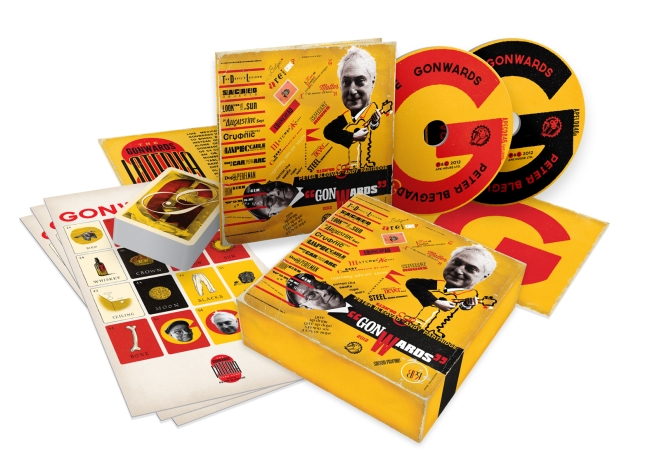 Ape House
Gonwards, a new CD box set of songs by American expat Peter Blegvad and Britain's Andy Partridge, mends the marriage between graphic design and recorded music that the MP3 has torn asunder. Designed by Andrew Swainson of London's Cactus, this gem of a package is a pitch-perfect reinterpretation of a rare, typographically ambitious, 1930 Russian Constructivist book cover composed by avant gardist Solomon Telingater. It is so smartly rendered that Swainson actually printed—in trompe-l'oeil fashion—simulated indications of wear-n-tear, so the entire package appears a little soiled, like a vintage orange Kodak film box. The overall look and feel is so exquisite and witty, though, that graphic design fetishists like me won't be able to take their hands off of it.
Blegvad was the creator of the popular Leviathan comic strip in England's Independent newspaper from 1992 to 1999. He's also an author, the founder of the band Slapp Happy, and the talent behind about 20 albums with various bands since the early '70s . Partridge, who composed Gonwards' melodies, is a singer, guitarist, and songwriter for the British art-pop band XTC. This is their second multimedia collaboration together. The interior of the "deluxe box" the design scheme reflects their bold yet eclectic style in its typography. An orange and red palette unifies the CD and DVD sleeve and liner notes/lyrics booklet. "The Gonwards Loteria Card Game," a Mexican-style bingo kit, is a special play-along-with-the-music perk designed by Blegvad, who performs guitar on the album and wrote its lyrics.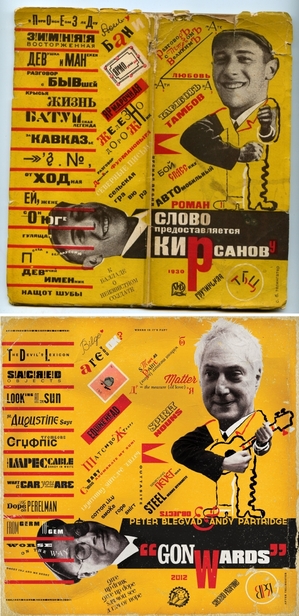 This
Gonwards
box set is an increasingly rare example of ornate record design in a world where online music distribution has shrunk album art from a 12" x 12" LP to the inch-or-less square of a Scrabble chip. Although MP3 icons demand pictographic design skill, they nonetheless cannot compare with vinyl or even CD covers as tactile pieces of graphic art. But the costs are steep:
Gonwards
is only available through the Ape House website (Partridge's own record label), and if it breaks even it will count as a great success.
Gonwards' production is nothing new for Blegvad, though, who does custom type and illustration on many of his record sleeves and promotional ephemera. In fact, listeners had to consult Blegvad's illustrations on the sleeve of his record Kew Rhone (1977) in order to make sense of some of the lyrics. The cover of Knights Like This (1985) featured an elaborate painting he did of two fully armored knights copulating. And for Gonwards, Blegvad drew 52 objects mentioned in the lyrics for a deck of Loteria cards. He has produced illustrations and lettering for album covers by other musicians too.
But why is Gonwards—a quirky, bluesy collection that has been described as sounding like "the product of two impish schoolboys playing with musical toys"—covered with a take-off on a long deceased Soviet graphic designer? Partridge, whose idea it was, described it this way: "I thought it was rough, beautiful, modern ... I saw the potential of having our titles in place of the Russian type on the front and of Peter's head and mine replacing Kirsanov [the photo on the original]. I liked the damage on the one I saw." It reminded him of various graphic boxes he admired, "such as matchbox labels with disparate typography, out-of-register printing, dreamlike, cartoon-like images that seem oddly noble."
Blegvad's Loteria game was included because he liked "the relationship between something and nothing," he told me in an email, "the relationship between matter and spirit, the way certain objects seem to be animated by something like a soul, the way certain nouns in a text seem to have a halo around them ... Drawing it is one way of investing an object with something like a soul."
Musically, Gonwards is Partridge's blend of a wide spectrum of genres and styles. "Russian Constructivist Mexican folk is in there," Blegvad notes, "along with spaghetti western, calypso, Raymond Scott, schmaltz, soul, oompah band, beatnik jazz, Beefheart, Beatles, Ligetti, etc." Blegvad's songs are simpler than Partridge's because "I only know a handful of chords on the guitar"—sort of American roots folk-rock with a slightly jazzified tinge. As Blegvad put it to me, the box's mission is to surprise and delight, and the two men have made good on that mission both with song and with image.