Which One of These Guys Is College Basketball's Player of the Year?
Thus far, it's been a race without a clear frontrunner.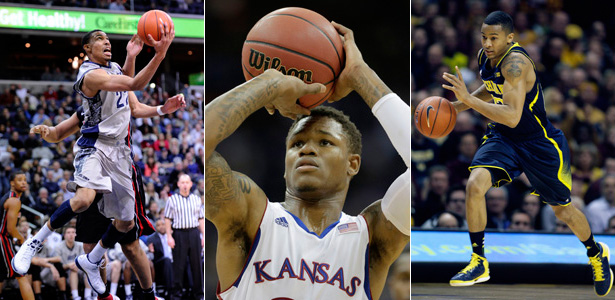 AP
Every week, our panel of sports fans discusses a topic of the moment. For today's conversation, Hampton Stevens (writer, ESPN and The Atlantic), Jake Simpson (writer, The Atlantic), and Patrick Hruby (writer, Sports on Earth and The Atlantic) try to pick this year's best college basketball player.
---
Hey guys,
The Ravens rule the NFL. The Heat are clearly the NBA's best team. The Chicago Blackhawks are the NHL's top dogs, and could end up mentioned along with the '72 Dolphins and '95 Chicago Bulls as best teams of all time. The Royals are baseball's best—in Spring Training anyway, having won their first 10 straight.
Sometimes, though, there's a muddle at the top. Like in the 2012 college hoops season. Last year Kentucky was clearly best of show, and star Anthony Davis obviously the best college player. In 2013, the best team, well, that seems to change from week to week. So does the race for best player.
Creighton's Doug McDermott and Victor Oladipo of Indiana tops most POY lists. Not mine, though. As a member of the Jayhawk faithful, I'd always rather see the Naismith trophy go to a player whose home games are on Naismith Court.
Any other year, that would be Jeff Withey. The nearly-seven-foot senior has become a surprisingly threat to score in the low-post. Withey even makes defense fun to watch with picture-perfect, record-breaking shot-block technique. He's a legit lottery pick.
For player of the year, though, he's overshadowed by Ben McLemore. Just a red-shirt freshman, McLemore might be the best athlete in a generation to play for KU. He's certainly the best shooting guard.
The obvious comparison to McLemore is Paul Pierce, the KU alum and Celtics legend. Both players are stealthy slashers and deadly shooters with a silky, minimalist stroke. As a kid, McLemore even went to Pierce's basketball camp.
Ben, though, can jump higher now than Pierce could when he left KU after his junior season. Pierce certainly never had the flair and ferocity around the bucket that Ben does. In that, and in his number 23, it's clear that Ben's game—right down to the "Air McLemore" nickname—is built on emulating Michael Jordan.
He's not done a half-bad job of it, either. The player-of-the-year race was over last weekend when McLemore had a performance--hyperbole or not--that has to be called Jordan-esque.
In a romp over West Virginia, Ben scored 36, and he did it virtually every way that it's possible for a player to score. He hit cold-blooded midrange jumpers. He dunked from the baseline off set plays. He dunked from the free-throw line on the fast-break. He hit three-pointers from everywhere, including a falling-backwards-off-one-foot buzzer-beater from two steps beyond the arc. It was ruthless. Late in the game, McLemore floated sideways at the top of the key, squared and dropped a 15-footer on a play so Jordandish you could almost hear Craig Ehlo cry.
Guys, to me it's obvious. Ben McLemore is most talented player in the college game. One-and-done or not, he's plainly player of the year. Care to disagree?
–Hampton
You're right about one thing, Hampton: McLemore is likely the best player in college basketball this year. By that I mean he's the most talented player with the highest athletic ceiling (except for maybe Nerlens Noel). And he may well go first in the NBA draft come June.
But this season, no player has meant more to his team than Michigan's Trey Burke. The elusive point guard reminds me of a young Russell Westbrook, a terror off the dribble and on defense who will only get better as his shot improves. Burke is averaging 19 points and seven assists a game for Michigan, which in February reached the No. 1 ranking for the first time in two decades.
Hampton, one of the gushing sentences you wrote about McLemore demonstrates why Burke should actually win the Naismith award.
The player-of-the year race was over last weekend when McLemore had a performance—hyperbole or not—that has to be called Jordan-esque. In a romp over West Virginia, he scored 36, and did it virtually every way it's possible for a player to score.
The key words there are "West Virginia" and "romp". Beating up on a 13-17 Mountaineers squad in a blowout does not a player of the year make. And if you check his game log, McLemore averaged just 10.3 points in the four games around that West Virginia win. He's reached 10 rebounds just once—a season-opening win over SE Missouri St.—and hasn't cracked 10 assists in a single game.
What's determinative, always, is how athletes play in close games or against elite opposition. And that's where Burke stands out. Forget his unerring consistency (double figures in every game this season) or his 27 points on 12-16 shooting against that same West Virginia squad in a December romp for the Wolverines. Burke proved the award was his in the final seconds of Michigan's last two games. First, he scored the game-winning bucket off a steal with 20 seconds left and then stole the ball again to ice a 58-57 win over Top 10 foe Michigan State. Just in case that wasn't enough, he stole the ball in the final seconds yet again to seal an 80-75 road win over Purdue on Wednesday (and ohbytheway had 26 points, 7 assists and 5 rebounds).
Burke has been a more complete player than McLemore this season, in the same way that LeBron James is a more complete player than Kevin Durant. McLemore and Durant may be better scorers, but the MVP will go to LeBron, and the Naismith should go to Michigan's sensational sophomore.
Seems we'll be having a split decision. What's the verdict, Patrick?
–Jake
Jake,
I'm with you. Burke is more important to his team—and more versatile on the floor—than McLemore, who in turn is probably a better NBA prospect, at least if you're looking for a prototypical shooting guard. That said, Hampton is also correct: The national player of the year race is as muddled as the top 25.
Are we talking about the most indispensable player? I'd argue that McDermott is far more crucial to Creighton than Burke is to Michigan; after all, Burke has a pretty talented pair of wingmen in Tim Hardaway Jr. and Glenn Robinson III, while McDermott has ... well, a bunch of guys whose fathers weren't NBA All-Stars. And what about Duke's Ryan Kelly? With him in the early-season lineup, teammate Mason Plumlee looked like a favorite for player of the year, the Blue Devils beat a trio of top-five-ranked teams in Ohio State, Kentucky, and Louisville, and rose to No. 1 in the rankings on the strength of elite team defense; without Kelly, Duke went 9-4, saw their defense slip and watched fans storm the court at North Carolina State, Miami, Maryland and Virginia. (Much to Mike Krzyzewski's chagrin).
Jake, you say that close games and elite opposition matters most. If that's our measuring stick, then a strong case can be made for Indiana's Victor Olapido, who starred in victories over Michigan and Michigan State. Olapido isn't an elite scorer—given the presence of teammate and preseason national player of the year favorite Cody Zeller, he doesn't have to be—but he might be the nation's best perimeter defender, and he's unquestionably the most improved player. In November, ESPN.com's draft guru Chad Ford ranked Olapido No. 110 on his list of draft prospects; by late February, he was ranked No. 5. Dick Vitale compared him to a smaller, campus version of Michael Jordan—and if this missed-dunk highlight captured by Deadspin is any indication, Vitale wasn't being entirely hyperbolic.
Should efficiency count? Gonzaga's Kelly Olynyk is the top player on the country's top-ranked team, averaging almost 18 points a game while shooting 70 percent from the field. How about overall production? Oklahoma State guard Marcus Smart is averaging 14.6 points, 5.6 rebounds, 4.3 assists and 2.9 steals. Perhaps our criteria should be all of the above. If that's the case, Deadspin's Dom Cosentino makes a compelling case that Georgetown's Otto Porter might be the country's best player, a one-man show who has led the surprising, modestly-talented Hoyas (full disclosure: my alma mater, but not my favorite college team) to an 11-1 mark in their last 12 games and a possible No. 1 seed in the NCAA tournament. ESPN.com's John Gasaway explains how:
... what makes Porter both exceptional and indispensable is that his performance just keeps getting better and better the further the Hoyas go into the season. Actually, his season totals aren't doing him evaluative justice. During the Hoyas' current 11-game win streak, for example, Porter has become even more central to the offense, personally accounting for 28 percent of the team's shots while he's on the floor. Over that stretch he has shot nearly identical percentages on both his 2s (52 percent) and 3s (51). Porter has been on the floor for 596 offensive possessions in those 11 games, and he has committed only 16 turnovers. In his past six games he has averaged better than eight free throws per contest, and he has connected on 86 percent of those attempts from the charity stripe. In short, Thompson has a featured scorer who's decimating opposing defenses, and that featured scorer is becoming progressively and measurably more lethal as the regular season draws to a close. If you appreciate the game of basketball, Porter projects to be mandatory viewing in March—and, quite possibly, April ...
And there's the rub. I like Porter. I like Burke. I like McElmore. I like a half-dozen players on any given night. That kind of season, I suppose. The problem with choosing a player of the year is that we're supposed to make up our minds in early March—but this year, at least, we won't have a definitive answer until early April.
–Patrick