'We're Probably the Least Food-Filled Food Magazine Out There'
Four issues in, Swallow aims to be part gastronomical periodical, part coffee-table book, part passport, and part dinner-party argument starter.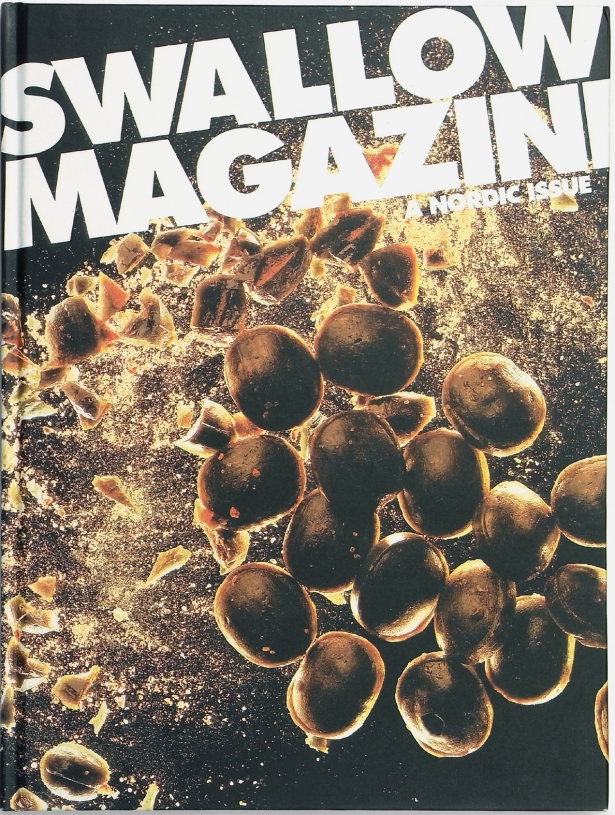 Swallow may not be the first or even 10th name you'd think of for a hipster's foodie magazine—better for a birder's niche mag or drinker's handbook. But Swallow is what James Casey calls the quirkily elegant food culture journal he publishes edits and designs in New York. Three issues have come out so far, with a fourth in the works devoted to delights of the New York City's East Village. With its punk coloring, striking but decidedly not-food-porn covers, and feature stories that cover topics far afield of the kitchen, so far, the magazine's been living up to its unconventional title.
Casey, a Brit raised in Hong Kong who is an art director/graphic designer with a penchant for periodicals, began Swallow as an alternative to commercial foodzines. His father published a food magazine himself, "and as a result I was exposed to a fair amount of varied food and travel," Casey told me, after I recently came across an issue of Swallow. But the real impetus came when traveling to Rio for a fashion photo shoot: Casey spent more time "talking to our caterer about where to find the perfect place for feijoada, rather than on the shoot itself." (And if you're wondering where that perfect place was, he says, "it was at our driver's parent's house.")
Casey says he's something of a foodie, though he "doesn't actively follow trends, is weary of most restaurants, and tends to cook rather simply." Instead he says, "travel excites me a lot more, both in terms of food and culture—the feeling of being entirely dislocated from your regular day-to-day experience is thoroughly refreshing." So in Swallow he concentrates on cultures least visited by food editors.
Swallow's meat, as it were, is food, but smart design and exquisite production are also part of its appeal. Casey explains that given the predicted demise of print publications, "it only makes sense to create an object that people would want to hold on to. Printed matter is, in my opinion, no longer the prime format for information, but it still can be superior in terms of aesthetic."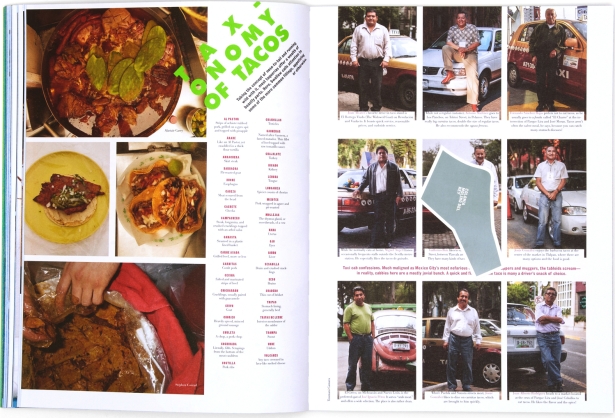 In terms of production, Swallow hovers closer to a coffee table book than a magazine, and is priced somewhat similarly. That said, according to Casey it has managed to sell out of each issue while ramping up the numbers printed each time. Swallow was, however, never intended to be as lavish as it ended up being. Initially the idea was to create something on newsprint, but by the time the first issue was finishing up, "it felt such a shame to relegate all the photography and art to such a temporal form. Our printers, the excellent Dominie Press in Singapore, specialize in rather remarkable books, and the option to make it a hardbound book wasn't that ludicrous, cost-wise." For Swallow's "Trans Siberian Issue" a fifth florescent color and a comic-book insert was included, and the Mexico City edition, while printing a soft cover, had stained edges and a clothbound spine.
Casey grew up in Hong Kong and studied graphic design with the idea of designing album covers, but after a few temporary shuffles through places like MTV, he found himself at Teen Vogue magazine. "It was there that I picked up a preference of letting photography—good photography at least—speak volumes, and allowing the design to work with the images," he says. Since then he has worked on a number of publications before leaving to start Swallow, where the guiding philosophy is to be like "a great dinner party" at which food is what bonds the guests together, but "the ideal conversation veers outward in all sorts of directions, before eventually returning to the dishes at hand."
"We're probably the least food-filled food magazine out there," Casey says. "The great thing about food as a subject is that it involves so much more than just what we put in our mouths. It can be used as a conduit to exploring philosophy, sociology, politics, economics, and everything else in between. It's like what Brillat-Savarin said, 'tell me what you eat, and I will tell you who you are.'"
Preparing an issue is research intensive in that it involves lots of reading about, watching as films about, Internet sleuthing about, and talking about the featured destination. A "reconnaissance trip" is then embarked upon that consists of meeting chefs, artists, activists, writers, photographers, filmmakers, who are divided into contributors and story subjects. Each issue prior to the Mexico City one was released annually, although production hiccups caused a larger gap between the Trans-Siberian and the Mexico City volumes.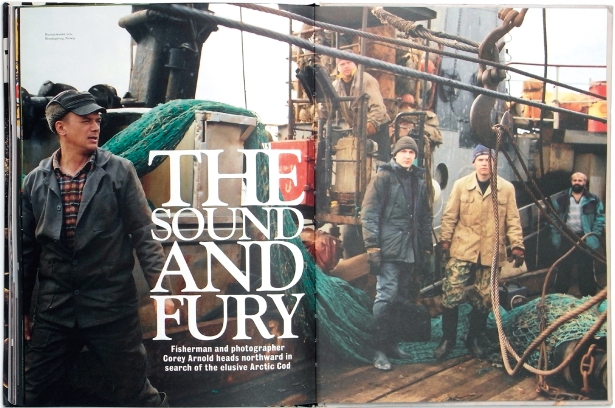 Like all independent ventures, there are challenges. Casey's biggest was adding the smells of Mexico City to the same issue: "We worked with the brilliant smell researcher Sissel Tolaas, who synthesized the smells of 20 of the city's many neighborhoods for the magazine. The smell slurries were shipped to Berlin by International Flavors & Fragrances, which were then hand mixed with a UV coating to avoid destroying the microencapsulated scents. These [were] then carefully printed on coated sheets of printed paper, which were sent to Singapore to be die-cut and hand stuck throughout each magazine. It seemed rather bleak and Sisyphean at the time, but it turned out amazingly."
The concept for the Trans-Siberian issue emerged after months of attempting to come up with an idea. "I thought about taking a vacation for a week to convalesce and somehow ended up wanting to take the Trans-Siberian [railway], as it seemed the ideal place for self-reflection with a dose of adventure thrown in," he explains. "As an unrepentant Russophile, the idea became more and more compelling until it just took over as a theme for the issue." Swallow's Trans-Siberian route went to Beijing (via Mongolia). "There was also something interesting about featuring destinations that were unrepentantly un-foodie," he says, "as 'good' and 'bad' food are equally important to talk about."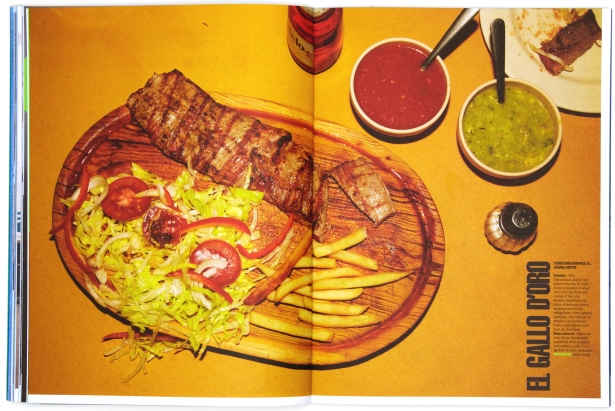 The East Village issue came out of a similar interest in high and low ideas about food and culture. Casey's lived in the New York City neighborhood for the past 10 years, and he calls it "perhaps the last place in downtown Manhattan that has managed to hold on to some part of its former identity." But with gentrification, the East Village is also changing quickly. "The issue is both an aim to capture it before it all disappears, and also to act as a moratorium for what we've lost," Casey says, before adding in another typically Swallow-esque reason for selecting the area: "the insouciance of only looking at a neighborhood after having covered regions, continents, and capital cities."