They Don't Call It March Methodology: Picks for the NCAA Basketball Tourney
Bucknell will be the Cinderella, Ohio State will finally win one for Thad Matta, and other predictions for this year's wide-open brackets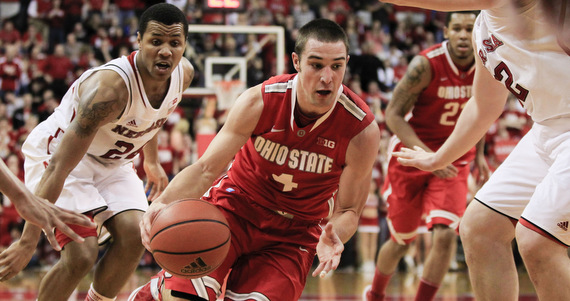 AP / Nati Harnik
Every week, our panel of sports fans discusses a topic of the moment. For today's conversation, Patrick Hruby (writer, Sports on Earth and The Atlantic), Jake Simpson (writer, The Atlantic), and Hampton Stevens (writer, ESPN and The Atlantic) predict the winners, losers, and most compelling characters of March Madness.
---
Gentlemen,
March Madness is here. And this year's NCAA men's basketball tournament figures to be particularly maddening. Parity rules. Last year's star-studded Kentucky squad is a distant memory. (Robert Morris? Ha ha). There is no clear-cut title favorite, no standout superstar, no mid-level seed that couldn't get hot and make a Final Four run, no top seed that couldn't go cold and make an early exit.
So yeah: This should be fun.
In honor of the tournament's brutal, wonderful finality, let's cut to our picks and predictions:
Upset special: No. 11 Belmont over No. 6 Arizona. The good news for the Wildcats? A multi-season rebuild from the tumultuous, protracted end of the Lute Olson era is nearly complete, and coach Sean Miller's program is a season or two away from legitimate national title contention. The bad news? Arizona's 14-0 start and No. 3 ranking are a distant memory, and the Wildcats are spectacularly ill-equipped to handle the Bruins. Arizona finished last in the Pac-12 in three-point field goal percentage defense (and 274th nationally, bleah) and was consistently torched from beyond the arc by smaller, quicker squads—in part because shoot-first point guard Mark Lyons is a defensive sieve; in part because the Wildcats' trio of heralded freshman big men (Grant Jerret, Brandon Ashley, Kaleb Tarczewski) handle high ball screens like, well, freshmen; in part because Miller stubbornly insists on playing a paint-clogging, jump shot-allowing pack line defensive scheme. Meanwhile, undersized Belmont ranks No. 12 nationally in three-point field goals per game (8.5) and No. 18th in three-point percentage, and the Bruins' sweet-shooting trio of guard Ian Clark (46.3 percent three-point percentage), swingman J.J. Mann (38.4 percent) and stretch power forward Trevor Noack (41.8 percent) figure to give the Wildcats fits.
Bracket buster:
No. 11 Saint Mary's. The Gaels had to win a play-in game against Middle Tennessee to advance to the
first
second round, but that only shows how poorly they were seeded. Only don't take my word for it:
ask the number-crunchers at ESPN.com
, who like St. Mary's three-point shooting and offensive rebounding and give the Gaels a top 25 power rating—22 spots ahead of shaky first round opponent No. 6 Memphis. Besides, St. Mary's has history on their side: two years ago, they shocked No. 2 seed Villanova en route to the Sweet Sixteen.
Paper tiger: No. 3 Florida. Here's the thing about the Gators: they have the talent and defensive prowess to reach the Final Four, and maybe even win the title. But they're mediocre—as in 0-6 in games decided by single digits—in close, pressure-packed situations, including an epic come-from-ahead road loss to Arizona that saw Florida blow a 11-point lead with less than two minutes to play. Why so maddening? Guard Kenny Boyton prefers bad shots to good ones. The Gators have a tendency to ignore NBA-bound center Patric Young, whose ripped, Colossus-at-Gainsville physique might be the most intimidating in college basketball. And the Southeastern Conference—which the Gators dominated—was as bad in basketball this season as it was good in football.
Dark horse: No. 8 North Carolina State. The perplexing Wolfpack underachieved for most of the regular season, but on the basis of size, experience, versatility and talent—forward C.J. Leslie and combo guard Lorenzo Brown are future NBA players, while all-ACC forward Richard Howell is a ferocious rebounder—are the sort of low seed that can make a deep run.
Best-kept secret(s): Bucknell center Mike Muscala, a 6-foot-11 senior who averages 19 points and 11.2 rebounds per game and is good enough to lead his team to a first-round upset of mid-major darling Butler; Miami point guard Shane Larkin, who gets more attention for being the son of former Major League Baseball star Barry Larkin than for being one of the country's top playmakers.
Player to watch: Indiana guard Victor Oladipo, a rapidly improving, highlight-producing Swiss Army Knife shooting guard who at one point this season was being non-hyperbolically compared to a college-age Michael Jordan. And that's just when Oladipo is missing dunks.
Sideline story: Florida Gulf Coast coach Andy Enfield is (somehow) married to model Amanda Marcum—a strong contender to follow in the footsteps of Katherine Webb and end up on a second season of Splash. Assuming there is, in fact, a second season of the celebrity diving show.
Dream matchup: An Indiana-Louisville title game would not only match the nation's best offensive (Hoosiers) and defensive (Cardinals) teams, but also two of college basketball's blue-blood programs. Oh, and as an added bonus, it would tweak spoiled and annoying rival Kentucky fans counting down the days until their school welcomes another top-rated recruiting class. (In the meantime: Robert Morris? Ha ha).
Championship pick: Miami. In a why not? season, why not a school traditionally known for powerhouse football? The 'Canes are tough and tested; coach Jim Larranaga once led George Mason to a Final Four. Best of all, a Miami victory would be a karmic fork in the eye to the increasingly infuriating NCAA. What's not to like?
–Patrick
I like your style, Patrick. Let's get right to it:
Upset Special: No. 8 Pittsburgh over No. 1 Gonzaga (west region Round of 32). Yes, the game is being played in Zag-friendly Salt Lake City (a whitewash on the court and in the stands!), and yes, Gonzaga will undoubtedly have a chip on its shoulder—there hasn't been a team since St. Joseph's in 2004 that finished the regular season No. 1 but received so little love from pundits and prognosticators. But Gonzaga doesn't have superior athleticism outside of Kelly Olynyk, the Canadian Arvydas Sabonis, and it won only three games all season against tournament teams not named St. Mary's. Meanwhile, the Panthers cut their teeth in the ultra-competitive Big East, where they finished fourth and racked up several quality wins, including a 73-45 dismantling of March Madness No. 2 seed Georgetown on the road. Look for the Panthers to make Gonzaga the lone No. 1 seed to be bounced before the Sweet 16.
Bracket Buster: No. 11 Bucknell. The Bison open against Butler, the East Region No. 6, which struggled late in the season and was trounced by St. Louis in the Atlantic 10 tournament. Bucknell is led by the muscular Muscala (sorry, I had to), who should wear down Butler's front line. In the second round, the Bison will likely get Marquette, a vulnerable No. 3 seed that is in danger of losing to No. 14 Davidson in the Round of 64. Bucknell should reach the Sweet 16, a first for the Pennsylvania program.
Paper Tiger: Michigan. Sure, the Wolverines have player of the year candidate Trey Burke. And if you'd asked me in mid-February, I'd have picked John Beilein's squad to win it all. But Michigan went just 6-6 in its last 12 games, including a grisly loss to Penn State and a more-lopsided-than-it-appeared loss to Wisconsin in the Big 10 tourney. Even though Michigan will have virtual home games in its first two rounds—the games will be in Auburn Hills, Mich., at the home of the Detroit Pistons—they will fail to make it past the swarming defense and relentless play of VCU in the Round of 32.
Dark Horse: Wisconsin. Forget the talk of wonder-troll Marshall Henderson and Ole Miss knocking off the Badgers in the Round of 64. Wisconsin has the experience and offensive cohesiveness to beat anybody, and they have the steady hand of coach Bo Ryan to guide them through any rough patches. For anyone doubting their chops, the Badgers beat Michigan and Indiana on consecutive days last week and pushed Ohio State to the limit in the Big Ten tourney final. A trip to the Final Four is not out of the question for Ryan's squad, though a potential rematch with Ohio State looms in the Elite Eight.
Player To Watch: Otto Porter. The Georgetown forward won the Big East Player of the Year award, beating out Louisville's Peyton Siva (the best player on the best team in the country) in the process. Porter can score from inside and outside and averaged 16.3 points and 7.4 rebounds a game for the Hoyas this year. The junior has the athleticism to either beat up on lesser teams or force them to double-team him, which should open up opportunities for the rest of the Hoyas.
Best-Kept Secret: Matthew Dellavedova. The St. Mary's guard has already lit it up in the tournament, amassing 22 points and seven assists in the Gaels' 67-54 win over Middle Tennessee State in a first-round matchup on Tuesday. He plays with a style that can only be called swashbuckling, and as a taller college guard at 6'4", he quarterbacks St. Mary's on both sides of the floor. We already know the senior guard's a gamer—he's averaged more than 35 minutes per game in all four seasons at St. Mary's. Not only will Dellavedova play 39-40 minutes in every game unless he gets into foul trouble, but he alone should be enough to get the Gaels past Memphis in the Round of 64.
Sideline Story: Ben McLemore. If you haven't read about him already, do it now.
Dream Matchup: Miami vs. Florida. This matchup would take place in the Final Four and whip everyone south of the Florida Panhandle into a frenzy. Lost in the Miami-Florida St. and Florida-FSU rivalries is the long history of hatred that the Hurricanes and Gators have for each other. The teams used to play regularly in football until Florida abruptly ended the rivalry in 1988. Miami fans have long argued that Florida ducked them because the Canes were the dominant program. The first time the teams played after that was the 2001 Sugar Bowl, when players from both squads tussled in a memorable brawl on Bourbon Street. A Miami-Florida hoops matchup would be the schools' biggest basketball clash by far and set the stage for another pregame brawl (maybe outside the Georgia Dome this time).
And The Winner Is...: Ohio State. As a Northwestern graduate, this pains me more than I can describe. But the Buckeyes have all the pieces to muddle through this evenly matched field and cut down the nets in Atlanta. They have a stud junior guard in Aaron Craft, who along with Louisville's Siva is the best on-ball perimeter defender in the country. They have a stud scorer in Deshuan Thomas, a junior forward who averaged 19.5 points and 6.2 rebounds a game this season. And they've proven they can beat anyone in the country, with wins over Michigan, Indiana, Michigan State and Wisconsin. The Buckeyes will overcome Miami in the championship game and give coach Thad Matta a long-deserved national title.
–Jake
Okay, the problem here is obvious. You guys are picking using logic, statistical probability, and your knowledge of basketball. That's a big mistake. They don't call this tournament "March Logic," after all. It's madness! The only way to fill out a bracket is to throw away all you think you know and fully embrace the crazy. Go with your gut. Go with hunches. Pick against teams because you hate their uniforms. Take them to win because you love their mascot. It'll be infinitely easier and more fun than number-crunching research. Plus, the sheer wackiness of the Big Dance means you'll probably do just as well as any hardcore bracketologist. For me anyway, being emotional is the point. Filling out a bracket isn't about being rational. It's about being a lunatic KU fan, and every pick is made looking through a Jayhawk lens.
For instance:
Upset Special: Every year the 5-12 match-ups are hotbeds of upset picks. Like everyone else, I'm looking towards Oregon and Oklahoma State. Unlike everyone else, my main motivation is bitterness. The Cowboys beat Kansas in Allen Field House this year, busting KU's 33-game home-court winning streak. It was galling. I'm totally not over it, and won't be for some time. Despite the ugliness of Oregon's uniforms, and the sham of calling the Pac-10 a major basketball conference, sheer malice compels me to pick against OSU.
Bracket Buster: As we all know, a 16-seed has never won a game in the NCAA tourney. Someday one will. Maybe it's now. Take the Southern University Jaguars to beat Gonzaga. Sure, Southern U's strength of schedule ranked last among all 347 NCAA Division I teams. Yes, the Jags have about as much chance to beat the Bulldogs as a high school JV team does of beating the Miami Heat. But imagine how brilliant you'll look if it actually happens.
Cinderella Team: Truthfully? There can't be one. There's too much parity this year. Barring a run by my SU Jaguars, there's barely a team in the tourney that could make the Final Four and be truly called a Cinderella—even if they are a double-digit seed from a non-BCS conference. That said, you guys already mentioned my favorite fairy-tale picks; St. Mary's against Memphis and Belmont over Arizona. 11-seed Bucknell has a solid shot, too. But again, the fan factor is in play. My head may like Bucknell to win. My heart hasn't forgiven them for a 2005 first-round upset of Kansas.
Dream Match-up: Is this a trick question? Former Kansas coach and current Tarheels head man Roy Williams has brought Carolina to Kansas City as an 8-seed. If UNC can beat Villanova, and Bill Self's Jayhawks top Western Kentucky on Friday night, two of the game's most storied programs and greatest coaches will clash on Sunday afternoon at Sprint Center. From where I sit—a few miles from the arena—that looks like a match-up any college hoops fan would dream of.
Player to Watch: Jake... Dude. You took Ben McLemore? Seriously? The red-shirt freshman phenom at Kansas about whom I've been obsessing all season—including a rhapsodic ode in this very space—and you picked him as the tourney player to watch before I could? That's just cold, yo.
Championship Pick: Sure, Ohio State is the safest pick. Michigan State my dark-horse threat. Rationally, I know that KU will have a tough time of it. Top-seed or not, this KU team has been wildly inconsistent. They are no sure bet to get past UNC and (probably) VCU to reach Atlanta, let alone to win it all. But I'm still picking them to win it all, anyway. Because I care more about being a fan than doing well in an office pool. And being a fan, in my case anyway, means being crazy and superstitious enough to believe that the act of picking a team to win a title will actually help them win it.
–Hampton