The Underappreciated True Story of 48-Year-Old Boxer Bernard Hopkins
Hopkins began boxing after leaving prison, gained fame first as a knockout artist and later as a crafty defensive fighter, and is now one of the oldest successful pro boxers ever.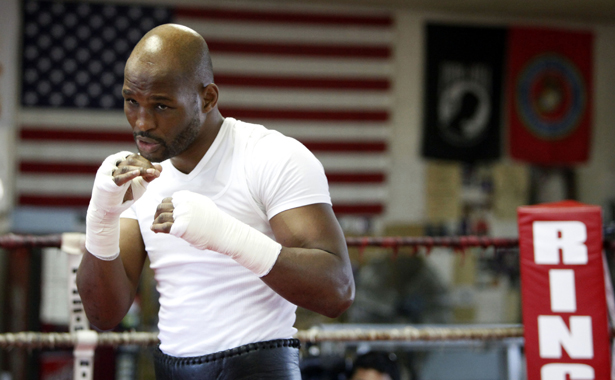 AP / Matt Rourke
From Boom Mancini and Micky Ward, Hollywood loves to dramatize the lives of great boxer. But it has so far ignored the most incredible ring story since Muhammad Ali. Then again, it would be difficult to make a movie about Bernard Hopkins—both because his career has seemed like it will never end, and because if someone wrote a script about Hopkins's journey, no Hollywood producer would believe it was true.
But if Hopkins had fought in the 1950s, when boxing on TV was part of mainstream American culture, he would have been a household name. As it is, the 48-year-old Hopkins will have to settle for a few million devotees who'll be tuning in to see what could well be his last fight along with several thousand ringside at Brooklyn's Barclays Center on Saturday, when he'll face International boxing Federation light-heavyweight (limit 175 pound) champion Tavoris Cloud, who's 17 years his junior.
Related Story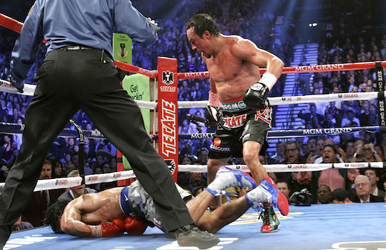 Bernard Humphrey Hopkins, Jr. was born in January 15, 1965 in Philadelphia. He grew up in perhaps the most crime-ridden projects in Philly. By the time he was 11, he was already into petty theft; within two years, he was mugging people and had been to the emergency room three times with stab wounds. He joined a gang and graduated to higher crimes. By the age of 18 he had accumulated a rap sheet longer than his left arm. In 1982, after racking up nine felonies, he was sent to Graterford Prison for 18 years. As he once told a reporter for the Philadelphia Daily News, "I saw worse stuff inside prison than I ever saw in the streets. I saw guys raped, beaten and tortured. When I saw a guy murdered for a lousy pack of cigarettes, something in me snapped. I knew that I had to be responsible for turning my own life around."
Around his 21st birthday, he discovered boxing. A cliché about fighters is that many are violent men who come out of the pugilistic trade more violent than they went in. I've never seen any statistic on that, but I've known quite a few fighters for whom the fight game seemed to served as a means to focus their energies into something more productive. Hopkins, to hear him tell it, is one of these men.
According to legend—which Hopkins helped create himself—the warden of Graterford Prison told him upon his release after five years, "You'll be back." To which Hopkins supposedly replied, "No, I ain't ever coming back here again." Whether or not the exchange ever happened, the important part is that Hopkins kept his vow. He converted to Islam and swore off drugs, alcohol, and even junk food. He lost his first fight in 1988, got discouraged, and then refocused, resuming his career nearly 16 months later and earning his first win.
Over the next two years he scored 21 victories in 21 fights, 16 by KO and 12 of those in the first round. He gave himself the nickname "The Executioner." "I know it sounds kind of dumb," he told a boxing writer, "but I couldn't think of anything else to call myself, and it got me noticed. I got on TV a lot."
In 1993, five years after leaving Graterford, Hopkins had his first big fight, against middleweight champion Roy Jones, regarded by analysts as the best pound-for-pound fighter in the world. Hopkins had yet another setback, losing badly, though he finished the match.
Discouraged and disgusted, seven months later he pulled it together for another big fight, meeting the IBF number one contender Segundo Mercado in Quito, Ecuador. Dizzy from the 10,000 foot altitude, Hopkins was knocked down twice and nearly counted out. He pulled himself up to win a decision. In April of 1994, rematched with Mercado in Landover, Maryland, he won on a seventh-round KO and became middleweight champ. Some writers were calling him the best fighter in the game; he certainly looked it, making 12 consecutive title defenses. Finally he got his revenge against Jones, spectacularly knocking him down en route to a unanimous decision. Some people said that Jones, age 37, was over the hill.
Since then, Hopkins has lost a couple but won many more, compiling a ring record of 52 wins, six losses, and two draws. When he turned 40 in 2005, he seemed to lose much of his fabled knockout power but replaced it with ring craft and guile. The late, great boxing historian Bert Sugar said during a TV broadcast that "younger, stronger fighters would try to bull rush Hopkins only to find that he could tie them up tighter than Willie Nelson's headband." He developed into a superb defensive fighter; some compared to him to "The Mongoose" himself, Archie Moore.
"Younger guys would think that an old boxer must be an easy target," Sugar said, "Only to find out when they stood in front of him they couldn't hit him with a handful of stones."
No amount of ring smarts, though, helped him against Jermain Taylor, who took his title in 2005 and then whipped Hopkins again in the rematch. At 41, Hopkins finally seemed washed up. But he adapted, deciding to put on a few pounds and move up in weight class. "It was a new life for me," he said. "I could finally eat pasta and not worry about going over the weight limit." In 2006 he won The Ring Magazine's light-heavyweight title from one of the sport's best fighters, Antonio Tarver. He lost that title to Joe Calzaghe two years later, and then, in attempt to win it back, fought to a thrilling but inconclusive draw with the new champion, Jean Pascal.
A few months later, in perhaps the crowning achievement of his career, he won a unanimous decision over Pascal to take The Ring's version of the light-heavyweight title. At 46 years, four months and 10 days he broke George Foreman's record to become the oldest fighter ever to win a world championship.
When Hopkins steps into the ring at Brooklyn's Barclays Center Saturday night there will be no real pressure on him. At age 48, the only possible record to beat would be his own, and if he loses he already has a burgeoning career as a promoter with a minority partnership with Oscar De La Hoya in Golden Boy Productions. And if he wins, who knows? Hopkins could become the first fighter ever to be his own promoter. Someone at the pre-match press conference jokingly suggested to him that, if he prevails, he stage his next fight at Graterford Prison. "Yeah," replied Hopkins with a laugh. "I may do that. Under those conditions, I wouldn't mind going back."