The Scramble to Finish Rio de Janeiro's 2014 World Cup Soccer Stadium
Weather, worker strikes, and structural problems have set back the renovation of the historic Maracanã Stadium as FIFA's deadline looms in May, and the Olympics after it.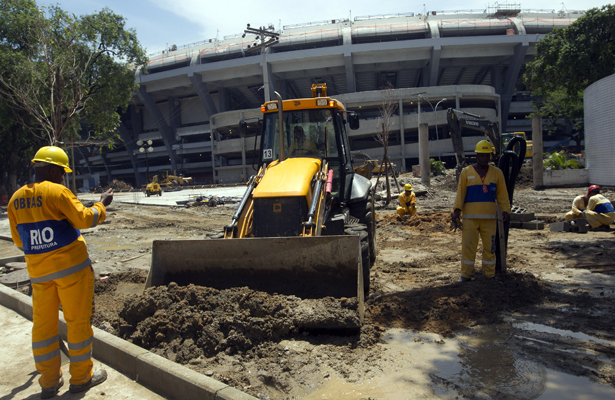 Here's the plan: On June 2nd, a bronze statue of Pelé will be unveiled at the inauguration of Rio de Janeiro's renovations, just before Brazil defeats England in a friendly soccer match. Weeks later, Brazil will win the Confederations Cup on the same field, portending the glorious final match next summer when the national team returns the World Cup to this hallowed ground.
Yet with fewer than 100 days until the Confederations Cup begins, the stadium is unfinished—and sometimes underwater—after months of delays and weeks of unwelcome thunderstorms.
"We're not worried, we're just a bit anxious," FIFA Secretary General Jérôme Valcke told reporters on his March 7th visit to Maracanã, two days after work was paralyzed by floods. "All we are concerned about is doing a good job. We don't have a Plan B."
Related Story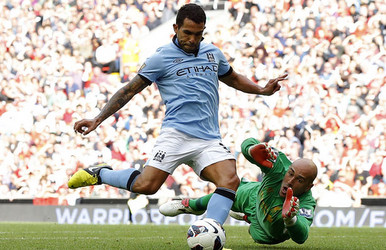 Construction delays are routine drama for any city or country preparing to host an international sporting event, from Athens' scramble to prepare for the 2004 Summer Olympics to South Africa's push for the 2010 World Cup. Yet here in Rio de Janeiro, the scope of work is unprecedented, as the city grapples with its audacious plan to host the soccer's biggest tournament in 2014 and become the first South American Olympic host in 2016. Maracanã is the keystone of both events, hosting the final match of the Cup next year, and the opening and closing ceremonies of the Olympics in 2016.
"For 60 years, the Maracanã built its glory as the sacred temple of football," says Tania Lazzoli, spokeswoman for Rio de Janeiro state's secretary of public works, whose department partners with the 2014 Rio Maracanã Consortium to complete the $440 million renovations, among other major projects around the city. "Now the stadium is being rejuvenated to start a whole new era."
Estádio Jornalista Mário Filho, as it's officially named, was first built for the 1950 World Cup when more than 200,000 people packed inside to watch Brazil and Uruguay in the final match. A stunning 2-1 upset of the hosts left the home crowd dumbstruck, wounding national pride. But over the decades the stadium has become a historic landmark with huge crowds cramming inside to witness Pele score his 1,000th goal, Frank Sinatra sing to a world-record crowd, Pope John Paul II deliver open-air mass, and other holy spectacles. Capacity has shrunk over time, as seats replaced standing-room-only sections, but until the stadium closed for construction in August 2010, fans of Rio's soccer clubs routinely packed the stands, chanting, launching fireworks, and taunting rivals at the neighborhood sports bars.
To comply with FIFA regulations, the latest renovation will make the stadium safer, more comfortable, and, for better or worse, more modern, including luxury suites, disabled access, state-of-the-art sports medicine and media facilities, and a host of green energy and conservation projects. The project suffered major delays in 2011 when structural weakness in the stadium's iconic concrete dome forced engineers back to the drawing board to design a membrane roof structure. The new design, featuring solar panels and a wastewater draining system, pushed back the original December 2012 deadline to February—and now again to May. While the World Cup is still more than a year away, FIFA has repeatedly warned Brazil that it needs the Maracanã delivered no later than May 28th, in time for test events necessary to work out the kinks that can only be solved during live matches. There is no further room for error.
Every weekday at sunrise, as traffic begins to clog the northern zone of Rio de Janeiro, dozens of men and women line up at a recruiting station near the main gates of Maracanã Stadium, hoping to join the 5,500-person crew.
"I have plenty of experience, and I have some friends working here, but it's not always easy to get hired on," says Anderson Santos de Sauza, a 33-year-old carpenter applying to help finish the stadium's posh new interior. After submitting his papers, he sits in the shade of a nearby tree, checking his cell phone while he waits for an interview.
New workers flock here daily, and construction quickened through Carnaval and a wet month of February. It takes a fair amount of optimism to imagine how this work in progress will be ready for hordes of soccer fans, not to mention the global sports-journalism complex. In the cool morning hours, enormous cranes hang the two-ton segments of frame supporting sheets of white membrane that will cover almost 79,000 seats. The sprawling project dwarfs the surrounding commercial zones and hillside communities, which are undergoing renovations of their own. On Corcovado Mountain in the distance, the statue of Cristo Redentor looks like a souvenir miniature, arms outstretched toward the famous beaches where most of Rio's visitors spend their time.
Maracanã is the most high-profile project in a city undergoing transformation in every zone, from renovation of its international airport and expansion of its subway line to efforts to impose more security on its beaches and in historically poor hillside communities. Success unveiling this new stadium will be an important milestone for Olympic organizers who have warned the city that it needs to "stay vigilant" to be prepared for the games. Yet in a country that treats soccer more like a religion than a sport, the World Cup is arguably a bigger deal.
Unlike the Olympics, which will be concentrated in Rio de Janeiro, the Cup is spread across 12 host cities in an ambitious plan that is transforming urban areas nationwide, from the northeastern coast to the Amazon region, renewing the entire country's sense of pride, buttressing infrastructure, and creating thousands of jobs at a time when its economy, and its ambitions to become a global economic power, are showing signs of growing pains.
With all eyes on Rio, labor unions have used the high stakes as leverage to win concessions from their employers. On February 18th, the day before the International Olympic Committee was scheduled to visit Maracanã, the Heavy Construction Workers Union brought work at the stadium to a standstill for 24 hours, demanding better salaries, overtime wages, health benefits and food vouchers. It was a warning shot, and it worked. State governor Sérgio Cabral Filho intervened in short order, helping negotiate a deal and between the union and the Consortium to have workers back on duty the next day, avoiding a full-scale strike that would invite chaos at a time when even a single day's delay could make the difference between success and failure.
Now construction has resumed at a frenzied pace, with workers earning 11 percent raise, a 30 percent increase to their overtime pay, and a boost to their food vouchers. The Consortium has reportedly redirected employees from nearby subway projects to bolster the manpower at the stadium. Teams in yellow and blue uniforms dig natural gas lines, pour concrete, and plant palm trees on the exterior while engineers and workers on the interior of the stadium erect the covering, get bleachers waterproofed and seats installed, and complete the delicate finishing touches throughout. Workers are on site 24 hours a day in three shifts, chugging water and sucking on popsicles during the hottest part of the day, catching naps between shifts in the shade of a palm tree or a crane.
"We'll have the interior ready for sure," said one foreman on lunch break. "But there's still going to need to be lots of adjustments made over the next year."
Yet at this late stage, more rain threatens to undermine the project plan. Thunderstorms two weeks ago forced crews to focus on interior projects, and even the next day bulldozers sludged through pools of mud, pushing wet earth at a time when work needs to be moving faster. Last week, a FIFA visit to the stadium was cancelled after a torrential downpour left construction materials and equipment sitting idle on a stadium floor that looked more like a lake than a field.
At this point, there may be little to do but cheer on the workers and hope for the best. On Thursday, February 28th, as the day shift was getting started, former president Luiz Inácio Lula da Silva surprised workers with a visit and a rousing speech. While laborers snapped shots on their cell phones, Lula shook hands and grabbed a microphone to congratulate them on their hard work, endorsing Governor Cabral for negotiating the new labor agreement.
"Many were saying: 'The World Cup will be a failure, Brazil is not ready to realize a World Cup. The stadium will not be ready,'" said Lula, sporting a hardhat. "But you are demonstrating. Never doubt the capacity of the construction workers in this country."