The Marilynne Robinson Paragraph That Helped Dina Nayeri Handle Loss
Reading a passage about the unresolved desire to fill the empty spaces in a life helped the author of A Teaspoon of Earth and Sea understand her own grief over missing loved ones.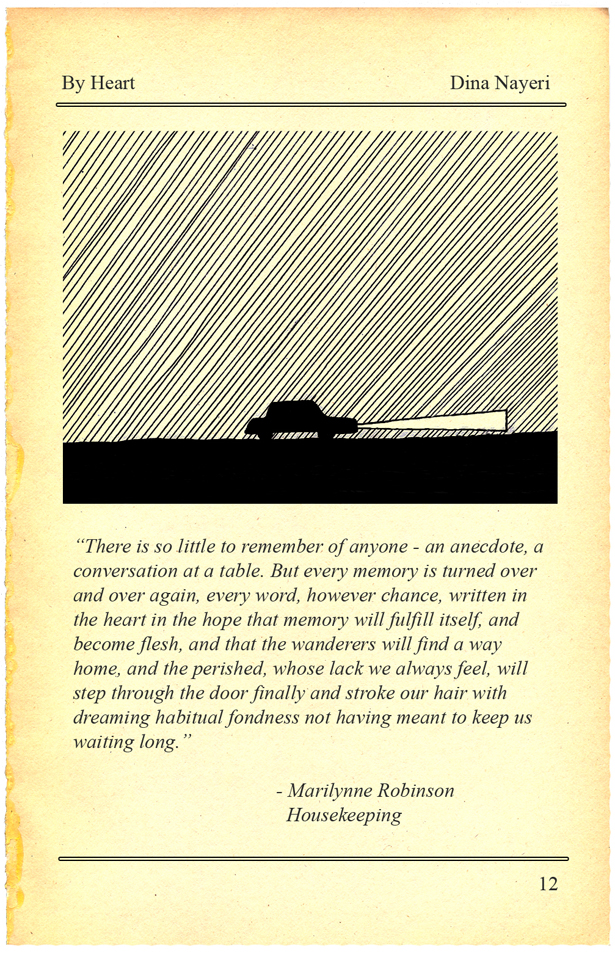 Doug McLean
By Heart is a series in which authors share and discuss their all-time favorite passages in literature.
Dina Nayeri's debut novel A Teaspoon of Earth and Sea explores the stories that spring up to explain the absence of the missing. Saba, a young Iranian girl obsessed with America, collects forbidden artifacts of Western culture: She keeps a faded Life magazine from 1971 with articles in it about Harvard and Chromacolor film and tries to memorize the lyrics to Bob Dylan's "Mr. Tambourine Man." When her mother and sister inexplicably disappear, she imagines that they have gone to America. As she grows older, she keeps her family's missing women alive through a long-held, robust fantasy about their dream life in the States.
Her own family spread between continents, Nayeri knows how long-term absence can become a crushing kind of presence. When I asked her to select a favorite passage from literature, she chose a paragraph from Marilynne Robinson's 1980 debut novel Housekeeping—a luminous meditation on how our memories of people lost and missed and passed, with time, take on a kind of bodily life.
Dina Nayeri is a graduate of the Iowa Writers' Workshop, where she was a Truman Capote fellow. Her work appears in Granta New Voices, Salon, Glamour, and other magazines.
---
Dina Nayeri: In Farsi there is a common saying: "Your place is empty." We tell it to loved ones when describing pleasurable experiences they've missed. "It was a delicious meal—your place was empty." "I've missed you—I'm keeping your place empty." Given our natural instinct for drama, we Iranians cherish the concept of a physical space kept waiting.
I used to think this was a way to honor the missing. Now I think it's a way to make the suffering last. Years ago I got married and my father, who lives in Isfahan, tried to get a visa to come to my wedding in Massachusetts. We believed until the last minute that he would find a way, and so he had a place setting, a meal served, a wedding favor with his name. In the end he was literally represented by an empty space. Seeing it from across the room heightened the pain in my chest to a delicious kind of excruciation—a secret bruise on my happiest day. Now, though my marriage is over—a new kind of open space—I often think of that empty chair.
It seems to have made its way into my first novel. I didn't set off with that intention, of course, but it happened that as I was working on my "Caspian Sea book," the empty chairs in my life began to add up. I had just reached my thirties and yet, it seemed, I had barely experienced real loss. I didn't know how to fix myself. I was bad at suffering and squirmed under the weight of it. I read and read, trying to find an answer, and the book that finally soothed was Marilynne Robinson's Housekeeping. Strangely, by the time I discovered her writing, I had already packed my bags for the Iowa Writers Workshop, where she teaches. When I finally picked up her marvelous novel, I was sitting alone in a dark, ground-floor room of a tiny Iowa City inn, and I badly needed a balm. And then I read:
There is so little to remember of anyone—an anecdote, a conversation at a table. But every memory is turned over and over again, every word, however chance, written in the heart in the hope that memory will fulfill itself, and become flesh, and that the wanderers will find a way home, and the perished, whose lack we always feel, will step through the door finally and stroke our hair with dreaming habitual fondness not having meant to keep us waiting long.
When I got to this quote, I stopped. I read it, crying, a dozen times. I thought: This is why we keep a space waiting, and why we force ourselves to look at it ... It's about keeping the memory and the longing so sharp that by some mystical force the space can close.
"...every word, however chance, written in the heart in the hope that memory will fulfill itself, and become flesh..."
An absurd and beautiful hope.