The 2013 MLB Season: Why Not Root, Root, Root for the Home Team?
Kansas City and D.C. fans have a right to expect big things this year. Plus: Mike Trout as MVP, Jeffrey Loria as continued league villain, and the late arrival of Jurickson Profar.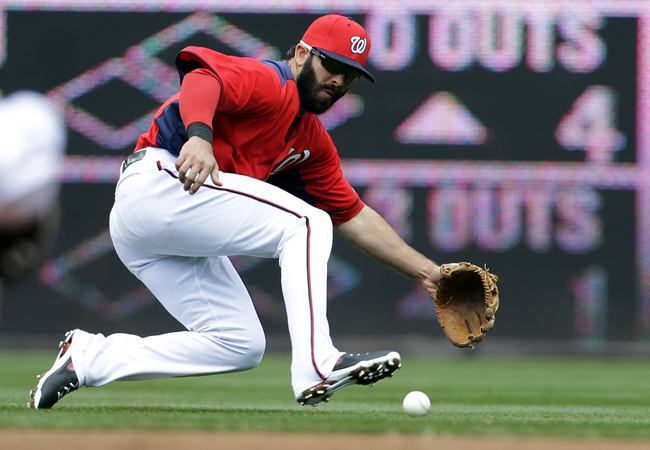 Every week, our panel of sports fans discusses a topic of the moment. For today's conversation, Hampton Stevens (writer, ESPN and The Atlantic) Patrick Hruby (writer, Sports on Earth and The Atlantic), and Jake Simpson (writer, The Atlantic) make their predictions for the winners and losers of this year's pro baseball season.
---
One of former MLB commissioner Bart Giammati's most-quoted lines is that baseball "leaves you in the fall when you need it most." It's a lovely line, but never has felt like an accurate reflection of the American sports fan's calendar. Now, in April, after months of being battered by cold and darkness, deep in the gloom of the post-football lull, is when we need Opening Day the most, and it's precisely when she finally comes.
The start of a season, as everyone knows, is an echo of spring. Opening Day is a time of infinite hope, of course, but not merely for the journeyman shortstop to play with a golden glove and silver bat. Opening Day is also a time for renewal of our hope in the game itself—in baseball's power to teach, heal, and shield us from the passage of time. We reaffirm our belief in the patently ludicrous notion that it matters what happens when millionaires in brightly colored pajamas chase a little white ball, because we know that caring about a child's game is vital to keeping some part of the child within us alive.
That said, I'm about to use Opening Day as an excuse to pick my hometown team to win more. KC has been the talk of spring training, winning the Cactus League—which doesn't matter, but also kind of does. Eric Hosmer and Mike Moustakas are bound to hit, joining Billy Butler and Alex Gordon for a lineup with pop that's still one of baseball's youngest.
The real difference, though, will be on the mound. Royals' GM Dayton Moore, in his fifth and make-or-break season, surrendered top prospects to get their Opening Day starter James Shields along with fellow right-hander with Wade Davis. Moore also signed Ervin Santana from the Angels, re-signed Jeremy Guthrie, and will have Bruce Chen and Luis Mendoza to round out the revamped rotation.
The Royal bullpen looks loaded, too. Fantasy nerds, watch Kelvin Herrera. He throws heat, pardon the pun, averaging 98 mph on his fastball. Last year Herrera's 2.35 ERA in 76 appearances was the lowest in the league for pitchers who worked at least 80 innings.
But I'm not an idiot. Detroit cruised to win the division last year. Nobody in the AL Central has improved enough to catch the Tigers.
The Angels have, though. In Anaheim, they've got a fancy new free agent in Josh Hamilton. They've got an almost-healthy Albert Pujols. They've got last season's all-everything, mega-rookie Mike Trout showing no signs of a sophomore slump. Trout is my pick for 2013 AL MVP, and the boys on Gene Autry Way my best guess to win the American League pennant.
In the Fall Classic, I'll stick with my earlier prediction of an all I-5 World Series, and the free-spending new owners of the Dodgers to win it. When Josh Beckett gets his mojo back, he'll join Zack Greinke, Clayton Kershaw, Hyun-Jin Ryu, and Chad Billingsley to make one of the game's most daunting sets of arms.
Patrick, your fun, young Nationals could win 100 games, and they've got a sophomore superstar/MVP candidate of their own in 20-year old Bryce Harper. Jake, as a minion of the Steinbrenner Empire, you must disagree with me about the AL's best.
How about it, boys? Is it Yankees and Nats in October? Let's have your musings on the start of MLB 2013.
–Hampton
Hampton,
I suppose that one man's power to teach, heal, and shield us from the passage of time is another man's power to get us buzzed off overpriced ballpark beer. Still, I'll grant you this: baseball definitely has the power to make me worry, and as a Washington resident, two things worry me about the upcoming season:
1. The Nationals are expected to be good. Like, win-the-World-Series good;
2. The Nationals are expected to be good for quite some time.
Forgive me. I'm not used to this. Like I said, I live in the nation's capital. Which means I'm used to seeing Stephen Strasburg hurt his elbow. And John Wall hurt his knee. And Robert Griffin III hurt his knee. (I have no idea whom the Washington Redskins will draft this year, but I fully expect the poor guy to dislocate his shoulder bro-hugging NFL commissioner Roger Goodell on the Radio City Music Hall podium). I am accustomed to watching Georgetown lose early in the NCAA men's basketball tournament; to seeing Maryland relegated to the NIT; to wondering which player will show up for the next Washington Capitals game, good Alex Ovechkin or fat Alex Ovechkin. My dreams are haunted by Gilbert Arenas's finger six-shooters, Michael Jordan Bullets throwback jerseys, and unsold Bruce Smith SACK KING T-shirts.
But the Nationals? They're supposed to be different. Slugging phenom Bryce Harper is poised to have his first true superstar season—in part because he so far has lived up to his considerable teenage hype; in part because he showed up to Spring Training 20 pounds heavier without being linked to Miami's Biogenesis clinic. Strikeout artist Strasburg is fully recovered from Tommy John surgery—no controversial innings limit this year—and may not even be the best pitcher on a deep and talented staff that boasts a second ace in Gio Gonzalez. Up and down their roster, the Nationals are young, hungry and loaded, so much so that I can't imagine a scenario in which they aren't serious title contenders.
In fact, that's probably what freaks me out the most.
As far as the rest of the sport goes, I expect Tampa Bay and a resurgent Toronto team to battle for the AL East, with Baltimore close behind and the too-old-not-to-fail New York Yankees listing like a dead-in-the-water Carnival cruise ship. (And speaking of situations involving overflowing excrement: has the EPA finished cleaning up the Superfund site that was Boston's clubhouse last season?) In Los Angeles, both the Dodgers and Angels look formidable. That said, I wouldn't be surprised to see a low-budget upstart such as Oakland give the latter a run, while the former figures to have its hands full with defending champion San Francisco. (Remember them? Me neither).
Jake: Hampton and I have been largely provincial. Because we're hopeless homers. So come in from the bullpen and save us. Besides the Yankees—and please, dissect their seeming decrepitude, too—what are the stories to watch for in baseball this season?
–Patrick
Yes, I'm a homer, Patrick. But even the most blindly optimistic reading of the Yankees' chances this season has them squeaking in as a wild card—and it's far more likely that they finish around .500, A-Rod is burned in effigy, and Joe Girardi is unceremoniously (and unfairly) fired.
As for the other 29 teams, I agree that the AL MVP is Trout's to lose. Even if he merely duplicates his numbers from last season, Trout will put up a WAR of around 14 over a full year, an insane number that calls to mind early-2000s Barry Bonds, minus the 'roids. Don't sleep on Rangers' rookie Jurickson Profar, who will start the season in Triple A but likely get called up by June (shades of Trout last year). Profar should win the AL Rookie of the Year award and could lead the Rangers over the Angels in the AL West if the Halos' pitching falters. And just to show I'm a homer, C.C. Sabathia will have a blockbuster season and run away with the AL Cy Young.
In the National League, I'd love to see the Nats bring the Fall Classic back to Washington after 80 years. They have two young superstars in Harper and Strasburg, an elite pitcher in Gio Gonzalez and the wise hands of Davey Johnson at the helm. The Nats won't collect any individual hardware this season—look for the Dodgers' Clayton Kershaw to win his second Cy Young and Andrew McCutchen to build off his torrid 2012 and win the MVP (and more importantly, lead the Pirates to their first playoff berth in 20 years). But they will bring home D.C.'s first pennant since FDR's first term.
The Fall Classic, though, will come up Motown. The Nationals have what it takes to beat any NL team in a short series, but the Tigers are even more suited for playoff baseball, despite their disappointing World Series loss to the Giants last year. Behind the pitching of Justin Verlander and the hot bats of Prince Fielder and 2012 Triple Crown winner Miguel Cabrera, Detroit will turn back all comers and bring the title back to the American League.
–Jake