Shahnameh, Re-Imagined: A Colorful New Vision of Old Iranian Folklore
Filmmaker Hamid Rahmanian's forthcoming illustrated tome will bring new, vivid life to the epic tales of the ancient Persian kings.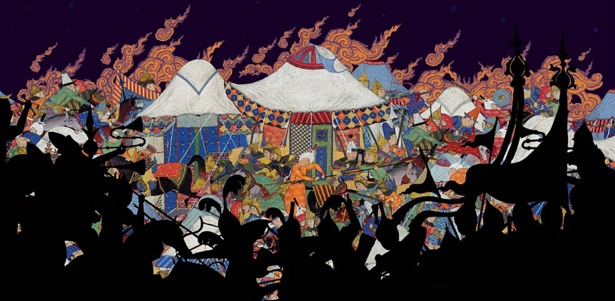 Quantuck Lane Press
The ancient mythology of Iran is laden with heroic adventures of superhuman champions, magical creatures, heart-wrenching love stories, and centuries-long battles. Ferdowsi's 10th-century text Shahnameh (The Book of Kings), which at 60,000 verses weighs in as the longest epic poems ever written, is a foundation for this mythology, comparable to The Odyssey, Nibelungenlied, and Ramayana.
There has been a long tradition of depicting the stories of Shahnameh, even before Ferdowsi put them into verse. But that tradition reached its zenith in the 17th century and died out in the middle of the 19th. So, for more than 100 years, there has not been an illustrated Shahnameh, except for an occasional drawing of a story here and there.
That will change in May, though, with Quantuck Lane Press's publication of Shahnameh: The Epic of the Persian Kings, which was produced, designed, and obsessively illustrated over the course of three years by the filmmaker Hamid Rahmanian. The colorful and painstakingly produced tome aims in part to make Persian culture's oldest stories accessible to the Western world—especially to the children of immigrants, for whom these stories may be new.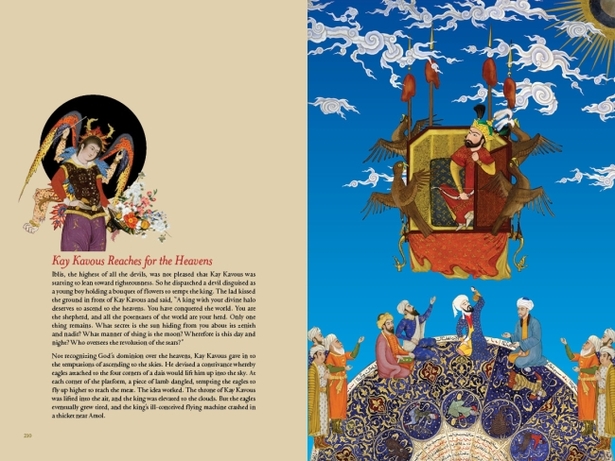 "If you walk through a bookstore here in the US, you can find scores of books on Greek, Egyptian, Northern European, Native American, Chinese, even Pacific Island mythology," Rahmanian tells me in an email. "But there is nothing about Persian mythology. It just doesn't exist. Yet, it's a sophisticated, entertaining, relatable mythology. I wanted to create a book that [my daughter] and other second or third generation Iranian kids growing up outside of Iran could read and enjoy and be proud of to call their own and most importantly, share with the broader world."
To that effect, he says, "this new edition has been trimmed down to make it accessible to the lay reader." Working with editorial director Melissa Hibbard and translator Ahmad Sadri, Rahmanian focused on only two-thirds of Shahnameh, which starts with the beginning of civilization and ends with the death of the main hero, Rostam. He illustrated several plots and themes, including nightmares, dreams, and inner dialogue of the main characters that have not been illustrated before. "I have no idea why, but during the last 1,000 years of illustrating the stories of Shahnameh, no one has ever depicted these themes," he says.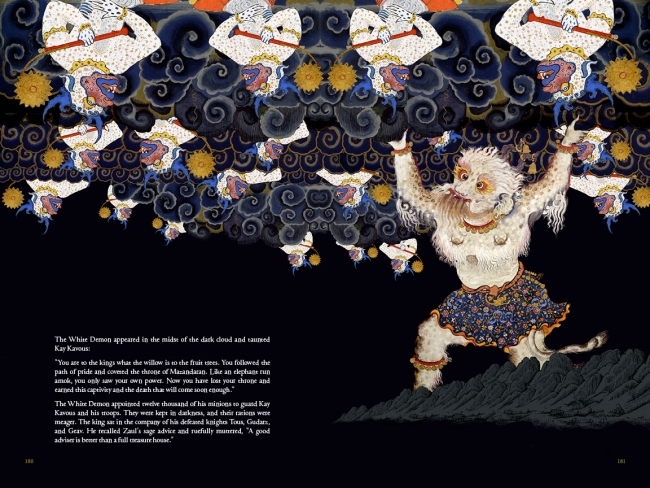 Most of the book's images in its 500 pages are collages or composites of other artworks. Rahmanian created the "panels" in this edition, much like a movie editor or a DJ weaves together different components to create a new work of art. Instead of sampling sounds or frames, he used bits from miniatures and lithographs from different eras, schools, and stories. Every panel contains upwards of 120 elements that were digitally collaged into new illustrations. Little was drawn from scratch.
"Since I didn't have a budget to travel to where the original works were, I had to rely on art books," he says. "I think I bought every book that has been published on the subject of miniatures, lithographs and illuminations from the region." In the end, Rahmanian's library had more than 8,000 pieces of lithographs, miniatures, and illuminations that he would later cut out and recompose.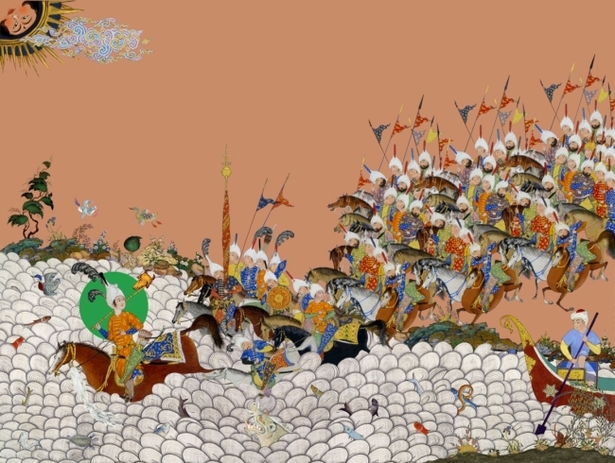 Amazingly, except for natural elements such as clouds, rocks, flowers, and cliffs, there are very few elements that repeat. "I wanted every page to be a surprise," he says. "I wanted the reader to explore each illustration with a sense of newness. I felt that if I used the same detail more than once, the element of surprise would be less, and that the reader might get bored."
As a child in Iran, Rahmanian grew up with Shahnameh and knew a few of the main stories but was not familiar with most of the book. He recalls being intimidated by the mass of the book. What's more, the stories are a bit mature for younger kids, but it's a book full of fairy tales, magical creatures and epic battles and the images are a feast for the eyes at any age.
"I definitely made this with my own daughter in mind," he says. "She's only one year old now but I plan to read this to her as she gets a little older."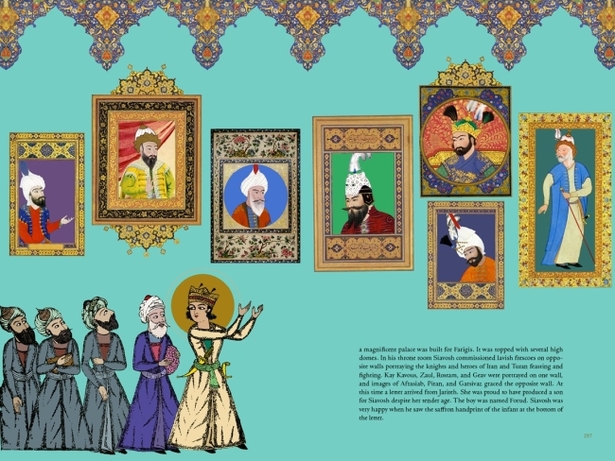 Rahmanian admits the past three years working on the book was a combination of hard struggle and a lot of tedious labor: "I developed a mantra about halfway through the work and it was: 'Hamid, shut up and work!' You might laugh at this but the weight of the project was so heavy that there were moments when I couldn't see the light at the end of the tunnel."
But he adds it was nonetheless important that "this project highlight a different dimension of the Iranian culture to counter the popular images that prevail these days. Iran is misunderstood and vilified in those images. I wanted to underline the depth, the diversity and the universally of my culture. So, now that I look back I feel the project was well worth all those hardships."