My Chemical Romance Wore Themselves Out, and It Was Glorious
Restless, angsty, pop-punk energy made them great—and is probably what ended them.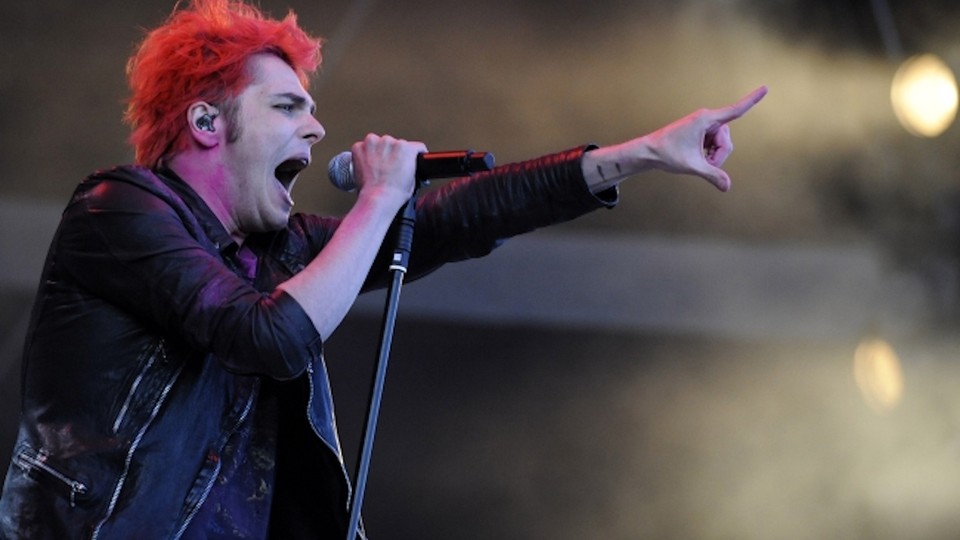 Their first show in Ewing, New Jersey, weeks after they formed, My Chemical Romance singer Gerard Way and guitarist Ray Toro began to kick at each other onstage, thrilled by the music they were making. Toro, recalling the moment, told Kerrang! in 2011, "I'm a quiet dude but that music made me want to let everything out. My Chem felt different: We were making music I had never heard before. There was this kinetic energy."
On Sunday, My Chemical Romance broke up, unceremoniously, relegating the announcement even to the penultimate sentence of a blog post. There were clear signals of decline. They hadn't released an album in almost three years. The energy had slipped away. Their final release, 2013's Conventional Weapons, can now be seen as a way of cleaning house: It's composed entirely of songs recorded and scrapped just before 2010's Danger Days: The True Lives of the Fabulous Killjoys.
But Conventional Weapons also encapsulated what made the band great—greater than a lot of people realized, whether turned off by Way's eyeliner or his voice like creaking leather, or repelled by the band's teenage fanbase. The record was the kind of return to rawness that's too self-conscious to ever achieve a raw quality, and ends up settling elsewhere, between bare-bones punk and the amplified theater of glam: imagine a lineup of The Damned where every member is David Bowie and Mick Ronson. That mixture was the core of My Chemical Romance's appeal, even as the band reinvented itself time and again, album after album, demolishing the conventions of the two genres and building pop songs out of the rubble.
Their best songs are just insane piles of melodies; they're generous. "Thank You for the Venom," from their second record, Three Cheers for Sweet Revenge, runs through what seems like four choruses. They build off of each other, so that when the song shifts into the actual chorus it's as delirious and cathartic as a cliff dive.
Three Cheers was released in 2004, a year before Fall Out Boy's "Sugar, We're Goin Down" reached No. 8 on the Billboard Hot 100, the clearest sign yet that emo had invaded radio, completing its journey from local scenes to the mainstream. "Helena," the third single from Three Cheers, eventually peaked at No. 33 on the Hot 100. Both My Chemical Romance and Fall Out Boy were critically respected and nominally popular, but there was a strange curve to their success, shaped heavily by backlash. At the 2006 Reading Festival, the band performed after Slayer, and bottles were pitched in their direction. Way leaned into the hostility, inviting the crowd to toss more bottles and fruit, saying, "We might be outsiders today, but we represent every outsider out there."
Those outsiders' reigns weren't all that long-lived. My Chemical Romance, Panic! at the Disco, and the like were modern rock radio fixtures from 2005 to 2008, but things seemed to be shifting by 2009, when Fall Out Boy's Folie a Deux was released to dispiriting sales. The blowback from the sentimentality of emo may have had something to do with this. Pop thrives on a kind of impulsive, visceral love from the listener; emo functions on the visceral level, but lyrically it's too self-involved to provide that total release. It swims in embarrassing, personal detail.
My Chemical Romance didn't help themselves on this front. One can watch the "Helena" video and come away with the idea that this music is uncomplicated angst dressed in goth hand-me-downs. There's an extreme self-seriousness to Way's lyrics—in the Kerrang! interview he says the words to Three Cheers include "all the fucking anger, the spite, the beef with God, the angst, aggression and the fucking venom—every emotion you go through when you're grieving." But when it came to the actual performance of these songs, it was their playfulness that convinced: the wildness of theater breathed fun into Way's ludicrously pitched emotions. Just look at the "Helena" video. It depicts a funeral, but an elaborately choreographed one. Mourners dance and weave their umbrellas through the rain.
Theater colored the band's attitude and aesthetic to such an extent that on both records after Three Cheers they seemed to become different bands and people. For 2006's The Black Parade, they turned into a phantom marching band in the head of a character called The Patient. On Danger Days, they were comic-book antiheros, laser-toting outlaws with varicolored outfits and inscrutable names ("Party Poison," "Jet Star"). Way's hair on each reemergence would be threaded with new hue—a bone white, Sharpie red. But these transformations weren't just in the service of dress-up. "I especially, always end up abhorring what we did in the past," Way said in a 2011 interview with The Village Voice. "And I don't know why that is, I think the only way I can move forward is attacking it." Each record and tour was self-contained, sealed off from the previous: The Black Parade was operatic arena rock, Danger Days was gleaming synth-pop. The shapeshifting cost them commercial footing in the four years between the two records, to say nothing of general industry decline: Danger Days has yet to be certified as Gold, where The Black Parade sold enough to go Platinum a year after release.
This was part of what made them exciting—their restlessness. No wonder Conventional Weapons was trashed, was thought to lack "that greatness" according to the Kerrang interview; it was the first time they had been My Chemical Romance since 2004.
You can see the strain in The Black Parade is Dead!, a live DVD cataloguing two shows the band performed in October of 2007, the first their final performance as "The Black Parade" in the Palacio de los Deportes in Mexico City. The arena seats 22,000 and appears against the horizon as a barbed semicircle. My Chemical Romance are dwarfed monumentally by the stage. They all look tired, staring blankly into middle distances, the crowd in darkness. Way's hair, which at the start of the tour was severely cropped and blond, has descended into uneven black locks. White paint slowly sweats off from his face.
The second concert is at the small, storied New Jersey club Maxwell's, among their first shows as the reconstituted "My Chemical Romance." The transformation looks uneasy. The five members barely fit on the stage. Way seems unsure of where or how to stand, and so leans into the crowd, half-disappearing in the mass. They look freed from the grandiose complications of The Black Parade but almost burdened with freedom.
There was always a refreshing simplicity to their best songs, though—a "punk" aspect that kept them from drifting entirely away into costume and poses. The liftoff into the chorus of "Summertime," from Danger Days, is so gentle as to be nearly imperceptible, with Way's voice hewing close the guitar line. But there's a subtle shift in volume. The guitars begin to glide upward. It's thrilling. By the end, the band may have lost that electricity, that drive, "that greatness," but it's all right. They channeled all of it into these songs. "My Chemical Romance is done," Way wrote in a post after the breakup was announced. "But it can never die."