'Lights Have Entered Us': George Oppen's Words About Hope in Grief
Five lines of a George Oppen poem about bereavement continually amaze Jeffrey Yang, the author of An Aquarium and Vanishing-Line—and even connected him to a fellow poet.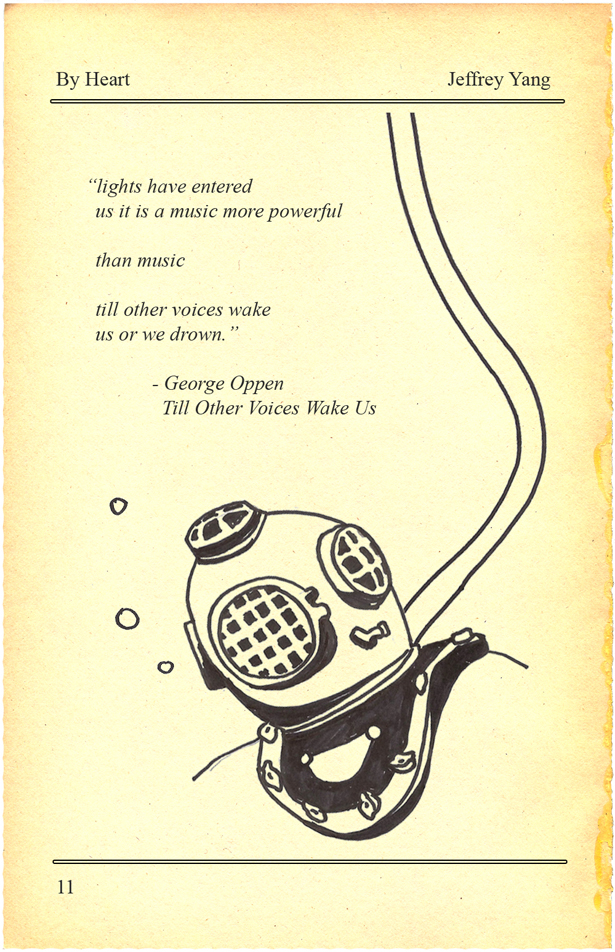 Doug McLean
By Heart is a series in which authors share and discuss their all-time favorite passages in literature.
The new poetry anthology Time of Grief: Mourning Poems is an unusual, inventive take on a familiar subject: It explores grief in its various shades and incarnations. Structured like a calendar over a span of 49 days—a traditional mourning period in some Buddhist and Judaic traditions—the book includes a diverse sequence of poems written in more than 20 countries. With authors ranging from an 11th-century Chinese poet to Tomas Tranströmer, the Swedish winner of the 2011 Nobel Prize for Literature, Time of Grief presents human bereavement in unprecedented scale and scope.
When I asked Time of Grief's editor, the poet Jeffrey Yang, to choose a favorite from the anthology, he selected a piece by the American poet George Oppen. The poem ends by transforming a dour line from T.S. Eliot's "Love Song of J. Alfred Prufrock" into a more open-ended, generous, and mysterious conception of loss.
Jeffrey Yang works as an editor at New Directions Publishing and at New York Review Books. He is the author of two books of poetry, Vanishing-Line and An Aquarium. His poem "Untitled" was chosen by the New York MTA's "Poetry in Motion" series and appears in subways throughout New York.
---
Jeffrey Yang: A couple years ago a close friend of the publisher at New Directions unexpectedly lost her husband of 25 years. The pain and loss she felt was totally devastating, as if an enormous wave had crashed over her and she could find no way to surface. Her despair seemed complete and endless. Seeking refuge in words, she suggested to our publisher that, as we've been publishing poetry from all over the world from the deep past to the present for so long (over 75 years), we should bring out an edition of poems on grief and mourning. The result is this new anthology of poems Time of Grief: Mourning Poems.
Certain lines immediately came to mind when thinking about what to include in such a thematically structured book. Among them was a couplet by the American poet George Oppen (1908-1984).
Bonus: A Poetry Reading
George Oppen reads "Till Other Voices Wake Us," from his collection
Primitive
(1978), in Berkeley, California in 1978. Recording courtesy of the Mandeville Special Collection at the University of California, San Diego. For more recordings of Oppen reading his work, visit the page to devoted to him at the University of Pennsylvania's Penn Sound project.
I first read Oppen's work as a student at UC San Diego, in an anthology Rae Armantrout assigned in her poetry class called From the Other Side of the Century, edited by Douglas Messerli. Like seeing Rothko's paintings in person for the first time, it was more an experience of disorientation than of pleasure for me. But the poems (and those paintings) stayed under my skin—Oppen's dislocating lines, so evidently wrought with care; the mystery conveyed in such spare music while each turn of the line somehow radiated a luminous intensity of thought and emotion. Later I started to work for his publishing house, New Directions, and by the fate of the gods was the in-house editor for his Selected Poems that Robert Creeley edited. By then I had read all seven slim but far from slight collections of Oppen's poetry multiple times. His work, along with his wife Mary Oppen's memoir Meaning: A Life, had become a part of my subconscious, embedded in my existence at a cellular level.
Then one day I found a copy of Oppen's last book, Primitive—the original Black Sparrow Press edition of Primitive, published in 1978 with paper wrappers and red endpapers—in a new used poetry bookshop that opened within walking distance of my home. The young proprietors of the shop had nailed a copy of Oppen's The Materials to a piece of wood, where it hung beside the register. All around the space out-of-print poetry books in plastic bags were pinned to the wood-panel walls, and in the next room a gramophone played Coltrane beside a letterpress and drawers of type. In that dream shop I read once more the final lines of the last poem in Primitive "Till Other Voices Wake Us":
lights have entered
us it is a music more powerful

than music

till other voices wake
us or we drown
Six years after its publication, Oppen would die from complications of Alzheimer's disease. This 22-line poem carries the whole weight of his life, opening with "the generations" and the poet recalling a trip to France he took with his father as an adolescent, then cutting to an image of him writing his first book, Discrete Series, "thru the night" in Brooklyn in 1929, and then to the final couplet, a transformation of the last line of T.S. Eliot's "Prufrock": "Till human voices wake us, and we drown." What a vast abyss between "human" and "other," "and" and "or" in these two poems, while Oppen's line break at "wake" opens out the semantic possibilities of each line and its relation one to the other. Through listening to those other voices—our individual heart and mind and soul waking to those voices (and that these voices waking is the condition for our survival)—mourning turns from a hopeless freefall into one's own pain and quagmire-self toward the myriad lights, the sun-surface of the drowning wave. Unlike Prufrock, our fate isn't sealed (in irony or entitlement or despair or otherwise).
I bought that copy of Primitive, and inscribed at the bottom of the opening page was a previous owner's signature, a poet who had published a single book of poems Language of a Small Place in 1980. Feeling inspired and bold, I found her number listed on the Internet and called her on the telephone, half-expecting the line to be disconnected. But she answered. I told her that I had bought her copy of Primitive, and she laughed. I could hear the television in the background. We talked for a little while about Oppen and poetry and Point Reyes. I asked her if she was still writing poems and she said she had become discouraged and then other things in life took over. But for a while, she said, I've been thinking of starting again. Maybe now's a good time?