Justin Timberlake, Our Sammy Davis Jr.
He's the return of a long-lost showbiz archetype: the song-and-dance (and jokes!) man.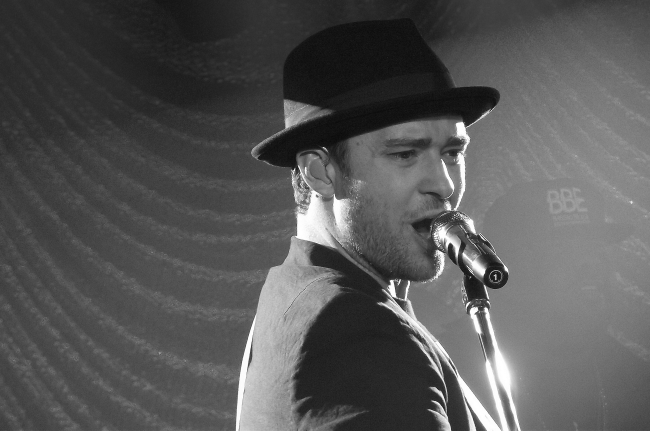 Hampton Stevens
Glance at the iconography around his new album The 20/20 Experience, out this week, and you might think Justin Timberlake is intimating Frank Sinatra.
Not musically, of course. Sinatra was a jazz singer, while Timberlake is a pop star. His career is built on blue-eyed funk and soul with a 21st-century sheen. Stylistically, though, with his retro tuxedos and big-band sets, it would be easy to think that Justin is trying to be Frank.
He's not. The more accurate comparison is to another Rat Packer: Sammy Davis Jr. That's what's so unusual and refreshing about Timberlake's career. His rise represents the return of a long-lost showbiz archetype: the song-and-dance man.
A tradition that was born in vaudeville and spread to nightclubs and Broadway before being drowned by self-parody in the lounges of Las Vegas, song-and-dance men were the great, all-around entertainers of the 20th century. From Bill "Bojangles" Robinson and George M. Cohan, to Fred Astaire and Anthony Newley, they could sing, dance, act, tell jokes, do impressions, write songs, and deftly work a crowd as a bandleader and MC. For the first time since Sammy Davis—or maybe Bobby Darin—we have in Timberlake a superstar who can truly do it all.
Saturday night I saw him perform in what should not have been the pop star's element. At the supposedly indie-oriented South by Southwest music festival in Austin, Texas, Timberlake's Myspace Secret Show was the hottest ticket in town. The show was even hotter. Wearing a novelty tux t-shirt version of "black tie for no reason," Timberlake was the consummate showman: jumping with the beat, high-fiving, fist-pumping, calling for the audience to sing with him, then casually cursing, joking, and toasting the crowd with Guinness after midnight when St. Patrick's Day had begun. The performance, for just a few hundred people in a steamy club, was marked by old showbiz tropes. Like when he called "Step with me, Austin!" during "Pusher Love Girl," a Prince-like ode to addictive passion, one of the sprawling, ambitious, shimmering, but decidedly quirky new songs on The 20/20 Experience. The same vibe shows up on "That Girl" with its slightly cheesy, fake-nightclub intro of JT "all the way from Memphis, Tennessee." That's not new for the singer, either. "Senorita," from his first solo record Justified, opens with a similar intro schtick, and includes a middle break with an old school, alternating male/female call-and-response straight off the chitlin circuit.
Related Story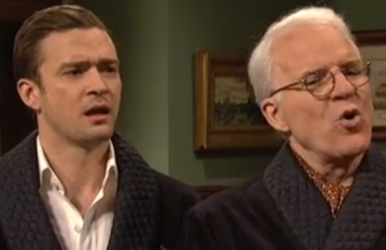 One hallmark of the song-and-dance man is versatility. Timberlake may not be the best singer and dancer on earth, but he's very, very good at both of them. He also drips with charisma. More crucially, like Sammy and like all the great song-and-dance men before him, Justin moves freely between one form of entertainment and the another, with no part of his appeal seeming like that of a dilettante or novelty act.
Show business, after all, is filled with performers who can sing and dance. But they aren't in the same category as Timberlake. Someone like Hugh Jackman comes to mind. He's a Broadway actor, an accomplished singer, and a huge Hollywood star. Yet Jackman will never mount a solo concert tour, and the dancing/joking side of him remains something he busts out only at occasional awards-show hosting gigs—it's not the centerpiece of what he does. He's more actor than all-around entertainer.
For that matter, Sinatra could sing and dance, and certainly had charisma to burn. Yet Frank wasn't truly a song-and-dance man. That's because he took himself too seriously as an artist. Therein lies the biggest difference between a Sinatra-type and a Sammy type: comedy. The song-and-dance man dates to the prewar era, before entertainment was considered art. Being plain-old funny was a huge part of the gig.
Sinatra wasn't funny. Sure, he sometimes showed a sense of humor. But he wasn't a natural comic. And, as an artist, he was always more interested in eliciting wistfulness than he was in getting laughs. Not Sammy Davis Jr. He could be serious and elicit pathos, of course. But he was also hysterical, and could have a crowd roaring with him as easily as any standup comic. He could do wry deadpan as in the original Ocean's 11 or raw slapstick like in Cannonball Run.
The same is true of Timberlake. He can be dramatic in song or on screen. Yet he's also uproariously funny. His work on SNL is some of the best in the epic history of that show. In one moment he can appear as a giant hunk of tofu singing the praises of Veganville. The next, back in his now-signature reimagined Rat Pack black tie, he will passionately croon the lush ballad "Mirrors," 20/20's melodic ode to—and lyrical rebuttal of—Michael Jackson's gorgeously narcissistic "Man in the Mirror." The ability to express such a full range of emotion, and to transition so quickly and seamlessly between them is dazzlingly rare. Of all Timberlake's contemporaries, maybe only Jamie Foxx has the same combination of musical talent, comedic chops, and raw charisma—and he seems to be devoting more and more of his career to dramatic acting roles.
There's one more reason Timberlake's can't be a new Sinatra. Somebody else already has the gig. If anyone in pop culture has Chairman-of-the-Board-like pull, it's Timberlake's "Suit and Tie" collaborator Jay-Z. Jay-Z is the one, like Frank and his Rat Pack, who makes everyone around him more famous. Jay-Z is the one, also like Sinatra, who grew up tough and poor, and so his success speaks the aspiration at the core of the American Dream in a way that white, middle-class Justin Timberlake never can. For Hova, donning the suit and tie isn't about playing into a showbiz tradition. It's a symbol of his Gatsby-ish made-in-America success. There's a seriousness about him to which Timberlake can't even aspire.
The nice part is that he doesn't aspire to it. Timberlake is a showbiz kid. Much like Sammy Davis, a child star as a vaudevillian, Justin came up through the Mickey Mouse Club and the boy band n 'N Sync. He is, at heart, a pure entertainer. His new album may be full of multipart, eight-minute jams, but they're still works of entertainment—all danceable rhythms, hummable hooks, and lyrics about making love on the moon.
That's good. At the moment, we have glut of seriousness, with even teen pop stars feeling compelled to write anthems about saving the world. That's why Timberlake's resurrection of the ol' song-and-dance man is as refreshing as it is impressive. We need more performers who know that simply being entertaining, sharing the sheer joy of movement, laughter, and music is itself a noble calling. In other words, we need fewer people who want to be Frank and more, like Justin Timberlake, who want to be Sammy.