It's Beach O'Clock Somewhere: Songs of the Southern-Hemisphere Summer
A Rio-flavored club-thumper, an Argentine cumbia revival, a throwback by New Zealand's version of Adele, and more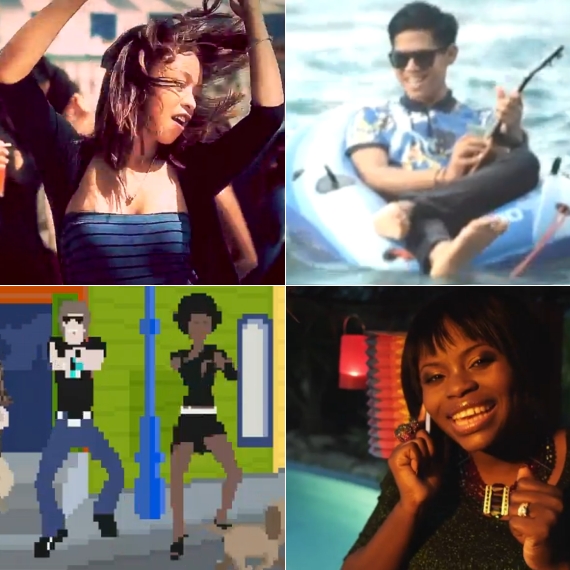 It may be spring according to the astrophysicists who calculate the vernal equinox, but listeners across much of the United States are still hunkered down, waiting out winter. Lingering frosts, snow that refuses to melt, inescapable winds, and drizzle may be with us for a while yet.
But at least we can take a sonic vacation. The Southern Hemisphere is just seeing another summer draw to a close, and for the past three months, across three continents and as many oceans, a host of musicians below the equator have been making exactly the sort of energetic dance, sexy funk, shimmery pop, and nostalgic retro that has evoked golden days and warm nights for decades on both halves of Earth. Here are 12 songs from the subtropical South that had me, at least, looking forward to summer in the middle of a Midwestern winter.
1. Zuzuka Poderosa "Seda [Kush Arora, Jubilee & Burt Fox Edit]"
Brazil / Indonesia / USA
We begin with something of a cheat, as "Seda" was recorded in New York, produced in San Francisco, and remixed in Miami. But though she now lives in Brooklyn, performer Zuzuka Poderosa was born in Rio de Janeiro, of mixed Brazilian and Indonesian heritage. She calls her rhythm-heavy dance music "carioca bass," and it bears the distinctive sound of Rio's humanity-packed, beat-pulsing clubs and streets.
2. Scotty Raz ft. Lil'C "Pamela"
Madagascar / Italy
Aside from the language, there's not much of a particularly Malagasy flavor about "Pamela." DJ Raz take his cues from Swedish and American producers like RedOne and Dr. Luke, and singer Lil'C, though she grew up in Madagascar, now lives in Rome and uses AutoTune as heavily as any Europopper. The result is a jolt of energy instantly recognizable in clubs around the world.
3. Flume "Holdin' On"
Australia
Harley Streten, an electronic producer from Sydney who releases music as Flume, works in an idiom familiar worldwide: the dance song with a massive vocal sample to give it structure. "Holdin' On" clips Anthony White's 1977 B-side "I Can't Turn You Loose" in much the same way as Avicii's "Levels" used Etta James' "Something's Got a Hold on Me," and is on its way to becoming nearly as popular. Flume is already one of the top electronic acts in Australia, after having only released his debut album in November. The rest of the world is next.
4. Los Labios "Bailando en Otra Parte"
Argentina
The cumbia rhythm—that distinctive sandpaper triplet—has accrued many meanings since it spread from coastal Colombia in the mid-20th century. From Peruvian chicha to U.S. tejano, it underpins much slyly funky Latin music of the past 50 years. In Argentina as elsewhere, cumbia has mostly been working-class dance-and-drinking music, but a new generation is revamping it in a lot of different directions. Los Labios are an indie-pop band working in the cumbia tradition, and frontwoman Lulú Jankilevich's thin voice is flexible enough to be expressive in a wide range of emotions.
5. Demor ft. Bucie, Black Coffee & Zakes Bantwini "The One"
South Africa
South African deep house, or kwaito, notable for a beat that can project calm while remaining insistent, is one of the great treasures of the modern age. Singer and producer Demor Sikhosana assembles a who's who of modern kwaito for this single: He sings the first verse, Bucie sings the second, and Black Coffee does the chorus, while Zakes Bantwini co-produces. This video closes out early; the full song (available on Soundcloud) gives the outstanding singers more room to improvise, and lets the tight, superbly poised groove breathe as well.
6. RAN "Hari Baru"
Indonesia
Southeast-Asian pop markets tend to be friendlier to sunny guitar music than the rest of the world, and Indonesia's RAN is among the best at that job description. The name is an acronym for the three members: Rayi (lead singer), Asta (guitarist), and Nino (singer). They're veterans of the Indo-pop scene, having been established since 2008, but are still only barely older than the members of One Direction, whose floppy, huggy, bouncy music is their closest Western analogue. "Hari Baru," with its Motown stomp and twinkly accents, is a wide grin of a pop song, regardless of the listener's language.
7. Aaradhna "Lorena Bobbitt"
New Zealand
From one '60s throwback to another, but rather than sunshine pop a girl-group sway. Aaradhna is of Samoan and Indian descent, and began her career singing modern R&B. But her recent turn inhabiting the classic American sound ranks her nearly on the level of Brits like Adele or the late Amy Winehouse. Here she even manages some of the latter's mordant bite, delivered as cheerfully as Mary Wells.
8. Ary "Ti Tonico"
Angola
I last wrote about Ary in company with Angola's premier transgender rapper, Titica; her solo material isn't quite as boundary-pushing, but it's still very accomplished. Famous for her kizomba (a ballad form related to the Franco-Caribbean zouk) and semba (African samba) material, here Ary jumps into a tango, taken at the speed of modern kuduro. It's a song about juggling romantic relationships and family ties—a transliteration of the title would be "Unc' Tony"—a perennial topic in traditional pop forms.
9. Bajofondo "Pide Piso"
Uruguay
The band used to be called Bajofondo Tango Club, during the early-'00s tango revival among European yuppies. There's still a tango overlay to their glitchy funk, but the rhythm here is for the most part pure disco. The eight-bit graphics of the video lends the electronic instrumental something of a narrative: Even when the beat falls away into romantic moodiness, you get the sense that the rhythm won't be gone for long.
10. Mixtape ft. Eva "Je Te Veux Tout Près de Moi"
French Polynesia
French island music has tended to cross-pollinate productively in the Internet age; there's a certain amount of Martinican zouk and Hatian compas in this Taihitian ballad. The primary ingredient, though, is American R&B of the past 20 years, particularly as it intersects with hip-hop. The title means "I want you next to me," and the song doesn't need to both open and close with the sound of a heartbeat to indicate that it's very serious about the sentiment. Eva acquits herself better than Mixtape, but singing a ballad is a much less thankless task than rapping one.
11. Dear Reader "Down Under"
South Africa / Germany
I've included two South African videos because 20 years after apartheid there's still a strong enough cultural divide that it might as well be two countries. Dear Reader is the indie-pop project of Cherilyn MacNeil, a South African singer-songwriter currently living in Berlin. It would be possible to draw a line from African tribal musics to the heavily rhythmic and repetitive elements of "Down Under," but it would probably be a stretch; it shares those elements with half the English-language indie music on the market today.
12. Chileswing "Tren al Sur"
Chile
Summer nights on either hemisphere should always end with jazz when possible; Chileswing's big-band variation will do nicely. This is a cover of a popular 1990 Chilean new-wave song by Los Prisioneros, and by turning the rhythm into a cool-jazz riff, the group pull off a credible rendition. It's not the furthest thing from kitsch, but that, too, is a summer tradition.