'I Try to Make a Fool of Myself': Actors and Directors on Shooting Sex Scenes
According to these filmmakers and stars, doing the deed in front of a camera requires communication, bravery, a sense of humor, and some serious endurance.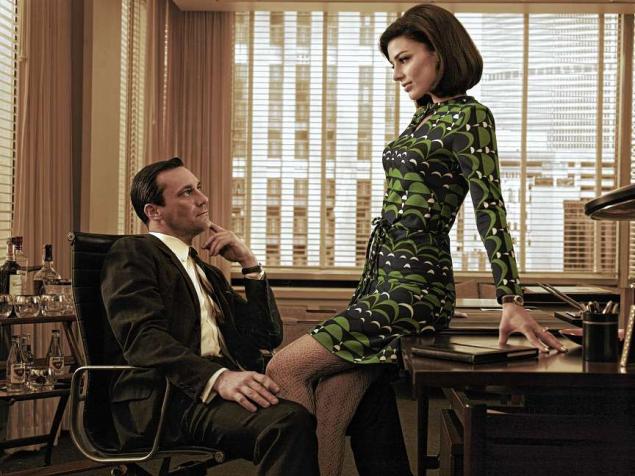 AMC
This week, news surfaced that director Harmony Korine cast a woman for his debauched Spring Breakers on the basis of the fact that she could balance "three or four Coke cans on her ass." It also turns out that star Gucci Mane couldn't stop smoking weed long enough to successfully perform a sex scene with her in the movie. Vulture interviewed Korine, who revealed that the rapper-actor—who plays a rival drug lord to James Franco's Alien—fell asleep during his big sex scene. "As he is getting f*cked, I start to hear snores," said Korine. "He had literally passed out!"
It's an amusing anecdote, but it raises the question of how actors and directors handle those moments on the big screen. Do they really enjoy them? Is it always awkward? Check out the on-screen sex confessions of film and television's finest below.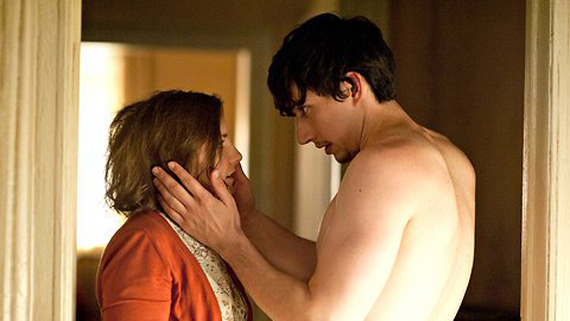 Lena Dunham
Lena Dunham's sex scenes in HBO's Girls have been forthright and intentionally awkward, raising questions and conversations about female body image issues, relationships, and more. The actress writes, directs, produces, and stars in the series—and by her own admission, she creates the challenging and intimate scenes herself. She told Conan O'Brien: "I will be lying there, kind of being slammed by a naked body, thinking, 'I want out of this bed. I want out of this scene. I want out of this life. Who did this to me?' And I realized, I'm my own boss. I've written it. I'm directing it. I'm the person holding myself in sexual slavery."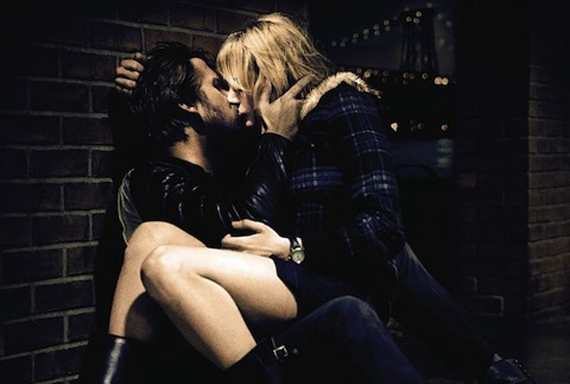 Ryan Gosling and Michelle Williams
Blue Valentine, Derek Cianfrance's film about a crumbling relationship contained one of the most realistic sex scenes ever put to film. The MPAA tried to brand the intimate moment between Michelle Williams and Ryan Gosling unsuitable for an R-rating. Gosling called them sexist, reminding them it was a married couple making love, and the NC-17 rating was successfully appealed. That controversy wasn't the only thing that grabbed people's attention. Interviews with the actors revealed an intense, emotional on-screen relationship. Gosling talked to Wmagazine about how he approaches filming a sex scene:
Actors become very professional and proficient about watching out for each other's light and not stepping on each other's lines. All of these things are artificial, and you have to strip that away if you're going to achieve a sense of intimacy. In real life sex is messy...
When asked if shooting sex scenes made her nervous, Williams admitted they're difficult, but don't necessarily shake her:
When I work I'm not nervous. Work is this fabulous free zone. There's no judgment. My problems arrive when I'm not working. At a photo shoot, for instance, I feel like a sham. I feel like they're trying to cover up what's wrong with me. It's probably not true, but just my dirty mind at work.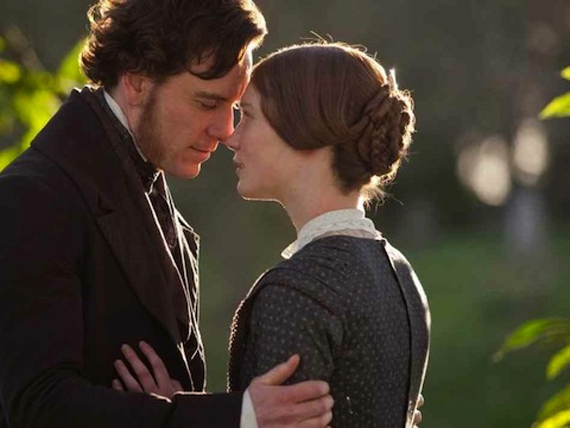 Michael Fassbender
Michael Fassbender's role as a sex addict in Shame found him vulnerable and often naked in front of the camera. It wasn't his first time with material like that, however, and his experience has made him a sensitive partner. "Sex scenes can be quite awkward. As a guy, the first thing you want to do is make sure you're not taking advantage," he told PopSugar. "You don't want the girl to feel like you're getting a free feel or something. I try to make a fool of myself in one way or another to lighten the mood and then just go for it, because you don't want to be doing take after take." He elaborated on his approach to sex scenes in an interview with Vulture, again stressing the importance of making his partner comfortable:
The most important thing is to say, 'Let's talk about this.'... You have to say, 'What lines do you have that you don't want me to cross? Do you mind if I touch your breasts? Do you not want me to do that? Can I kiss your breasts? Just so you know, I'm not taking advantage here and taking the piss out of this scenario. You let me know what boundaries you're comfortable working within.'... Yeah, you tell jokes on set and try to make things as relaxed as possible, because to be honest, you want to get in there and go for it immediately. Then it's going to be over quicker!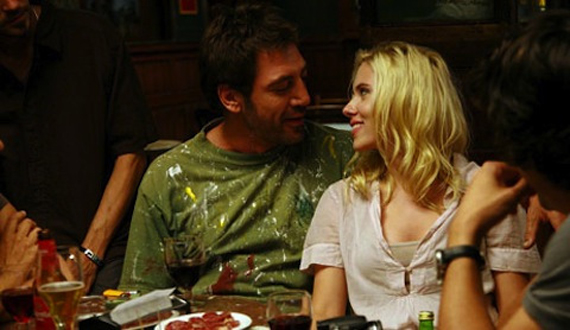 Woody Allen
The on-screen seductions in Woody Allen's films stem from the neurotic charms and quick wits of his characters (most often, himself), but the director did have some things to say about shooting sex scenes in an interview with the New York Times:
If you have no limits, it does become more difficult because there are so many options. Years ago, you had no options, so you had to come up with a few sophisticated ways to show sex. Now you can virtually do what you want to do, and it becomes more of an esthetic decision, and it becomes tougher... Because you can't hide behind the fact that they'll censor you, and you've got to come up with something that is ingenious or esthetically pleasing, and you really have no limits to what you want to show.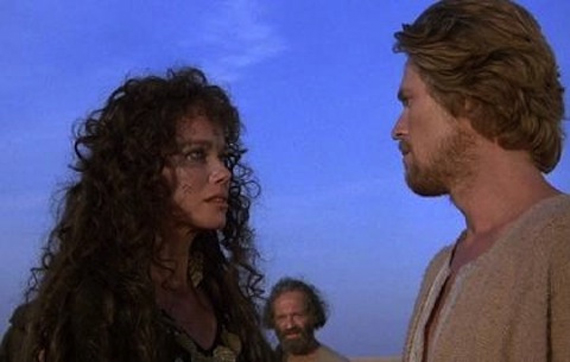 Martin Scorsese
In the same interview as Woody Allen, the Last Temptation of Christ director referenced the gritty films of the '70s, noting the boldness and intensity of cinema's sex scenes during the turbulent decade. Scorsese also admitted that he really isn't sure how to approach sex on film anymore:
In the '70s, sex was tougher, stronger, I think. Certain things were very powerful, and I mean movies like Five Easy Pieces or Drive... They were so strange. Now, to a certain extent, with the exception of Crash, which I think is an extraordinary movie, and the very powerful way that Breaking the Waves goes about sexuality—there is a kind of scrubbed-clean quality that is not even sensual anymore. They are fake images and fake bodies. How do you shoot a sex scene? What would you do? I personally don't know how anymore... It really is tougher.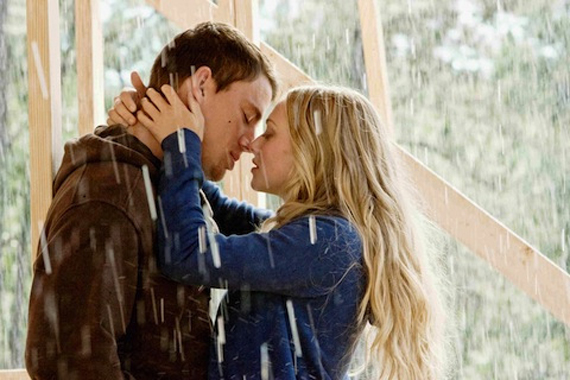 Amanda Seyfried
It's hard not to love Amanda Seyfried's attitude about sex scenes with her male and female co-stars. "Sex scenes are great. A lot of my co-stars have been sexy guys my age, and so, why not? I'm not going to pretend it's not fun," the Les Misérables said. She's also been up front about the uncomfortable emotions those moments can inspire. "Any kind of intimacy is strange," the actress noted.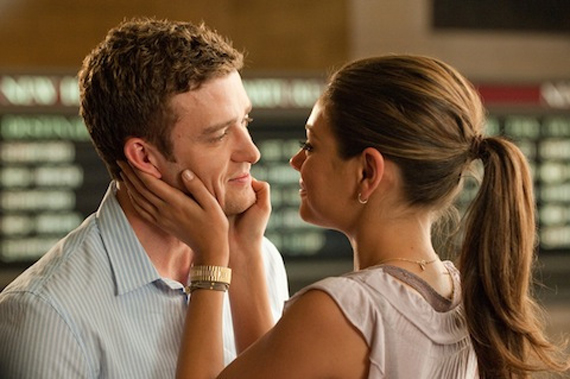 Justin Timberlake
"It's actually kind of annoying, you're there for 12 hours, it's exhausting."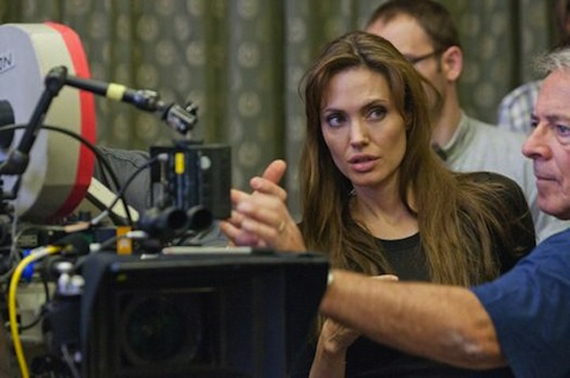 Angelina Jolie
The Academy Award-winning actress has shared sexy screen time with numerous leading men, including husband Brad Pitt. When it was her turn to go behind the camera for In the Land of Blood and Honey, Jolie admitted she approached the sex scene between stars Zana Marjanović and Goran Kostić a bit too "prudish." The experience gave her a new perspective. "You kind of suddenly feel this strange thing of asking people to participate in anything like that because they're not a real couple," she told USA Today. "You find out how strange this is to ask anybody to get naked together and put a camera on them."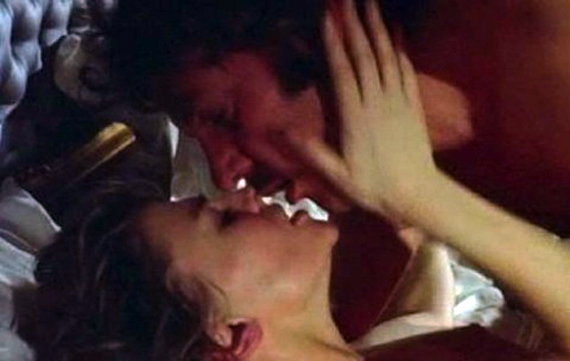 Julie Christie
In Don't Look Now, a couple ravaged by the tragic death of their daughter try to pick up the pieces of their lives in Venice. A passionate moment of lovemaking between Donald Sutherland and Julie Christie's characters is erotic but somber, considering the circumstances of their union and the film's finale. The scene caused quite a controversy during its time and rumors persisted for years about the sex being unsimulated. Christie put the kibosh on the chatter, and summed up her feelings on movie sex, in 2011: "Making love on camera is such hard work that there is no time for the libido to take over."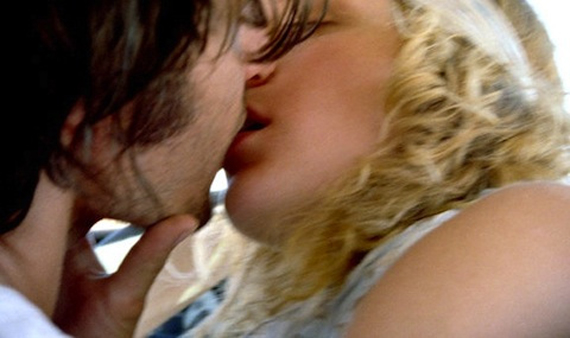 Chloë Sevigny
You'd think the actress that performed unsimulated oral sex on Vincent Gallo in Brown Bunny and did it Mormon-style with Bill Paxton on Big Love would be totally cool with sex on camera. Instead, Chloë Sevigny finds it awkward. "I'm not comfortable doing them—I don't think anyone ever is comfortable doing those kinds of scenes," she told The Playlist last year. In 2010, the star told Huffington Post she had lost interest in performing on-screen sex all together: "I've done many explicit sex scenes, but I'm not that interested in doing any more. I'm more self-aware now and wouldn't be able to be as free, so why even do it?"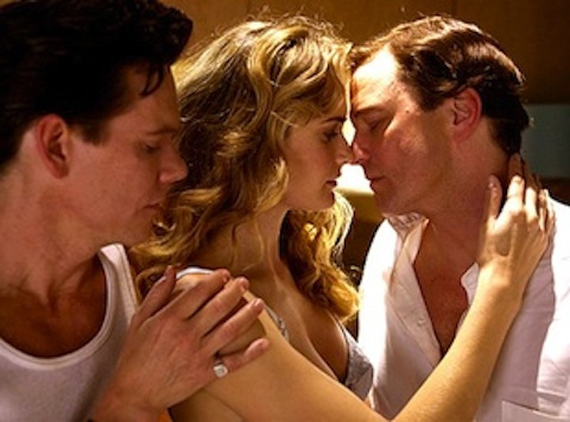 Atom Egoyan
Atom Egoyan had a few problems with "thrusting" in 2005. The Canadian filmmaker won the Palme d'Or for Where the Truth Lies, but struggled with the MPAA over several sex scenes (same sex and otherwise), which is ironic considering the movie's portrayal of repressed sexuality. His battle with censorship was featured in the documentary This Film is Not Yet Rated, but the director also detailed his experience in the hilariously titled essay, "The Thrust of the Idea." Egoyan wrote:
I'm convinced that the best way to shoot a sex scene and make it seem real is to use a master shot—an uninterrupted sequence with no cuts. I wanted to see the bodies. The overwhelming challenge was how to show two (and in this case even more) people having sex without depicting the act of thrusting. By its very nature, sex needs thrusting. More specifically, one part of the body must be in some form of friction with another. This isn't a very romantic way of thinking about it, but then again the MPAA isn't a very romantic organization. Their job is to count thrusts, and then decide—depending on the number—who should see the film. Nice work if you can get it.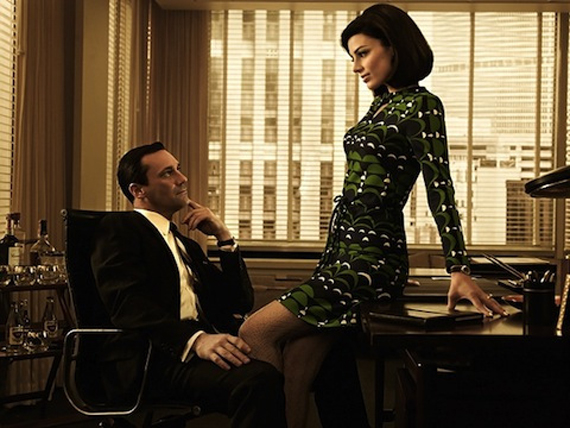 Jon Hamm
Jon Hamm has shot sex scenes as the tightly buttoned playboy on Mad Men and as Kristen Wiig's jerky boyfriend in Bridesmaids. The experiences weren't as different as they may seem. Hamm described the absurdity of performing for the camera. "It's like running in the rain," he said to Playboy. "There's a certain point when you go, '[Expletive] it, I'm already wet. I'm not going to get any less wet, so I might as well just enjoy how this feels.' I mean, sure, there's awkwardness about being in a weird flesh-colored thong, bouncing on top of an actress."
This post also appears on Flavorpill, an Atlantic partner site.