'Harlem Shake' vs. History: Is the YouTube Novelty-Hits Era That Novel?
Baauer's dumb-dance-inducing track shot to No. 1 after Billboard changed its charts equation. But in mining success from silliness, "Harlem Shake" is as much a throwback as a sign of the times.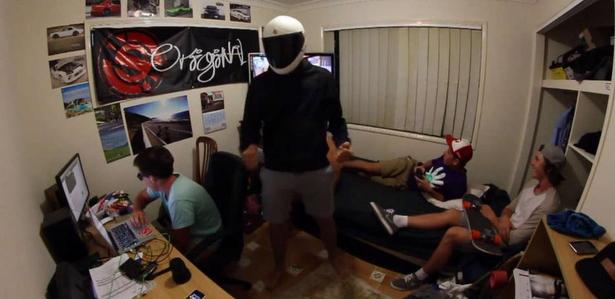 It was a fantastic run, wasn't it?
As a weary nation ices down previously unflailed muscles, Baauer's "Harlem Shake" enjoys a third (and most likely final) week atop the Billboard Hot 100. The infamous first beneficiary of Billboard's incorporation of YouTube streams into its chart formula, "Harlem Shake" achieved what viral curiosities "Friday," "Chocolate Rain," and "Pants on the Ground" could not: industry validation.
Though not a novelty song in execution (as detailed in a Billboard cover story, "Harlem Shake" is a legit dance tune, with pre-viral endorsements from electronic/hip-hop heavyweights), YouTube's fearsome powers will prevent anyone from ever hearing "con los terroristas" as anything other than an incitement to silliness.
But the reaction hasn't been entirely as giddy as the song. Set aside questions of appropriation: In giving consideration to videos that don't originate with the artist, is Billboard ushering in a new era of novelty songs? Some believe so, and they're not thrilled. In a Slate conversation between Jody Rosen and chart oracle Chris Molanphy, Rosen noted that "I ride hard for novelty songs—but if, suddenly, all our big hits are goofy YouTube-incubated one-offs, the novelty song will cease to be novel... I don't want to outsource all my No. 1 hits to Joe Schmo and his laptop camera. My populism only runs so deep." On Ben Ratliff's New York Times Popcast, Jon Caramanica pondered the mutable nature of that No. 1 spot: "What does Number One mean? Is it a place you land at after a lot of work, or a place you dive off of after a short time?" Pop-production titan Claude Kelly—the man who co-wrote Jessie J's "Price Tag"—waxed warily on Twitter: "just nervous it'll open the floodgates to trivial 'hits' that are driven by image and not content."
Imagining future charts topped with Stanky Leggs and Auto-Tuned News can indeed provide a sort of horror-movie thrill. (If you're a fan of silliness—or just chaos—then your thrill may be of a more traditional strain.) But is that vision credible? Can we look forward (or dread, as the case may be) to a Hot 100 comprised of the usual industry heavyweights slugging it out with 12-year-olds dancing to 17-year-olds' GarageBand one-offs?
Probably not: The Billboard formula is still weighted towards traditional metrics of pop success. A YouTube-only smash could likely push a song into the lower reaches of the Hot 100, but the top hits are still distinguished by passive consumption (streaming, radio) and purchases. This past week's chart is bereft of "Shake"-alikes, save one: Psy's "Gangnam Style," hanging on at No. 27. And "Gangnam" was a major-label release by an established South Korean star. It's a novelty because Korean-language pop is, for now.
Besides, novelty No. 1s aren't a derivation from Billboard tradition, but rather an integral part of it. Starting in the 1910s, when Billboard transitioned from a register of live entertainment (circuses, vaudeville, and the like) to tracking the music industry, it issued periodic charts of the best-selling songs on sheet music. And for every "Somewhere Over the Rainbow" or "Mood Indigo," there was a "Yes! We Have No Bananas" or "Three Little Fishies." Tin Pan Alley made its bones selling trifles like "K-K-K-Katy" and "Oh by Jingo!" by the truckload. In 1940, Billboard switched to tracking jukebox plays and record sales, but strewn amongst the sentimental big-band favorites were lighter No. 1 tunes like Count Basie's "Open the Door, Richard" and Kay Kyser's take on the Woody Woodpecker theme.
Novelty songs never went away, of course. People just tend to omit them when talking about the history of rock and pop. The winners write the chart retrospectives, and pretense-free cash-ins like "They're Coming to Take Me Away, Ha-Haaa" and "The Streak," no matter how much they resonated with audiences, aren't good for prestige. (In 1969, the year of Woodstock, two novelty songs were among the five best-selling singles of the year: Zager & Evans' "In the Year 2525 [Exordium & Terminus]" and the Archies' "Sugar, Sugar".) But if the charts reflect the larger makeup of the music-buying public—a premise Billboard assiduously promotes—then these "throwaway" jams are a necessary corrective, a natural outlet for cultural goofiness.
Viral videos have sprung naturally from that need for silliness. And now, they present the potential for chaos. Once the product of professional songwriters and studio musicians, novelty tunes can come from anywhere: misunderstood dudes with oblique texts about racism, shady "starmaking" outfits, Australian train companies. (Interestingly, they're not really coming from professionals; as Business Insider has noted, only one branded "Harlem Shake" clip cracked the top 200 viral videos on the web.) Virality is notoriously tough to achieve; can it be faked? In theory, sure. Billboard's new chart formula doesn't take into account the quality of the video, or even (one assumes) its length: If Nielsen BDS' fingerprinting software detects a song, that's all that matters. Hypothetically, this could pave the way for online communities to promote whatever trifle amuses them. If Reddit can get 58,000 users to spend $1.8 million on Secret Santa, surely an equal number could be persuaded to create 30-second videos soundtracked by nonsense. The mind reels at the provocations that could be leveled by 4chan, Tumblr, or even celebrities with extensive online followings.
Alas, despite Baauer's unprecedented vault from obscurity, the Hot 100 formula seems designed to squelch these possible pop insurgencies. After all, Billboard remains an industry publication. In an interview with CNN shortly after "Harlem Shake" hit No. 1, Billboard's Director of Charts Silvio Pietroluongo marked the limits of virality. "[Harlem Shake] still would have been a top 10, top 15 Hot 100 record if we did not include YouTube streams," noted Pietroluongo, referring to the song's robust digital sales. Billboard prides itself on sussing out where people are hearing songs, but it's still concerned with mapping major-label territory: sales, streaming-music services, and radio play. Even as the "Harlem Shake" cottage industry closes on 500,000,000 views, it's the smaller figures that count the most. If you can get 40,000 people to upload videos for your song, great. You'd better hope that everyone's buying the tune as well.
Still, in giving consideration to YouTube, as well as implicitly encouraging active participation via video uploads, Billboard has done a populist deed. It's possible that major labels will be less prone to keeping videos unavailable in certain markets; it's certain that the new rules will make them think twice before issuing cease-and-desists for unauthorized use. And maybe, just maybe, non-English-language hits will enter the chart consciousness without an accompanying horsey dance. Most importantly, the success of "Harlem Shake" proves the vitality of "novelty" as a concept. Even France, the land of Gainsbourg and Piaf, understands the need to occasionally jettison gravitas; their top-selling single of all time is Tino Rossi's "Petit Papa Noël". Number two? J.J. Lionel's "La danse des canards." You may know it better as "The Chicken Dance."