God's Love Supreme: The Arrival of Jazz as Christian Worship Music
Some American churches have brought improvised jazz into the sanctuary because of its prayerful, stirring power; others, because it attracts attendees who might otherwise skip church.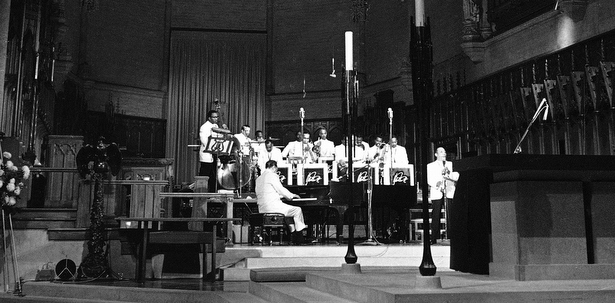 On a Saturday night last month, about a half-mile from a mural featuring Billie Holiday, Lena Horne, Ella Fitzgerald, and John Coltrane, a trio led by pianist Danny Mixon warmed up with the show tune-turned-jazz standard "All the Things You Are." Antoinette Montague, the featured soloist, inspired the 400-or-so audience members to compulsive head-bobbing, hand-clapping, foot-stomping, and call-and-response for more than an hour.
That exuberant performance could have happened during a concert at a club. But it actually took place at St. Albans Congregational Church in Queens, New York, as part of a worship service.
St. Albans' monthly jazz communion service started in 2001 partly to pay homage to the area's storied past as home to some of the 20th century's most celebrated jazz performers. And in an era of digitized beats and auto-tune vocals, senior pastor Rev. Dr. Henry T. Simmons wants to preserve jazz and the discipline it demands as an example to young people.
He's part of a new cohort of faith leaders who see jazz as an evangelism strategy to fill pews with people who would otherwise skip service. "There are a lot of people who have been a bit turned off by the church, particularly younger folk and men," he said, noting that jazz attracts greater male attendance than St. Albans' other services.
Elements of jazz have been in black churches since enslaved peoples transformed Christian hymns with West African rhythms. Jazz would later emerge from gospel and blues as a distinct genre. But the music developed a stigma for being worldly, played in dimly lit smoke-filled venues, and deemed inappropriate for Sunday morning. In the 1960s, jazz artists began to shift this perception with sacred compositions. Among them: pianist Mary Lou Williams with the album Black Christ of the Andes, and the bandleader Duke Ellington, who performed three "Sacred Concerts" in churches and cathedrals across the U.S. and Europe.
What's different now is that churches of varying perspectives and racial identities have picked up on Simmons's strategy of using jazz to attract disaffected believers, and a number of pastors have embraced the notion that jazz has something to do with prayer and can enhance the worship experience. Some sanctuaries have extensive programs with rotating musicians. Others have a house band, or just a bass player and pianist. In most cases musicians are playing jazz standards, reinterpreting sacred music, or presenting original material.
At Chicago's Fourth Presbyterian Church, located at the top of the city's Magnificent Mile, each Sunday at 4 p.m. the Lucy Smith Quartet draws heavily from sacred offerings like Coltrane's "Dear Lord," and songs from his A Love Supreme album. Adam Fronczek, associate pastor for adult education and worship, started the weekly services in mid-2010 to reach people who didn't grow up in church or had stopped coming and wanted to return. Fronczek found jazz particularly useful because he sees the music as theologically rich. "There's a musical journey that goes on with a piece of jazz music that I think mirrors our journey through the life of faith," he said, referring to improvisation that occurs during performance. As he sees it, life's routines, like familiar melodies, can abruptly veer to the uncharted and reveal new truths, and then ease back into a comfortable groove.
For musicians of faith who see themselves as storytellers, those listening to improvisation are really eavesdropping on prayer, said Rev. Cliff Aerie, a United Church of Christ minister and leader of the Oikos Ensemble. During the past five years the saxophonist has participated in some 300 jazz services across the country. "Invariably someone will say, 'I wasn't going to come today because it was jazz, but I like this,' and that's a cool affirmation," he said. Aerie's seen a shift in attitudes about jazz in the sanctuary since he first played Miles Davis's "All Blues," in the early 1970s and people walked out of both services. Now, he feels that churches are open to the possibilities that jazz is a legitimate expression of faith: "No matter what a jazz musician's theology, when you really get immersed and pulled into the story of improvisation, there's a connection that happens, and people are touched by that very deeply." In December, Aerie led three Nativity performances in St. Louis—during which he reinterpreted Christmas music in the jazz tradition—with an audience of 800 people and another in Kansas City that drew 300.
Through the years, much has been made over the confluence of jazz and poetry, so it's no surprise that Rev. Galen Guengerich, the senior minister of All Souls Unitarian Church in New York's Upper East Side, paired the two in worship. Since 2000, the church has put on an occasional monthly series that runs through most of the year and that has attracted A-listers such as Kenny Barron, Regina Carter, Cyrus Chestnut, and Carla Cook. The format: Guengerich reads a poem and musicians respond with a tune, chosen in advance, that complements the verses. In December, violinist Zach Brock led a quartet that played alongside the works of poet Billy Collins. The first selection was "Questions About Angels":
one female angel dancing alone in her stocking feet,
a small jazz combo working in the background.


she sways like a branch in the wind, her beautiful
eyes close, and the tall thin bassist leans over
to glance at his watch because she has been dancing
forever, and now it is very late, even for musicians.

Brock followed with "Monk's Dream," a hard-driving, bop-era tune by Thelonious Monk. He said stories of angels are usually heavy, but Collins offered a playful treatment of their magic. "It had a riffing thing going on," he said. "The imagery it's closing with refers to a jazz group, and she keeps dancing even though the musicians were done."
The services, said Guengerich, give people a unique opportunity to hear jazz up close and contemplate poetry. "There's not a lot of applause and that sort of thing," he said. "People are listening and paying attention in a way they may not be at Smoke or the Village Vanguard."
Perhaps the deepest support for jazz in worship is at the St. John Coltrane African Orthodox Church in San Francisco's Fillmore District, where traditional liturgy such as the 23rd Psalm and the Apostle's Creed are accompanied by Coltrane's compositions. "This music speaks to your soul," said pastor Wanika Stephens, who makes clear that church musicians don't perform jazz, they only play Coltrane. Formed in 1969, the church made Coltrane a patron saint in a nod to the "sound baptism" his music inspires. Members here believe that on recordings like A Love Supreme, Coltrane more than any other musician personifies notions of storytelling and channeling the divine through improvisation.
Coltrane's music certainly inspired the people who canonized him, and who continue worship at the sanctuary bearing his name. And, more broadly, as pastors and their congregations recast jazz from a night club context to a vehicle for worship, it may change what the music means to them and its importance in their lives. For some time, fans of the genre have lamented that jazz doesn't have a big enough audience. Perhaps its next fan base is being nurtured in the church.