Album Preview: Gordon/Lang/Wolfe's 'Shelter'
Hear the forthcoming record from the contemporary-classical innovators of Bang on a Can.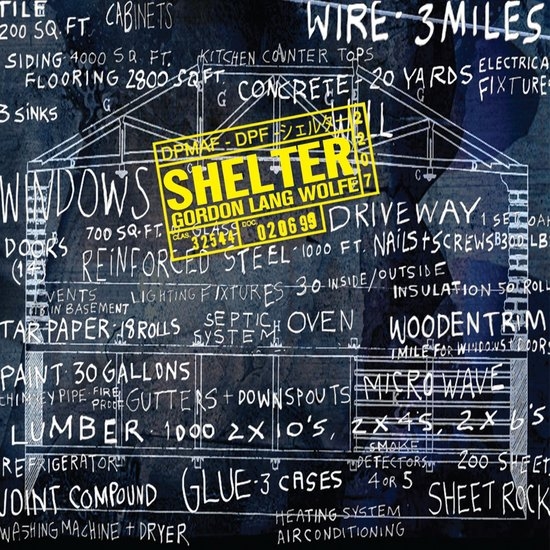 Few artists have shaped the course of contemporary classical music as Michael Gordon, David Lang, and Julia Wolfe have. More than two decades ago, they established Bang on a Can, which defined a new kind of chamber music with its 12-hour marathon concerts and do-anything aesthetic. Last decade, they released two albums together, collaborative takes on common themes.
Next week—and, for a limited time, below—they unveil their third joint album, a work that first premiered at a Bang on a Can festival: Shelter.
An oratorio, Shelter is performed by the three sopranos and the raucous, diverse Ensemble Signal. The writer and librettist Deborah Artman, also their collaborator on 2001's Lost Objects and 1999's Carbon Copy Building albums, sought to evoke with the text "the soaring frontier promise contained in the framing of a new house, the pure aesthetic beauty of blueprints, the sweet architecture of sound and the uneasy vulnerability that underlies even the safety of our sleep."
Much has changed since Lost Objects in 2001. In the music world, notably, David Lang won the 2008 Pulitzer Prize for Music for his Little Match Girl Passion, one of the most uniquely gorgeous new American choral works in years.
But Shelter reflects changes beyond that. When it first premiered in 2010, film clips and images of Hurricane Katrina were projected above the ensemble during the final track, "What We Build." They fit. In that song and others, a high reed or a soprano wails above the thundering ensemble below. Shelter is full of sirens and sine waves: either as dire, electric screams or oscillating, low string pulses below the ensemble.
In "Is the Wind," for instance, cello arpeggios and sibilant electric guitar stack upon each other, building a dire texture in the low and middle range, until a lone trumpet sounds above it all, finding its way, quick and methodical, through a stepwise melody. That trumpet recalls Benjamin Britten's vigorous horn writing, but on top of the constructed cacophony, the effect is something more. Here, and in its best moments, Shelter describes more than the fragility of human refuge. It hints at our whole, sheltering ecosystem: beautiful, primal, mathematic, and relentless.
Shelter can be heard below and pre-ordered on the Bang on a Can website.