1book140 April Reading Schedule: 'The ecco Anthology of International Poetry'
Read along with our Twitter book club for poetry month.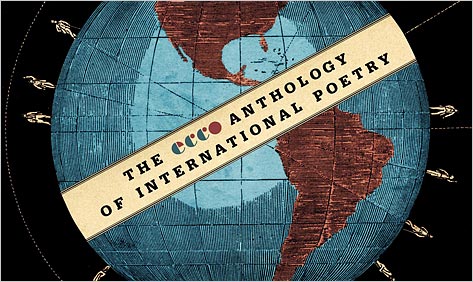 Today I imagine the words of countless
Languages to be suddenly fetterless --
After long incarceration
In the fortress of grammar, suddenly up in rebellion

–from "On My Birthday" by Rabindranath Tagore
April is poetry month at 1book140, The Atlantic's Twitter book club, as well as National Poetry Month across the United States. This month's selection is The ecco Anthology of International Poetry, a remarkable volume by Ilya Kaminsky and Susan Harris, featuring translations of 20th century poets from around the world.
"Opening the window to the world is, in part, the job of a translator," writes Kaminsky in a conversation published by Poetry Magazine. The ecco Anthology opens with a poem by the Nobel Prize winning Bengali poet, educationalist, and political thinker Rabindranath Tagore. It closes with "the earth does not get fat," a song from the Ngoni people of east-central Africa. This month, let's each try to open a window a day.
It's easy and fun to join our Twitter book club. Find a copy of The ecco Anthology of International Poetry. Follow us at@1book140 and follow the hashtag #1book140 for general chatter. For this month's conversation:
Post to #1world140 to share the poems you're reading, favorite lines, and links to further information from the anthology
Post to #1poem140 to share links to other poems you love that aren't in the ecco anthology. Our last article offers places to find poetry online.
If you're like me, this international collection may feel deeply exciting and intimidating at the same time. If you're not used to reading poetry, it might seem doubly intimidating. That's okay. Here are some suggestions to help you get started:
A poem or two a day is fine, and it's okay to keep reading until you find something you really love.
Start with poets' biographies on page 437. I found myself fascinated by the story of Pakistani poet Faiz Ahmad Faiz, whose poem "Before You Came" is both sorrowful and beautiful.
Browse the table of contents and follow up what catches your eye. For me, it was Ho Chi'I-Fang's poem "Get Drunk," which I'll admit turned out less jolly than I had hoped.
Track what you read: I like to put marks in the index next to what I've read, what I like, and what I want to share.
Ask for ideas & explanations: @1book140 is a conversation with people around the world, so if you get stuck, or you want to learn more about a poet, send a tweet to #1world140.
Tweet what you read: We are after all, a Twitter book club!
Although the Internet does open windows to most parts of the world, it's not always easy for us to understand and enjoy the unfamiliar. We need bridge figures to help us understand what we're seeing and why it matters. The ecco Anthology was created together with Words Without Borders, an organization that creates cultural bridges by translating contemporary international literature. To learn more about digital cosmopolitanism, watch my MIT adviser Ethan Zuckerman's TED Talk, "Listening to Global Voices."
Later this month, we'll try to arrange a conversation with people from Words Without Borders as we read the anthology together. For now, see you on Twitter.