Who Took the Baskets Out of College Basketball?
Shooting and scoring numbers for the sport are at a historic low. What gives?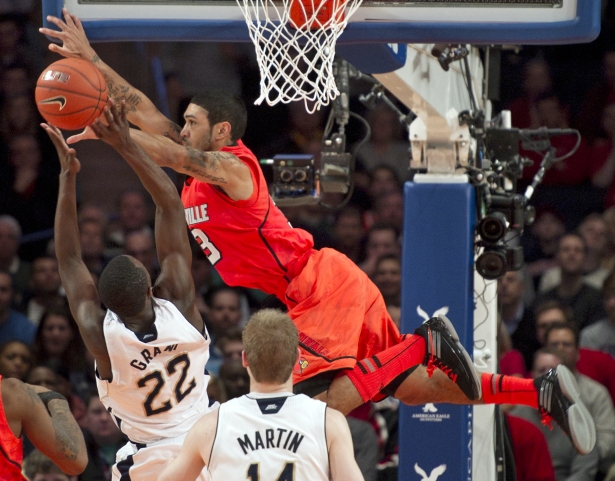 REUTERS/Ray Stubblebine
Every week, our panel of sports fans discusses a topic of the moment. For today's conversation Patrick Hruby (writer, Sports on Earth andThe Atlantic), Hampton Stevens (writer, ESPN and The Atlantic), and Jake Simpson (writer, The Atlantic) attempt to issue mid-season report cards on NCAA men's basketball.
---
Gentlemen,
Conference titles are still up for grabs. March Madness is more than a month away. There is plenty of regular-season college basketball yet to be played. And yet, I can't help but think we've already witnessed the Game of the Year, the contest that best captures the state of campus hoops in 2012-2013.
Indiana-Michigan?
Florida-Arizona?
Kansas-anyone-but-TCU?*
Nope. Sorry. None of the above. The game of the year took place in late January, between Northern Illinois and Eastern Michigan. Actually, forget Eastern Michigan. Focus on Northern Illinois. In the game's entire first, the Huskies scored four points. As in: as many points as Larry Johnson once scored on a single memorable play for the New York Knicks. In 20 minutes. Northern Illinois shot 3.2 percent from the floor—setting an NCAA record for futility—and registered a single field goal, tying another NCAA record. How bad was it? So bad that the Huskies quintupled their offensive output in the second half, and still finished the game with 25 total points on 8-of-61 shooting, including 1-of-33 from beyond the three-point line. (Protip: if you're already 1-of-32, it might be a good idea to stop shooting three-pointers).
Now, I'd like to say this game was an anomaly. A statistical outlier. An imperfect basketball storm. And it was. But only by degree. Fact is, the basket part of college basketball is in sorry shape this season, with men's Division I shooting and scoring numbers at historically low levels. As of Feb. 1, teams were averaging 67.7 points per game, the lowest figure since 1981-82, when neither the shot clock nor the three-pointer were part of the campus game. Field-goal accuracy was at 43.3 percent, the lowest mark since 1964-65. And three-point shooting was at 33.9 percent, the lowest mark since the arc was introduced in 1986-87.
Who let the air out of college basketball's ball?
West Virginia coach Bob Huggins blames bigger, more physical defenders. Xavier's Chris Mack blames better video scouting. Others fault poor shooting fundamentals—a dubious proposition, given that free throw shooting is roughly the same as it always has been—or that corrupter of tall young men-cum-longtime hobgoblin of lazy sportswriters everywhere, AAU summer basketball.
In a fabulous SI.com piece, writer Luke Winn makes a compelling case that over-controlling, slow-it-down coaches are the real culprits, sacrificing "pace for slightly higher efficiency," afraid to run because running means risking "losing games and losing players." Just the other night, No. 5 Kansas—a blue-blood school that used to giddyup under former coach Roy Wiliams—scored 13 first-half points in a loss to TCU, prompting current coach Bill Self to say, "It was the worst team that Kansas ever put on the floor, since Dr. Naismith was there. I think he had some bad teams when he lost to Topeka YMCA and things like that in the first couple years. But for the first half, there hasn't been a team play worse than that offensively."
Hampton, we're supposed to be filling out our midseason college basketball report cards. My grade is incomplete. Just like too many of the Jayhawks' shots. So I'll ask you two questions: What are your mid-term grades, and more importantly, what the heck has happened to the game we both love?
–Patrick
* Hampton Stevens only
Patrick,
Loving the Jayhawks—like being a fan of Duke, the Yankees, or any good team—means expecting excellence. It also means agony when you lose. Whatever. The season is young, and Louisville dropped three straight last month. Rick Pitino's team is still a threat to make the Final Four. That's hoop life in the glorious age of parity—especially in this wide-open season. How many schools are a legitimate threat to get out of a bracket to Atlanta? 30? 50? Every dang team that makes the dance? Cool by me.
Whoever gets to the Final Four, though, we know they won't be scoring in triple-digits.
Patrick, you cite loads of reasons for the drop in college buckets. Some I'll agree with. Like the idea that some of the bad offense is caused by good defense. That includes bigger, stronger players, as well as the improvements in scouting afforded by video. You might also have mentioned the officials, who seem far more tolerant of hand-checks and contact in the paint than the go-go days of Paul Westphal.
We'll have to disagree about blaming control-freak coaches, though. Or maybe we can at least excuse them. It's possible coaches have to control the offense from the sidelines because no one who's out there dribbling knows how.
The biggest change in college hoops over the last few decades hasn't been video or the size of players on the court. It's been players leaving the court early or never stepping on it. Forget the three-point line. The really big rules change came in 1976 with the end of the "hardship requirement" for teenage players entering the NBA Draft. That change, as you dudes know, gave us today's hoops landscape&mash;a world where the very good players like John Wall are always "one and done," and a truly superior athlete like LeBron James never plays a second of the college game.
To me, that exodus of talent is the culprit. The players aren't scoring in college because they're too busy doing it in the NBA.
How about you, Jake? What's to blame for the falling numbers on campus, and what can we do to fix it? For that matter, should we even want to?
–Hampton
I have to agree with you, Hampton. The one-and-done nature of college hoops today means that teams have two choices: build a new roster every year but focus on blue-chip talent (let's call this the Kentucky model) or recruit mid-level players who will stay four years and be formed into a cohesive, if less talented, unit (the Bo Ryan model up at Wisconsin). Either way, offense is going to suffer.
You know what, though? That's fine with me. I was raised on the New York Knicks of the mid-1990s, whose idea of perfection was winning 70-65. I went to college in the Big Ten, that bastion of 45-44 games that manage to be insanely compelling to watch even though neither team makes a field goal in the final seven minutes. You wanna talk about unforgettable Final Four games? Try Michigan State-Wisconsin in 2000, where the final score was 53-41.
I'm sure this view puts me in the minority of basketball fans, who would rather see Doug McDermott score 50 than watch Nerlans Noel rack up 12 blocked shots. To the offensive majority, I would say that teams always gel later in the season (and in case you missed it, Duke beat N.C. State 98-85 in regulation on Thursday, so it's safe to say offense is at least alive and well in the ACC). But I wouldn't attribute all of the scoring woes this season to bad offense. Watch Syracuse execute Jim Boeheim's 2-3 zone to perfection, or tune into any Kentucky game down the stretch and witness Noel either block or alter every shot within 10 feet of the basket. There's some pretty good defense being played in college basketball that shouldn't be overlooked.
Now if you'll excuse me, I have to re-watch my Northwestern Wildcats' 55-48 upset win over Minnesota from earlier this season. Somehow I don't think I'll mind the lack of offense.
–Jake