They Aren't So Young: How Fun.'s Rise Explains the Fall of Suburban Emo
This weekend's Grammys may coronate a band whose members adapted from the more-angsty teen zeitgeist of 10 years ago to the Glee-ified one of today.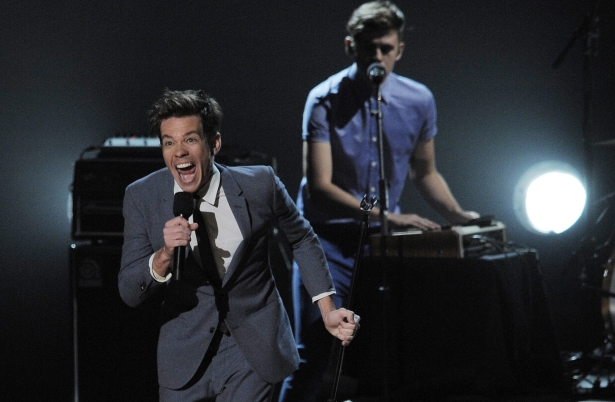 Chris Pizzello/Invision/AP
Fun. shot to fame on their hit single "We Are Young," but when they show up at the Grammys on Sunday to compete in the Best New Artist category, they'll be the old guys in the room. Frontman Nate Ruess, Jack Antonoff, and Andrew Dost—and their former bands The Format, Steel Train, and Anathallo, respectively—made their names a decade ago playing to audiences that were as young as they were. In the past year or so, ever since a Glee cover of "We Are Young" went viral in December 2011, they've successfully wooed a new generation. That fact isn't just a mark of their adaptability. It's also a measure of what's changed in music and pop culture between the Napster era and the age of Twitter and TV musicals—how rock geared toward bored teens has gone from peddling relatable angst to conjuring emotional uplift.
Related Story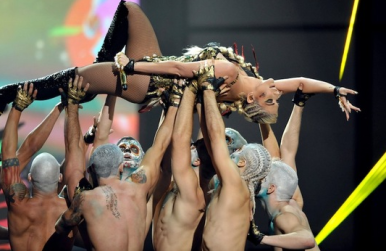 Pop culture has always found inventive ways to animate the banalities of suburban life (isn't "Thriller" really just a song about a movie date?), but in the early 2000s they were trading at an especially high value. The prevailing winds blowing out of California lent a punk-rock mystique to No-Place-in-Particular, USA. The cover of Fenix*TX's popular album Lechuza summed up that spirit, and acts like The Offspring and Blink-182 were re-mythologizing suburbia on a wider scale. If there was an awkward contradiction in an anti-establishment movement going mainstream, it was a familiar one by then, and many younger artists embraced it with pop melodies and a quieter sort of desperation.
Into this milieu entered Ruess in 2001 with The Format, the band he started with Sam Means, a school buddy from his hometown of Peoria, Arizona, a Phoenix suburb. Their debut Interventions + Lullabies catalogs average-kid experiences like the thrill of surprise parties, anxieties about moving away to college, idling in traffic, and smoking on the porch. However modest their subjects, the songs were delivered with a plainspoken wistfulness that was intensely earnest but rarely impassioned.
When Ruess groused in The Format's "The First Single," "I've been waiting all this time to be something I can't define," and "I've just gotta get myself over me," I, at age 13, was right there with him. So were plenty of other high school- and college-age fans who were too cool for Top 40 but too timid to mount countercultural rebellions. For a time, Drive-Thru Records, Vagrant, and Fueled by Ramen, Fun.'s current label, offered a comfortable place in the middle. Founded in Sherman Oaks, California in 1996 and later overtaken by Geffen, Drive-Thru in particular was a mainstay of pop-punk and emo music for young crowds. Antonoff's Steel Train signed in 2003, adding a folk dimension to a lineup that included a little ska (Rx Bandits), piano rock (Something Corporate), and post-hardcore (The Movielife) alongside its bread-and-butter pop-punk acts (New Found Glory). Vagrant, now a prominent indie rock label, was originally home to Alkaline Trio, Dashboard Confessional, and The Get Up Kids. Whatever their aesthetic bent, these artists noticeably reduced the stakes set by the previous generation's punk-rockers, preferring a forthright, irony-free melancholy.
In its way, Fun.is no less sentimental than those forebears. "I'm still not sure what I stand for," Ruess sings on the new album's title track, "most nights I don't know anymore." But the showiness of that sentiment has changed. On the band's sophomore album Some Nights, his big, elastic voice slices through the lush instrumentation, which was overseen by Jeff Bhasker, the hot-shot producer Kanye West recruited for 808s & Heartbreak and My Beautiful Dark Twisted Fantasy. Bhasker's ear for dramatic contrasts—and expertise with vocoder—isn't wasted here. Thumping beats and military drums turn nearly every song into a sort of loser's anthem, making Some Nights a grandiose power-pop album as well as a commercially savvy piece of work.
Its zeitgeisty aspirations are sometimes clumsily direct; an intro track includes the couplet, "Tea Parties and Twitter / I've never been so bitter." And yet Fun. is on to something, as their six Grammy nominations and handsome sales attest. It's not that the suburbs are passé, but the kids who live there aren't out in the streets or lounging on their porches anymore—they're on their iPhones, where the real fun is.
Much
has been made of the fact that a growing slice of our emotional lives now unfolds across a host of social networks. As Maura Johnston points out on Spin.com, "We Are Young" offers "the sort of inspirational message tailor-made for Facebook wall posts between friends trying to cheer each other up." It's also delivered flashily enough to make sure everyone notices, a desire that platforms like Facebook simultaneously provoke and fulfill. If The Format was a surprise party, Fun. is the Instagrammed record of it—more glamorous than the real thing, and better attended.
The shift in Ruess's sound has also kept pace with the past decade's cultural fetish for the performing arts. After all musical theater is in some ways a fitting obsession for a society so adept at self-display. RENT went from Broadway to the big screen in 2005, followed by High School Musical the year later. By the time Glee began airing in 2009, the genre was an established presence in pop culture, spawning Smash and Les Misérables alike. Chris Colfer, who plays Glee's Kurt, notes that it "has this magical way of connecting everybody; and it promotes emotion." Musicals can be wonderfully subtle, but their episodes of torrential passion tend to stick with us the most.
Which is why it's no surprise that Fun.'s big break came from Glee. Some Nights shares the TV series' bleeding heart, high melodrama, and all-embracing spirit. Its songs toggle between solo parts and ensemble-ready harmonies, punctuated by monologues so breathlessly purple you can almost hear the spotlights lights dimming. That theatricality can be exhilarating, but much of the time it's merely theatrical. Asked about the album's inspirations, Ruess says he envisioned James Dean riding a motorcycle in slow motion with a girl on the back. If that's a sexier way to navigate highway traffic than he ever imagined in his Format days, it's a more fantastical one, too—as much a stage direction as an evocation of youth.
Of course, these fantasies are pop music's stock-in-trade, the tools artists use to craft a style and persona. That was equally true for the emo and pop-punk bands of years past, but a big part of their success relied on invoking a time and place many young listeners already saw themselves in. That brand of suburban isolation makes for a less compelling subject in a world as wired as ours has become. Fun. manages to lament that fact even while indulging the glitzy fantasy they replace it with, with Ruess reflecting, "My life's become as vapid as / a night out in Los Angeles, / and I just wanna stay in bed" ("Why Am I the One"). At other times, they fall back on an incandescent triumphalism that doesn't bother with specifics: "We are shining stars, we are invincible, we are who we are" ("Carry On").
That kind of sentiment may be generic, but like the best numbers on Glee, it's also enormously inclusive. Fun.'s popularity, far outstripping anything The Format did, hints that there's money to be made (and, potentially, Grammys to be won) from recognizing that in an age of constant self-presentation, we all can be whatever we'd like—passionate, invincible, young.