The NFL's Ridiculous, Ahistorical Super-Bowl Commercial
The worst ad of the night should worry anyone who wants the league to reform.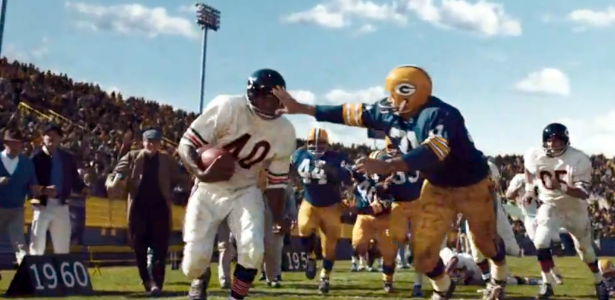 The NFL
The most offensive advertisement from last night's Super Bowl was not the one where Bar Refaeli and a guy from tech support played tonsil hockey. Nor was it the Volkswagon spot with the hi-larious Jamaican accents. It wasn't even the Audi one where the wispy high-school kid stole a kiss from the prom queen, which when you really think about it was kind of a sex crime.
No, the most insulting and reactive spot came from the NFL, as part of its weird new "NFL Evolution" campaign. The logic behind the spot is curious, as the league tries to assure fans the game still has a future by... misremembering the past. Here's the spot:
Harmless enough, you say? The trouble is, it's just wrong. Not wrong in the some-corners-were-cut-for-a-tidy-30-second-commercial sense. Wrong in the "Oh my God, nobody at NFL Properties has the faintest understanding of the history of pro football" sense. This is a problem when the product you're selling is reform. As a football fan, it's hard to trust reformers who present an NFL history in which Gale Sayers played games in a baggy, Ty Cobb-style uniform. Never happened—Sayers was always sleek and racy. Nor did Deion Sanders ever wear a white jersey when he was with the Falcons in a game against the Redskins. Again, it's just wrong.
Almost as wrong as the suggestion the league has been around (in the mud, without face masks, when men were men) since 1906, when in truth the American Professional Football League didn't change its name to the National Football League until 1922. Then there's the claim made by the vaguely Sam Elliottian narrator that "we [the NFL] added more rules and better equipment, like hard plastic helmets and facemasks." But neither were initially commissioned by the league's powers-that-be, a vital (and unspoken) distinction in the CTE era.
Pro football is at a crossroads. Lawyers are lining up to file brain injury lawsuits against the league. Winning—or just negotiating a reasonable settlement—is going to require a basic knowledge about the game and its history, which is something that's not on display here.