The Grammys' Glorious Incoherence
Quibble with the awards, the awkward performances, and the snubbed genres. But there's something charming about the impossible ambition of a ceremony for all of pop music.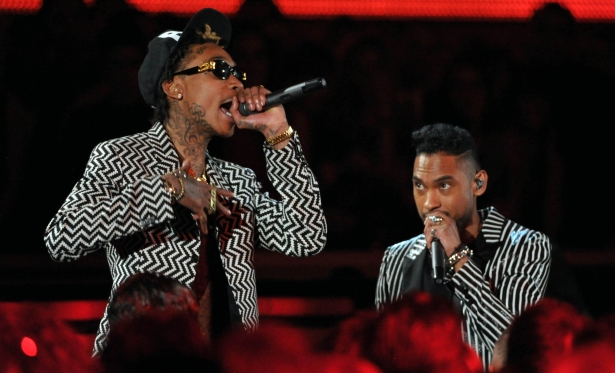 John Shearer/Invision/AP
The vibes at the Grammys were weird enough already when R&B singer Miguel and stoner-rapper Wiz Khalifa teamed up to perform Miguel's "Adorn" early in the night. Miguel, a sensitive-seeming and outrageously talented crooner, played keys, hit his high notes, and at one point of passion, fell to his knees. Khalifa did very little besides recite a few lines about getting wasted. Both wore black-and-white striped getups—but Khalifa (as he usually does) went bare-chested under his suit jacket. Basically, we had an overachiever overachieving while an underachiever underachieved.
But the strangest moment of the collaboration, and maybe of the entire evening, came at the end of the song. Said Miguel: "And now, the nominees for best country solo performance."
Sniping at non sequiturs like these is easy; few televised fake-news events are more perfect for Twitter-hatred than the Grammys. But few work as hard to entertain, either. In a night full of WTFs, an avant R&B singer and a burnout emcee handing out a country award made for just another example of the Grammys embracing what it's been all along: a gloriously incoherent, sprawling, and charmingly crass celebration of our most gloriously incoherent, sprawling, and charmingly crass art form—popular music.
The awards themselves were a joke, but that's nothing new. The bulk of prizes went out before the televised ceremony, mercifully. The few that we saw handed out just confirmed, once again, that Recording Academy voters are hung up on a conservative vision of "real" music: feting, for example, Adele's Very Respectable live recording of an almost-two-years-old song ("Set Fire to the Rain") instead of the genius, era-defining headrush of "Call Me Maybe." Album of the year, from a nominated field of four white rock bands and one critically adored R&B artist (Frank Ocean), went to the (maybe justifiably!) bestselling of the rock bands, Mumford & Sons.
It's hard to get worked up over any particular vote, though, because the awards just don't matter. The bizarro appeal of the Grammys is in the way it strains to summarize popular music in its entirety. Other music-awards shows, like the MTV VMAs or the Country Music Awards, live in niches, but the Grammys—which bills itself, as host LL Cool J reminded us incessantly, "music's biggest night"—feels obligated to stage the kind of show that would only make sense if people actually lived up to their online-dating-profile claims of listening to "all kinds" of songs. Of course, this is an impossible task. Last year, the producers went all-in on electronic dance music, which was completely ignored this year in favor of the other youth-music trend of the moment, folk. But the main sensation from watching both ceremonies was of overstuffed-ness.
The result? Some cases of lip service (like when Public Enemy's Chuck D, Blink-182's Travis Barker, Rage Against the Machine's Tom Morello, and LL Cool J closed things with the night's one instance of music that could scare grandparents—a memorial to the Beastie Boys' Adam Yauch—but were played off by commercials and credits). Some awkward pairings (see the a semi-baffling Bob Marley tribute featuring, among others, Rihanna, Bruno Mars, and Sting). Some earnest indulgences (a patchy-but-cool-looking Ocean performance proving once again that his abilities haven't quite caught up to his taste or his acclaim). Some headline-making comebacks (Justin Timberlake, whose sepia-toned, Bruno Mars-ish new shtick has me worried). And some genuinely nice ensembles (the Levon Helm tribute, with Mavis Staples's formidable voice anchoring "The Weight" alongside Elton John, T Bone Burnett, Zac Brown, Mumford & Sons, and impressive newcomer Brittany Howard of Alabama Shakes).
This year, a blog—whoisfrankocean.tumblr.com—sprung up during the ceremony, documenting the ignorance of Grammy viewers who'd never heard of Frank Ocean. Something like this has happened every year since the Arcade Fire won album of the year in 2011, and condescension towards peoples' cultural blindspots has become a BuzzFeed trope. But the phenomenon also shows the upside of trying to mash a hugely diverse part of culture into a three-and-a-half-hour spectacle: People discover new music. And it's not just the plebs at home. When Kelly Clarkson went up to accept the prize for best pop vocal album, she called out one of the night's earlier performers: "Miguel, I don't know who the hell you are, but we need to sing together." Here's hoping to see the weird vibes of that duet next year.