The Excellent Horror of the Super Bowl
The spectacle has eclipsed the game, no doubt. But why fight it?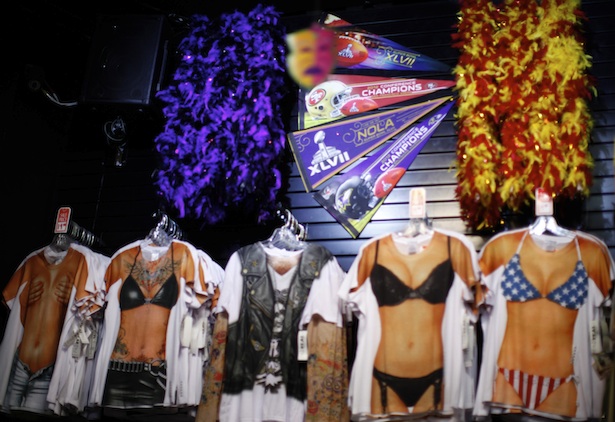 Reuters/Lucy Nicholson
There is unquestionably something horrifying about a Super Bowl.
Consider that most of the notes for this column were taken with a XLVII logo-ed pen and notebook, some while sitting near the Superdome beneath a XLVII logo on a banner that was easily 100 feet tall. Or consider that some of the notes were also taken while in the French Quarter listening to a woman decked head-to-toe in Baltimore Ravens gear asking her two similarly attired companions incredibly basic questions about the team. Like, for instance, the starting quarterback's first name.
Related Story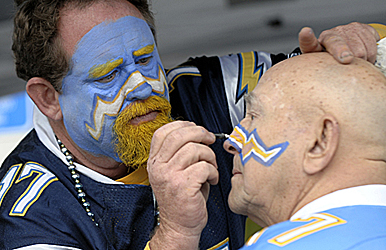 Consider that you can bet on the coin flip, or the color of the Gatorade dumped on the winning coach, the length of the National Anthem, and the setlist for the halftime show. Or consider that much of any fan's week in New Orleans was bound to be spent in transit, or in lines for transit, or in lines to get tickets for events, then more lines to enter said events, and still others for drinks and to use the bathroom.
Even casual football fans could be forgiven for asking how the DirecTV Super Saturday Night party is connected to a pro football game played Sunday afternoon, or what a glitzy shindig thrown by GQ Magazine has to do with the NFL.
Nothing. That's the beauty of it. The very things that make Super Bowls horrifying are what makes them so much fun.
Sure, it's faintly ridiculous to have a press conference with the halftime performer. It was extremely ridiculous when a reporter asked this year's performer, Beyonce, the color of her toothbrush. (It's blue and white.) Call it hype. Call it manufactured news. But her press conference was nevertheless one of the most authentic and moving things that happened all week in the Big Easy.
Beyonce had taken a lot of flak for lip-synching at the Presidential inauguration. When she walked on stage at the NFL Media center, before taking any questions, she asked the crowd to stand. Then she delivered an a cappella rendition of the anthem that was enormous, bold, and in-your-face with sharp phrasing and extra trills—a rebuttal in song. The moment was stunning, raw, real, and emotional enough to make a room full of jaded reporters swoon and cheer. Loudly.
And so what if that DirecTV Super Saturday Night party was utterly unrelated to football? Justin Timberlake performed, playing live for the first time in more than four years, and it was a riveting, joyous, hour-ish long steamy performance, in a tux. The show included Jay-Z coming on stage for Suit & Tie and Timbaland joining Timberlake for Sexyback.
Nobody mentioned Ray Rice or Frank Gore all night. Nobody used the expression "Harbowl" or talked up the Pistol offense. The audience didn't seem to mind a bit.
Hype is the point. If you want to see football, re-watch the conference championships. The Super Bowl is our National Day of Capitalism—a feast and party that's mercifully without the least bit of spiritual underpinning. It's a celebration of commercialism and consumerism, and consumption for consumptions' sake. Today we slurp and cho down as much food and drink as humanly possible. We pay more attention to the TV commercials than the game. We gamble, which is almost capitalism in the purest form—an attempt to make money off nothing but one's capital, brains, and someone else's work.
If you are a serious, hardcore NFL fan—the sort who is deep into fantasy draft prep by June—try not to get too upset about all the silliness today. Sure, the Super Bowl can be kind of horrible. The halftime show matters more than final score, and the guacamole will generate more debate than who'll be MVP. You might get shushed if you talk during commercials. You might even meet those people I met, decked in head-to-toe Ravens' gear who nevertheless don't know their own quarterback's first name.
That's the sort of thing that may tempt you to complain about Super Bowl hype. Given the spirit of the day, though, it's a lot more appropriate to simply lean over and nicely whisper "Joe."