The Best Super Bowl Ever?
The cultural phenomenon around the NFL championship is usually bigger than the game itself. But this game turned out to be really, really big—blackout and all.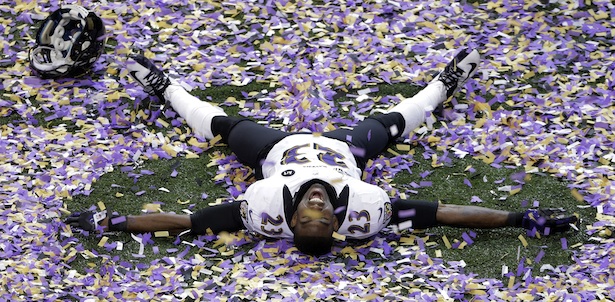 AP Photo/Charlie Riedel
There's a scene in Gladiator when the ancient-Roman brawler Maximus flings his sword into the spectator's box, then roars in righteous anger at the crowd: "Are you not entertained!?!"
Related Story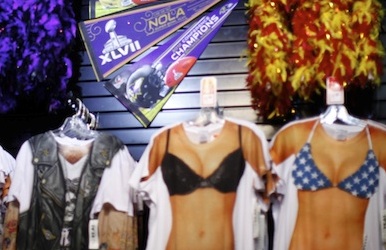 A lot of people love to bash the Super Bowl. There's certainly no question that the hoopla overwhelms the game itself. Everyone, for instance, remembers when Justin and Janet brought "wardrobe malfunction" into the national lexicon. Almost nobody can tell you who played in the game.
But what happened on the field yesterday when the Ravens beat the Niners 34-31 was about as fabulous as football can get. If that wasn't the best Super Bowl of all time, what was? Joe Montana defeating the Bengals? Scott Norwood's kick going wide right? Maybe when the Giants beat the Pats on David Tyree's catch or St. Louis stopped Tennessee.
Maybe. But those games are largely remembered for a great ending or single, pivotal play. This one, though, will be remembered as a wild ride from start to finish. From coin flip to final confetti drop, Super Bowl XLVII showed fans almost every facet of football, taking us through every emotion that our terrible, beautiful national game can bring.
The thing just plain had it all. There was a fumble and interception. There was a tidal shift in momentum and a furious Niners comeback. There was a safety on the last play of the game. There was Jacoby Jones's 108-yard kickoff return for a touchdown—the longest score in Super Bowl history. There was a fake field goal—on 4th and 9, no less. It may seem hard to believe, but Elias Sports Bureau tells us that Super Bowl XLVII was only the second championship game in league history where both teams scored 30 or more points.
That, folks, is what you call a classic.
But wait. There's more.
Let's not forget the freakish 3rd quarter power outage and accompanying 35-minute delay that allowed a reeling Niners team to catch their collective breath and mount a comeback.
It was truly bizarre, particularly at an event famed for having the most lavish productions values possible, to suddenly be sitting with 70,000 others in the half-dark. Theories about what happened were flying even before the lights came on. Some ideas were merely silly and confusing—like the notion of the outage being somehow caused by Beyonce's excessive demand for electricity. Other explanation were delightfully and ludicrously conspiratorial. Like, say, the notion that some Silicon Valley hacker and Niners fan broke into the New Orleans power grid and shut off the lights—like in a Buffalo Wild Wings commercial—in order to help their favorite team. Which it did.
Finally, of course, there was the seemingly scripted storybook ending: a smothering, game-winning goal line stand by the Ravens to give face-of-the-franchise and future Hall-of-Famer Ray Lewis a Lombardi Trophy to retire on.
Clearly hype is what the big game is all about. But after what we just saw, it wouldn't hurt so much to quiet down about the commercials and halftime show long enough to acknowledge an incredibly obvious truth: The Ravens and 49ers put on one hell of a show between the lines. Maybe the best ever. And I was entertained. Weren't you?