Super Bowl XLVII: Who's Going to Win This Thing?
One Harbaugh or the other? Our sports roundtable is a hung jury.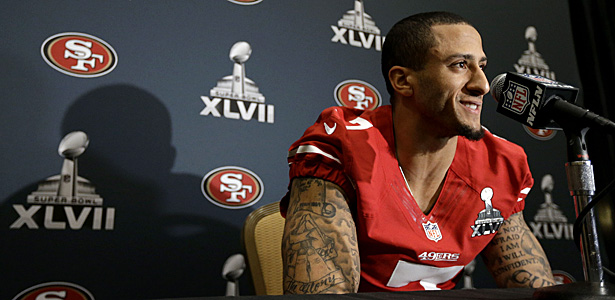 AP / Mark Humphrey
Every week, our panel of sports fans discusses a topic of the moment. For today's conversation, Hampton Stevens (writer, ESPN and The Atlantic), Patrick Hruby (writer, Sports on Earth and The Atlantic), and Jake Simpson (writer, The Atlantic) discuss what needs to happen offensively and defensively for both teams in Sunday's Super Bowl in New Orleans—and, of course, predict the winners.
---
Related Story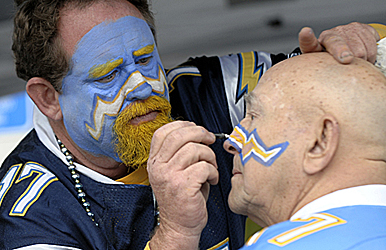 Guys, let's prophesize.
We can safely predict that Alicia Keys on Super Bowl Sunday will lip-sync the National Anthem—just like Whitney Houston did in 1994 and just like Beyoncé did at the Inauguration. Speaking of Sasha Fierce, my second non-football prognostication is for a Destiny's Child reunion to do Say My Name during the halftime show. Also, bet she will be joined by hubby Jay-Z on stage to do the rap opening of Crazy in Love.
Oh, yeah. There's also going to be a football game.
My AFC pick was the Patriots. They're home in Boston. Or, in Tom Brady's case, in LA behind a moat. The Ravens, winning in Denver and then Foxboro, have sold me—and it wasn't Ray Lewis and his graybeards that did the selling. It was seeing the Baltimore offense come of age.
We've all been in love with Ray Rice since he left Rutgers—especially if you have had him in a fantasy keeper league. Now Rice has a quarterback, as Joe Flacco's pocket presence has become as strong as his arm always has been. Anyone who followed Baltimore in the days of Dilfer and Grbac could be forgiven for thinking that Flacco would be just another "game manager." But he's become much more. He leads.
Containing Kaepernick will be tough. Leaving a spy on the Niners' QB will mean Frank Gore finds gaps. Kaepernick's scary legs also mean that either Vernon Davis or Michael Crabtree will be in single-coverage on every play. That's frightening for Baltimore. But, weird as it sounds, figure the Ravens' dynamic offense to carry the day. Or at least to come close enough for Las Vegas. San Francisco is favored by more than field goal. That's mystifying. I'm no prophet, I've not had the benefit of sniffing vapors like the oracles at Delphi, but my sense is that the Ravens will take it 27-24.
How about it, boys? Are you ready to celebrate Super Sunday, and to put your predictions in print?
–Hampton
Hampton,
I'm confident that the NFL will wrap itself in fig-leaf, Founding Father-fetishizing patriotism and rah-rah militarism, even though a salute to stadium-subsidizing everyday taxpayers and a check for the cost of fighter jet flyovers—in case you haven't heard, money's a little tighter at the Pentagon these days—would be more appropriate. I have no doubt that CBS will cut to Jack and Jackie Harbaugh—in case you haven't heard, sons Jim and John Harbaugh are coaching in the big game, and get this, they're brothers!—at least a half-dozen times. I'm fairly certain that during his traditional pre-game electroshock slide dance, the Rev. Ray Lewis will kill a live deer with his bare hands, snap the deer's antlers in half over his knee, Bo Jackson-with-a-baseball-bat-style, and then suck out all of the delicious, possibly performance-enhancing marrow with a S.W.A.T.S.-provided holographic straw.
Also, I think San Francisco is going to win the game.
Maybe I'm a traditionalist. Maybe I've spent too much time around John Madden. Maybe I'm not dazzled by skill position players because I don't play fantasy football. Whatever the case, I'm a big believer that the team with the healthiest, most coherent, most experienced offensive line tends to win games. The Joe Montana/Jerry Rice-era Niners had a dominant offensive line. The Triplets Dallas Cowboys had a man-mauling offensive line. (How often was Emmitt Smith even touched before he was four yards upfield?) The John Elway/Terrell Davis Denver Broncos had a cut-blocking terror of an offensive line. The Tom Brady/Bill Belichick New England Patriots dynasty has a great pass-protecting offensive line (though they were beaten twice by an even-better New York Giants defensive line in two Super Bowls).
The current Niners' unit isn't as accomplished. Not yet. But they could be on their way. San Francisco has invested in its offensive line—tackle Anthony Davis and guard Mike Iupati were 2010 first-round picks, while tackle Joe Staley was a first-rounder in 2007—and those draft-day decisions have paid off: Staley and Iupati were selected as Pro-Bowl starters, and Davis was an alternate. Joining Davis as alternates were Alex Boone and Jonathan Goodwin, the latter an un-drafted 11-year veteran who may have been the most important unheralded acquisition of the previous offseason. The Niners' unit was one of three in the entire league that started the same five players for all 16 regular-season games. Cohesion counts. No less an authority than Madden himself calls them the best offensive line in the league—and after seeing what Colin Kaepernick and Frank Gore have done during the playoffs, it's hard to argue the point.
Of course, Baltimore's offensive line is pretty good itself. And the Ravens' defensive line—anchored by nearly unblockable human Zamboni machine Haloti Ngata, underrated Paul Kruger, and still-formidable pass-rusher Terrell Suggs—is better than pretty good. As such, I expect a close game. I won't predict a final score, but like Hampton, I think it will be decided by a field goal. Possibly in the waning moments.
Jake, what's your take?
–Patrick
Patrick,
If I went with my gut, I'd say the 49ers will win by 10-14 points. They have the better offense and the better defense, usually a foolproof recipe for winning football games. But I've been wrong about the Ravens in each of the last two rounds, and you have to respect their back-to-back wins over Peyton Manning and Tom Brady—on the road, no less.
Here are five keys to the game:
Colin Kaepernick's mindset: The second-year pro out of Nevada has said all the right things this week: "It's just another game... I won't let the pressure get to me... etc." But only one quarterback in NFL history has started fewer career games than Kaepernick and won a Super Bowl. That would be Jeff Hostetler for Giants in Super Bowl XXV, and he got huge assists from Big Blue's elite defense and the unsteady foot of Scott Norwood. In the divisional playoff against Green Bay and NFC Championship game against Atlanta, Kaepernick started slowly, throwing a pick-six early against the Packers and failing to score for the first 20+ minutes against the Falcons. If he starts slow on Sunday, it may be harder to shake off the jitters this time.

Tight-end play: The Ravens love to run an Air Coryell-style post play for their slot receiver, often tight end Dennis Pitta, and Flacco loves to go to Pitta up the middle of the field. San Francisco linebacker NaVorro Bowman made the game-saving pass breakup against Atlanta, and he may be tasked with shutting down Pitta (and elite wideout Anquan Boldin when he lines up in the slot). Meanwhile, Vernon Davis might just be the key to the whole game. After disappearing from the 49ers' offense for the better part of two months, the tight end tore apart the Falcons for six catches, 106 yards and a touchdown. The Ravens don't have a linebacker who can keep up with the speedy Davis (the thought of Ray Lewis chasing after Davis is highly amusing), and he's a matchup nightmare for defensive backs because of his size. Look for Davis to have a huge game.

Ray Lewis vs. the Niners line: Patrick makes a great point about the strength of the San Francisco offensive line and the holes they can open up for Gore and Kaepernick. Lewis has been a tackle machine in the playoffs, racking up a league-leading 44 solo or joint tackles in the postseason. But can he shake off the second-level blocks from Iupati et al and keep Gore in check? It'll be one last big challenge for one of the greatest middle linebackers of all time.

The greater Harbaugh: Both brothers are good coaches, but Jim has emerged as a Belichick-ian strategist who can change up his game plan on the fly. The 49ers embarrassed the Packers and their defensive coordinator, Dom Capers, by going away from the Pistol formation after using it heavily at the end of the regular season. The result was a 45-point outburst that could have been 60, and it was a testament to Jim Harbaugh's craftiness. It remains to be seen whether older brother John can match him in the chess game of Super Bowl game-planning.

Not-so-green Akers: The Ravens' biggest advantage is at kicker, where they send out top rookie Justin Tucker. The 49ers have the worst kicker in the league this season, David Akers, who was so bad that former Ravens' goat Billy Cundiff was auditioned to potentially replace Akers before the playoffs started. Think about that—the kicker on a Super Bowl team has been so poor that his coach considered replacing him for the playoffs! Akers doinked a makeable FG off the post against Atlanta, and Niners fans get what my grandmother calls "agita" every time he lines up a field goal try. As I mentioned earlier with Norwood, Super Bowls have been won and lost by kickers, and Akers could very well become a Norwood-like pariah in the Bay Area.
Final prediction? San Francisco 31, Baltimore 24. No Akers heroics needed.
–Jake