So It Turns Out That Channing Tatum Is a Pretty Good Actor
With director Steven Soderbergh, Tatum's naturalistic performances have impressed. Now what does he do?
With guidance from director Steven Soderbergh, ex-stripper Tatum has impressed audiences with sure-footed, naturalistic performances. Where does he go after Friday's Side Effects?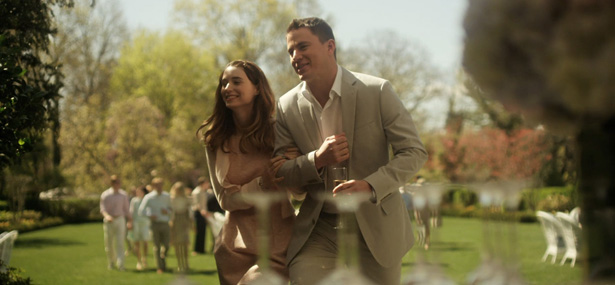 When, in 2011, Steven Soderbergh announced his forthcoming retirement , film geeks pulled up his development slate on IMDb Pro to find that three of the great director's final four movies—including this Friday's new medical thriller Side Effects—would be starring Channing Tatum. If someone back then had drawn a Venn diagram of fans of Soderbergh's and fans of the Tatum-starring Step Up franchise, the overlap between circles would have been slight. Soderbergh followers knew, of course, that the filmmaker behind Bubble and The Girlfriend Experience loved to work with non-actors, but, they thought, why does he insist on casting this one?
Might it be the fact that Soderbergh remains, as he has been for the last quarter century, two steps ahead? That the director of Out of Sight, Erin Brockovich, and Ocean's Eleven, who has Clooney, Damon, and Pitt seemingly on call saw something in ex-dancer/model/stripper Tatum that few others did—namely, that he's really good? Increasingly, the answer to those questions appears to be "yes."
Their first collaboration, Haywire, snuck out in January last year. The movie's great—spare, fresh, elegantly constructed. And during scenes with star Gina Carano, a former MMA fighter, Tatum seemed kinda sorta fine, even well-suited for the role. That fleshy-faced physicality that he'd once bundled with menace in a chilling scene from 2006 indie-awards contender A Guide to Recognizing Your Saints was still there. That physicality always will be there, as he seemed to understand, without his having to puff up or so aggressively smolder. And so he acted against it, playing his contract agent as bored, exhausted, and impatient, thereby giving a tired film trope a new, human feel.
If watchers were intrigued by Tatum's turn in that film, they were then bowled over by what he did next, sans Soderbergh. 21 Jump Street, a ridiculous-sounding adaptation of a ridiculous '80s Teen Beat TV show, paired co-producers Tatum and Jonah Hill as Odd Couple buddy-narcs reliving high school to catch a drug dealer. But it was astonishingly good, offering clear, bright, and zany Police Academy-style fun. What's more, Tatum, as a once-popular jock at odds with the new sensitive world order ("I blame Glee," he says, deadpan and disillusioned), was effortless, silly, and genuinely funny. The whole trailer-park-Zoolander vibe slid off him and he hit a register we previously thought out of his reach. In just a few moments of screen time he'd done what Marky Mark has failed to do in 20 years: Stop taking himself so seriously. Tatum's physicality now became the butt of a self-effacing joke at the expense of meatheads. He looked at home with the self-aware dialogue and scatological hijinks, at perfect ease with the post-millennial mix of intensity and irony.
It was a beautiful moment in a way, like watching an athlete find a new dimension to their skills during a break-out game. But his real homerun was Soderbergh's Magic Mike. The bildungsroman is a kind of Good Will Hunting of male strippers, and for former-stripper Tatum, who produced it, his 8 Mile.
Tatum's performance has the confidence and messiness of the custom-built bachelor pad his titular character lives in. Even if he isn't playing himself line for line, he is an affable host, guiding us, in the same way Magic Mike shepherds Alex Pettyfer's neophyte stripper through a new and exotic world. Good evening, he seems to say, welcome to the show. Now let's do shots.
The dancing is obviously the centerpiece of the movie, but Soderbergh cobbles together unique little scenes that are particularly well-suited to Tatum. How many other major stars would or could do a back flip off the Sunshine Skyway bridge into Tampa Bay 50 feet below, for example, and would they have emanated the same blend of grace and desperation he did?
In the film's climactic scene, Soderbergh keeps in a take where Tatum unintentionally flubs his line ("I'm not my lifestyle—I mean, I'm not, am I Magic Mike right now talking to you?"). The error is perfect. After all, this is a performance of a performance, the kind of declaration of love delivered with the panic and excitement of revelation that causes you to stumble over your speech—the speech you'd maybe planned, maybe rehearsed, but now, in the moment, comes unraveled. Tatum fights through, weaving the monologue back together and finishing on a moment of gasping completion. The moment epitomizes the director's ability to capture the frisson of real, spontaneous-seeming human moments—something we might call a new naturalism.
If we think of the recent history of film acting, from Barrymore, through Brando, to Nicholson to Day-Lewis to Pitt and now Gosling—to name but a few male actors exemplary of their epoch's styles—it appears to be a pursuit of a grounded, naturalistic performance. We have retreated from the mannered acting of the stage to something of a less-is-more situation. Soderbergh's furthering of this evolution, from the intimacies of Sex, Lies, Videotape through his madcap Schitzopolis era to his recent string of micro masterpieces, is substantial—including, now, perhaps, elevating a former male stripper, through a trio of minimalist movies, to prospective inclusion in the above list of actors.
But beyond his lone remaining collaboration with Soderbergh, the rest will be up to Tatum himself—a future reality about which he seems to want to be in control. After returning in the sequel of the GI: Joe franchise, Tatum's slate is awash in projects he is producing. Magic Mike 2 is in the works, as is a Roland Emmerich action movie, an Evel Knievel biopic, and a drama directed by Moneyball's Bennett Miller.
So who is Channing Tatum going to be, long term? Will he chase after the initial flush of chemistry and recognition, and rehash the self-aware Jump Street buddy comedy with a member of the Apatow set over and over again? Will he wander into the loveable camp direction of his Mike co-star Matthew McConaughey and carve out the next great topless career?
GI: Joe and the Emmerich picture (White House Down) notwithstanding, he doesn't appear to be looking to play to his native athleticism and, like Bruce Willis, become an action figure. Will he instead take a wild risk like Willis's co-star Brad Pitt did in 12 Monkeys and succeed in broadening his options as Pitt did? All of the above? None of the above? It's probably not safe to bet. After all, he's surprised us before.