Because it often seems that the American beer scene offers the only reliable supply of "hey, things really
are
getting better" news. [And please see
update
below.]
Dateline Houston:
I was a big fan of Houston when I was based in Austin many years ago, and I like it even better now. Back during one of the oil crashes of the 1980s I wrote an Atlantic piece making the case for Houston as America-in-miniature: adaptable, optimistic and future-minded, unmannered in all senses of the term, full of and shaped by immigrants. (I'm not providing a link because it was in one of the 80s-era issues we don't yet have on line.) I make this point because I think prevailing East Coast and West Coast opinions have not fully caught up with the idea of Houston's hipness, ambition, and charm. Two signs of progress: Forbes made a case last year that Houston was "
America's coolest city
," in other than the literal thermal sense; and the WSJ
paid its respects
to Houston's verve and style earlier this month.
But even I was surprised to find that Houston -- which I had long associated with Lone Star, Pearl, Texas Pride , and similar fare -- is now another of our craftbrew capitals. The view out my hotel window not long ago: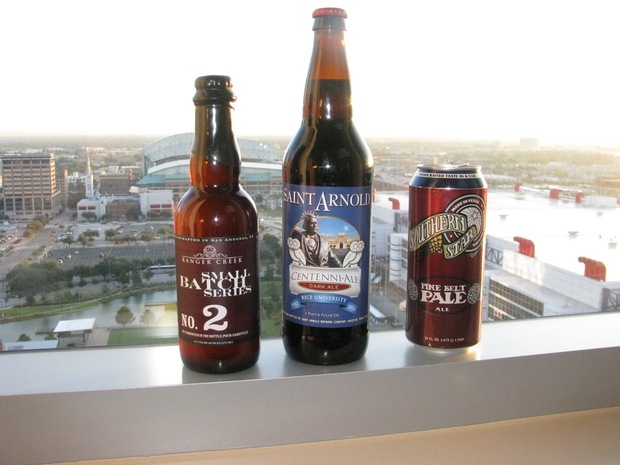 These were all really good. Before you ask: yes, this was a morning shot; I waited a decent interval to try them in the evenings once I got back home.
Dateline Utah, plus Delaware, Germany, and Pennsylvania:
Or at least Utah's handiwork as seen from our house in DC. Here's the lineup on a winter afternoon, with IDs below:
What you're seeing, working from the center outward:
In the middle, two of the new "special IPA glasses" jointly designed by Dogfish Head of Delaware, Sierra Nevada of California, and Spiegelau of Germany. Their ambition is to be "

the go-to glass to amplify and balance even the hoppiest of IPAs... [and] 

change the way you experience hop-forward beers." The glass on the left is empty, the better to show off its cute little shark/dogfish logo. The one on the right is ready for use, filled with the Hop Notch beer I'm about to mention. The glasses are $9 apiece plus shipping from the Dogfish Head online store, and I will say that this latest IPA tasted very good therein.


Next out from the center, two offerings from Uinta, in Salt Lake City. Hop Notch, on the right, is by my reckoning a really wonderful IPA. You don't have to believe me: the Alström brothers at Beer Advocate gave it a "world class" ranking. The Wyld Pale Ale is good too.


On the outside, two tried and true favorites: Hop Devil IPA, and Headwaters Pale Ale, both from the Victory brewing company of Downington, Pa.


Dateline DC:
Dan Fromson, an Atlantic alum, has the enviable assignment of being the WaPo's beer writer. (Plus some other duties.) Here is one of his
recent reports
on the craft brew renaissance right here in Dysfunction City.
Back to Utah again: 
Just because it's cheering, here is a sample of the other beers from Utah featured on the
Uinta site
.
That is all.
UPDATE
Actually it's not! I forgot to mention that Uinta Brewery says it is 100% wind-powered. From the
company's page
(emphasis in original):
Uinta Brewing Company (UBC) became 100% wind powered in 2001. The first company to be 100% wind powered in the State of Utah, Uinta has worked cooperatively as a Visionary with Pacificor's Blue Sky Program to promote the use of wind power to commercial and residential users throughout the state. Blue Sky Pilsner was named in honor of wind power. In 2011, Uinta installed solar-electric paneling on the brewery's roof, allowing up to 30KW of electrical power to be generated for Uinta's beer production--roughly 15% of the brewery's power usage. Uinta is currently 15% Solar and 85% Wind Powered.