Is Danica Patrick About to Become the Most Important Athlete Ever?
If she wins the Daytona 500 on Sunday, she'll have earned a bigger victory than any female athlete before her—and could have a bigger cultural impact than almost any athlete, period.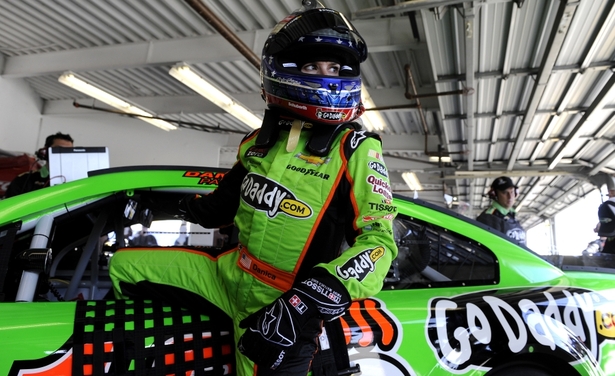 Reuter/Brian Blanco
Danica Patrick is already the most important female athlete on the planet. On Sunday she has a chance to become the most important athlete of all time. That's because Patrick averaged 196.434 mph on her qualifying lap at Daytona International Speedway, becoming the first female driver ever to win the pole position at a major NASCAR event. Before her, the best qualifying spot for a female driver was ninth, a mark set by Janet Guthrie in 1977.
But Patrick didn't just win the pole. She did it with the fastest lap-time for any racer at Daytona since 1990, covering the 2½-mile track in a blistering 45.817 seconds. Much more significantly, she did it while qualifying for NASCAR's most important event: the season-opening Daytona 500.
Absurdly, the Daytona 500 is often called "the Super Bowl of racing," mostly because calling stuff the Super Bowl of anything has become a lazy way to describe any big, glitzy annual event. The Kentucky Derby is a better analogy for the 500 because it's a race, so more than two teams can win. Better yet, think of the Daytona 500 as more akin to the Masters in golf, at least in terms of prestige and social impact. Like the PGA's stop in Augusta, Daytona is NASCAR's richest and most prestigious contest, and no one can truly call themselves a great champion without winning at least one. Also like the Masters, the Daytona 500 has so much cultural currency that whoever wins could dramatically impact the world beyond sports. That is, if the winner happens to not be a white male.
The obvious comparison, then, would be between Patrick to Tiger Woods, who broke racial barriers by succeeding at the Masters. But if Patrick could win the race on Sunday, or any time during her career, it would arguably—depending on whether you think gender or racial equality matters more—be the most socially significant thing to happen in American sports since Jackie Robinson's integration of baseball, or ever.
At the very least, Patrick winning at Daytona would be the single greatest moment in the history of women in pro sports. She would in many ways have exceeded the accomplishments of any female athlete, ever—be it "Babe" Zaharias, Billie Jean King, or Brandi Chastain.
That's because the unique nature of motorsports allows Patrick to do what almost every other female athlete can't: compete equally with men. Due to racing's heavy reliance on technology, and because winning demands the fairly gender-neutral traits of endurance, eye-hand coordination, reaction time, and courage, Patrick can compete in the same venues, under the same rules, for the same trophies as men. That's what makes her opportunity so historically unique. No woman has ever done that in a major American sport. Beyond some hype about Michelle Wie a few years ago, there's never been a female golfer who even threatened to qualify for a men's PGA event, let alone win a Masters. There's no woman close to taking on men at Roland-Garros or Wimbledon, let alone competing in the NBA or NFL. Only motorsports offers the chance of gender equality.
(The argument that racing doesn't count as sport because the drivers rely on fast cars to win is almost unworthy of mention. Suffice it to say that jockeys can't win without the help of their horses, but that doesn't mean they aren't athletes and it certainly doesn't mean that horseracing isn't a sport.)
If that chance at equality seems incongruous, given the stereotype of NASCAR as a redneck bastion, you wouldn't know it from the fans. Trackside or measured by merchandise sales, Patrick is deliriously popular. One season since her jump from the IndyCar Series—where she was the first women to win a race—the 30-year-old is not only a good bet to win NASCAR's rookie of the year; she is a near-lock to wrest the Most Popular Driver award from Dale Earnhardt Jr., the charismatic son of a legend who has practically owned the title for a decade.
At the track, her popularity is even more evident—especially in the passion from the throngs of young women and girls. They mob her, shriek, beg for autographs and photographs, and proudly wear hats and shirts emblazoned with her name, her image, or the black and day-glo green scheme of her #10 Go Daddy Chevrolet.
Jeff Gordon is one of NASCAR's greatest drivers, having won the Daytona 500 three times. For Sunday's race, he qualified second. He described himself as proud to start beside Patrick, and rightfully said her success can only grow the sport. But Gordon's own five-year-old daughter Ella might have given the most powerful illustration of what Patrick's accomplishments at Daytona can mean. Until Patrick won the pole, Ella told her dad, she didn't even know that girls could be racecar drivers too.