Imagine Sisyphus Happy: How Camus Helps Fay Weldon Keep on Writing
The Praxis author and Upstairs, Downstairs writer remembers a quote from Albert Camus about the doomed, mythological Greek king Sisyphus when she gets discouraged.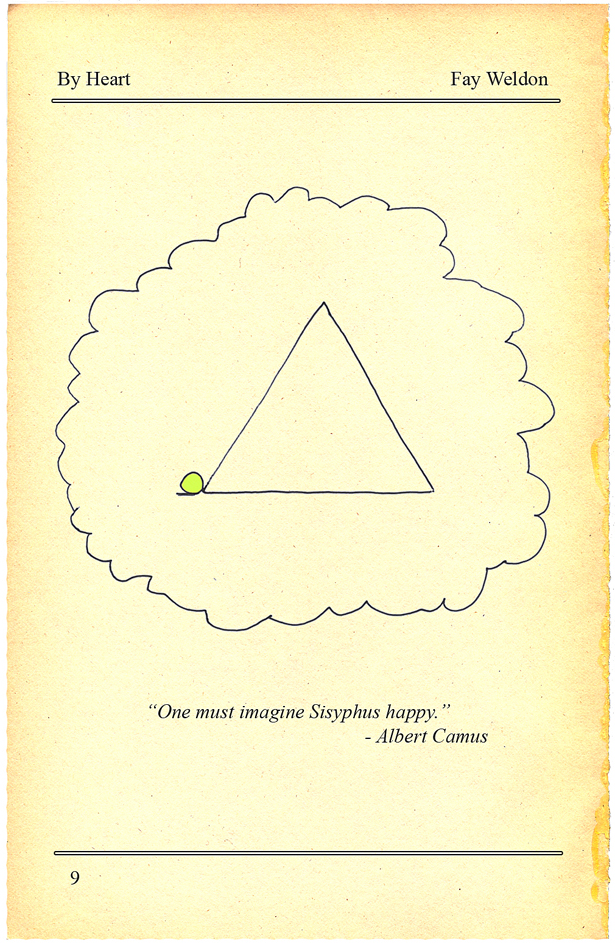 Doug McLean
By Heart is a series in which authors share and discuss their all-time favorite passages in literature.
It might be wise to take writing advice from Fay Weldon: Since 1967, the octogenarian has published more than 30 books. When I asked her how she's managed to stay so prolific, she responded with a little-known line from Albert Camus about Sisyphus, the mythic Greek king condemned by Zeus to roll a boulder endlessly up a hill and watch it crash down again.
Fay Weldon is winner of the Los Angeles Times Book Prize (The Heart of the Country, 1989) and was shortlisted for the Man Booker Prize (1979, Praxis). She won a Writers' Guild Award for the pilot episode of Upstairs, Downstairs, a BBC television progenitor of Downton Abbey. Her recent book, Habits of the House, is a novel of class boundaries and sexual scandal set in an English rural estate at the turn of the 20th century. Weldon has been made a Commander of the British Empire for her contributions to British culture.
---
"One must imagine Sisyphus happy," wrote Albert Camus in 1942. Well, I do try. But the page is blank. I sit at my desk seized by sudden doubt, conscious of decades of pointless toil behind me and the few years in front in the certain knowledge that I will never get it right. Experience suggests one never writes the book one plans to write. Somewhere along the way it goes astray, some link between the sentences does not quite hold. It is never what one meant. Never will be. So what is the point of beginning the long toil up the hill, pushing and straining sentences along, forcing characters into molds which never quite fit, dragging a chain-gang of second thoughts behind? Olympus will never be reached. Sisyphus is bound to slip. The rock will come tumbling down. Let the blank page stay blank.
But if we consider, like Camus, Sisyphus at the foot of his mountain, we can see that he is smiling. He is content in his task of defying the Gods, the journey more important than the goal. To achieve a beginning, a middle, an end, a meaning to the chaos of creation—that's more than any deity seems to manage: But it's what writers do. So I tidy the desk, even polish it up a bit, stick some flowers in a vase and start.
As I begin a novel I remind myself as ever of Camus's admonition that the purpose of a writer is to keep civilization from destroying itself. And even while thinking, well, fat chance! I find courage, reach for the heights, and if the rock keeps rolling down again so it does. What the hell, start again. Rewrite. Be of good cheer. Smile on, Sisyphus!