A Good Day to Die Hard makes John McClane invincible. That's why his franchise needs the axe.
20th Century Fox
"Schieß dem Fenster," says Hans Gruber to his subordinate, Karl, as they try to catch the "monkey in the wrench" to their heist plan in 1988's action masterpiece Die Hard. Gruber is trying to tell Karl to shoot the glass, a fact that the audience discovers when Hans repeats himself—in English, oddly, given that they're both native German speakers—in response to Karl's quizzical look. (Viewers have noted over the years that the German words Alan Rickman utters here make no grammatical sense, which could explain Karl's confusion.)
Hans knows that our hero, New York cop John McClane, is out there barefoot, and a floor covered in glass should sideline him at least temporarily. He's right. As they create the shower of shards for McClane to run through to make his escape, they also set up the scene that demonstrates exactly what made Die Hard such a foundation-shaker for action cinema, setting it apart from the films that came before. Sadly, the same elements have set it apart from most of the sequels that have come after.
Related Story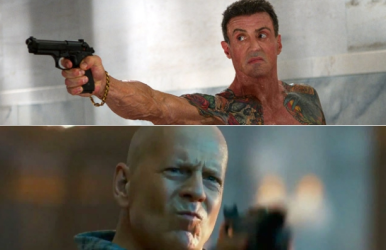 After that sequence, we next see McClane at the end of an alarmingly thick trail of blood, picking pieces of glass out of his foot. But he's not doing it with steely resolve, gritting his teeth and planning his revenge. He's in clearly debilitating pain. Choking back tears on the radio to his pal Sgt. Powell on the outside, he basically says he's probably not getting out of the Nakatomi building alive.