Emmylou Harris: Better Collaborator Than Soloist (and That's a Good Thing)
The folk singer's new album plays like a musical reunion between Harris and several of her old friends and bandmates, and it showcases her talent for sharing artistic vision.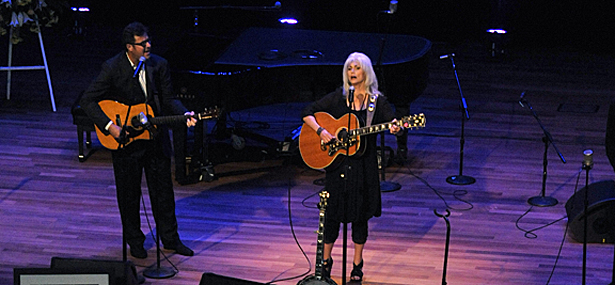 Chris Pizzello / Invision / AP
The first Emmylou Harris song I heard was "Hobo's Lullaby." It was a track off of Folkways: A Vision Shared, a collection of cover versions of songs associated with Woody Guthrie and Leadbelly. There are lots of great performances on the album: Bruce Springsteen's Nebraska-esque "I Ain't Got No Home" and Brian Wilson's Phil-Spector-worthy treatment of "Goodnight Irene" for example. But Harris's effort still stood out, as she turned Guthrie's ode to life on the rails into a sweet keening, as much elegy as lullaby. As I said, it was the first time I'd heard her voice, and I never forgot it.
"Hobo's Lullaby" isn't one of Harris's radio hits, and it's not a song she's especially associated with. Still, there's something right about it as an introduction to her work. A Vision Shared is, after all, a big part of what her career has been about. She's pretty much always sharing someone else's vision, or asking someone else to share hers. Her first famous recordings were as Gram Parson's protégé and collaborator, lending her pure harmony to his wasted hippie warble on 1974's Grievous Angel.
Related Story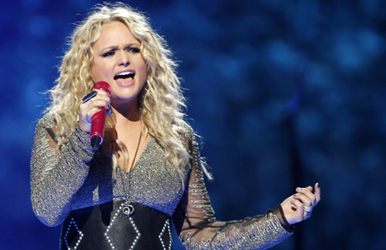 But even after she started recording albums in her own right, her solo career was never precisely solo. She was known for championing young songwriters, like Rodney Crowell, who also joined her band. She recorded with other singers—most famously on her massively successful 1989 Trio album with Linda Ronstadt and Dolly Parton. And she worked with distinctive producers, such as Brian Ahern (to whom she was married for a time) and, somewhat startlingly, Daniel Lanois, whose big, echoey, New Age soundscapes re-energized her career on 1995's Wrecking Ball.
Not every one of Harris's collaboration has been a total success. Her work with Daniel Lanois sometimes sounds more bloated than sweeping. And I have to admit my deep distaste for "Sultans of Swing" has made me afraid to really engage with her 2006 album with Mark Knopfler. But in general her enthusiasm for finding new artists to work with has been a huge boon for her music. One of her best albums, 1980's Roses in the Snow, is energized by her engagement with new traditionalists like Ricky Skaggs, whose dark, surging duet on "Green Pastures" is a highlight of both of their careers—or of anyone's career, for that matter. One of her worst, 2011's underwhelming, mostly Emmylou-penned Hard Bargain, is salvaged by her collaboration with indie folk band The Low Anthem on their song "To Ohio." The original version of the tune is great too, but as soon as you hear the ache in Harris's voice when she sings, "Left Louisiana on the rail line," you know that this song and her were meant to be together.
After that, I was hoping that Harris would do a whole album of indie folk. A project devoted to covers of/collaborations with Devendra Banhart, Daniel Smith, Joanna Newsom, Sufjan Stevens, and/or a left-field choice like Spires That in the Sunset Rise would make me happy forever, I think. Harris has always been about finding the link between hippie folk and hillbilly folk, tying the two together into Cosmic American Music, as Gram Parsons used to say. Since the '60s, the chasm between hipsters and country radio has only expanded—which is all the more reason why we need someone like Emmylou to bring them closer again.
Maybe next time. For her most recent record, Old Yellow Moon, Harris has looked backwards instead of forwards, teaming up with old friend Rodney Crowell. Harris's ex, Brian Ahern, produces, and other former bandmates (including Vince Gill) back her up.
With all the old hands onboard, I had had some concern that the project would end up being a lackluster nostalgia exercise. I needn't have worried, though; Old Yellow Moon doesn't have quite the kick of her absolutely best work, like Roses in the Snow, or her amazing 1992 Live at the Ryman set, but it's still quite, quite good. Crowell's wavery, nasal vocals recall Gram Parsons's, which adds poignancy to the slow, bittersweet harmonies on "Dreaming My Dreams." On the other hand, Crowell sounds like no one so much as himself on the goofy, half-hobbled hoedown of "Bull Rider." "First you've gotta want to get off / bad enough to want to get on him in the first place," he declares, with a little knowing chuckle. He's enjoying the song so much, Emmylou's harmony almost seems superfluous.
The best song of the album is probably "Bluebird Wine." A Crowell tune, Emmylou actually recorded it as the first song on her first major recording: 1975's Pieces of the Sky, which was also produced by Ahern. That classic version has a nice, easy bluegrass feel, with Emmylou throwing in some uncharacteristic and sexy-as-hell growls. Still, for all the virtues of that nearly 40-year-old track, the new version surpasses it. The drummer swings hard—a minor miracle on a contemporary country recording. Crowell and Harris roll with the shoulder-shrugging hook, while the band provides strutting mandolin and some fiery rockabilly guitar that would have been right at home on an old Wanda Jackson recording. It's an ecstatic performance from everyone involved.
The fact that the success here is so clearly that of "everyone involved" might, from some perspectives, be seen as diminishing Harris's own contribution. As on "Bull Rider," she's hardly the focus of attention on "Bluebird Wine." Instead, she's willing here, as so often, to step aside for other writers, other producers, other musicians, other singers, and other's visions. Yet, after all, music is in most cases a group venture, and if Harris's gift is in part a genius for collaboration, that doesn't make the gift any less a kind of genius. On the contrary, her ability both to listen and to share has made her career one of the most generous and satisfying in popular music.