Ed Koch Also Wrote Some Charming Film Reviews for The Atlantic
The ex-mayor of New York City, who died today, was a man of many talents.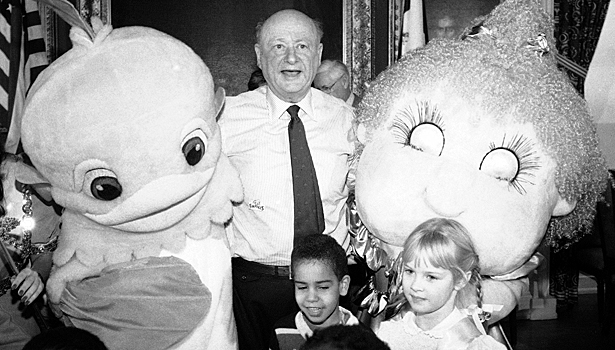 AP / David Bookstaver
A fun, lovely fact about Ed Koch, the former New York City mayor who died today at age 88: In addition to serving as mayor for more than a decade, saving the city from a financial slump, teaching at NYU, and hosting TV and radio shows (among other things), he also reviewed movies for TheAtlantic.com from 2009 to 2010.
Film criticism was a beloved side hobby for Koch, according to a New Yorker profile published in December. "I like to think that I'm one of the few people in public life who write their own material. I write every word," he said.
Related Story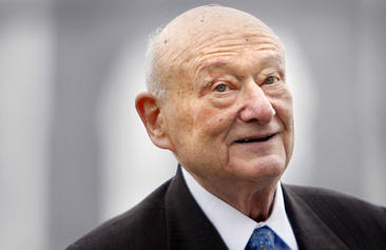 Though movies weren't Koch's favorite writing subject—that was politics, according to the New Yorker—his chatty, cantankerous, and often wonderfully avuncular columns on his cinema-going experiences are well-loved among Atlantic staffers. In celebration of a man with his own mind, here's a selection of some of Ed Koch's most memorable thoughts on the movies.
---
"Alec Baldwin, who is a consummate actor, looks as though he has gained 75 pounds. He shows his naked backside and belly in the film which, for me, emphasized his disregard for his health and appearance. Streep is as beautiful as ever." – "It Really Isn't Complicated at All" (review of It's Complicated), December 28, 2009
"The current theater shows popular and artsy films and has wonderful stadium-style seating allowing a view of the entire screen." – "Coen Brothers Movie Is 'Seriously' Good" (review of A Serious Man), October 5, 2009
"I decided to see this movie after several people in their 30s recommended it to me. It may be a generational gap that turned me off, but I thought it was all quite ridiculous and the dialogue worse than coarse. Trust me and not those in their 30s. It is not worth your time." – "Why You Shouldn't See 'Hot Tub Time Machine,'" April 5, 2010
"The story should have added up to an interesting and exciting movie, but it didn't for me. It was not due to Sheen's acting, but rather to a boring and confusing script. Granted, I'm not a soccer fan, but I suspect there were not many jocks in the theater." – "Boring Script Damns 'Damn United,'" October 13, 2009
"The lead animal, Carol (voice of James Gandolfini), is really frightening. He constantly threatens to eat Max, but is sorry when Max leaves the island. KW (voice of Lauren Ambrose) is a female of the same species. She saves Max from Carol by taking him into her mouth for a short while and then releases him.
If I had seen this film when I was eight, I would have been terrified." – "Not Wild About 'Where the Wild Things Are," October 26, 2009
"When I arrived at the Angelika theater, Dr. Ruth was just leaving an earlier showing. She told me that she felt the picture was excellent and thought I would enjoy it. She was right. We also arranged to have lunch." – "'A Prophet': A French Prison Movie with Universal Appeal," March 1, 2010