All-Star Weekend: This Is When the NBA Season Gets Good
Predictions for what's going to happen in pro basketball over the All-Star Break and beyond.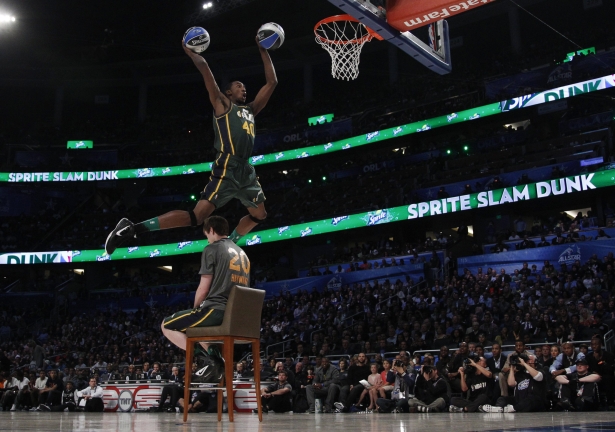 Jeff Haynes
Every week, our panel of sports fans discusses a topic of the moment. For today's conversation, Hampton Stevens (writer, ESPN and The Atlantic), Jake Simpson (writer, The Atlantic), and Patrick Hruby (writer, Sports on Earth and The Atlantic) discuss the NBA at midseason.
---
Guys,
All-Star Weekend is here. No, not the horrific, ear-splittingly bad, Disney-spawned pop confection. This weekend is the NBA's All-Star Break, with festivities tipping off tonight in Houston. Everyone knows that Bud Selig has struggled to make MLB's All-Star Game matter again. Even Roger Goddell will tell you the NFL's Pro Bowl has always been an exercise in half-assery. Not the Association. The NBA puts on the best all-star show in pro sports.
Related Story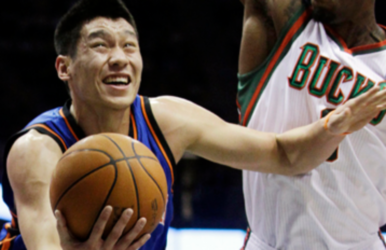 Mock if you must, but I'll even watch the celebrity game Friday night. It's two hours of perfectly harmless sports-geekery.
Want a reason to tune in? Usain Bolt is playing. Yes, the Olympic gold medalist. He got ups. You know who else will take the court? U.S. Secretary of Education, Arne Duncan. I've not scouted either, but my MVP money is on the World's Fastest Man over the 48-year cabinet member.
Saturday night's three-point shootout, however, is not so harmless—not for the contestants, anyway. According to the Wall Street Journal, 20 of the 30 players to taken part in a three-point shooting contest over the past five seasons saw their long-range shooting percentage drop afterward. The players hit 41.8 percent from beyond the arc before the event, dropping to 37.8 percent in the season's second half.
The night's main event, the oft-bashed slam dunk contest, comes next. There will be little star power—no LeBron or Durant. Those guys have titles to chase. But at least Jake can root for the Knicks' James White. Sunday, we will get stars in the ASG itself. You won't get anyone diving for loose balls, though. You won't get defense. But you will get huge dunks, Globetrotter-grade dribbling, and the most creative passing on the planet.
The games count again next week, and playoff pushes start. In sportswriter-land, as you guys know, that means it's time to make predictions for the second half. Here's one: The MVP of this weekend's young-stars game in Houston will be Portland's guard Damian Lillard. Here's another: Lillard, especially given that Boston's Jared Sullinger and Detroit's Andre Drummond are both out with bad backs, will also end up being NBA Rookie of the Year.
Hit me, boys. Give me one good guess for the second half—and no fair saying LeBron James's will be MVP.
–Hampton
Hampton,
One good guess, huh? I'll give you two.
First, the Heat will cruise virtually unchallenged to the Eastern-Conference title come playoff time. Everyone knows about LeBron's recent 30-point, 60-percent shooting run, a stretch unmatched in NBA history. But the bigger boon for Miami is the quietly improving play of Chris Bosh, who is knocking down more 18-footers and finally beginning to rebound on both ends of the floor. Miami is most vulnerable to playmaking point guards and big front lines, two things notably lacking in the East. With the news that Derrick Rose may miss the entire season, the Bulls don't seem like a viable challenger to the Heat. And while I've loved watching my Knicks be relevant for the first time in 12 years, their over-reliance on Carmelo Anthony will not fly in a seven-game series against Miami.
Second, the later rounds of the Western Conference playoffs will be among the best in recent memory. There are three legitimate championship contenders in the West (the Thunder, Spurs, and Clippers), a bona fide elite squad with the best big men in the NBA (the Grizzlies) one nightmarishly athletic team (the Nuggets) and a dark horse that maybe, just maybe, could surprise us all (Kobe, Dwight, and the dysfunctional Lakers). The matchup possibilities are tantalizing—Chris Paul vs. Russell Westbrook, Tim Duncan vs. Blake Griffin, Paul vs. Tony Parker, Kevin Durant vs. the Spurs defense, Durant vs. Kobe ... I'm getting goosebumps.
One more bonus prediction: Durant will get into a fight sometime in the second half of the season. In an unsubtle attempt to "round out" his game, the Thunder forward has developed a nasty streak this year, most recently jawing with half the Utah bench near the end of a dispiriting loss to the Jazz. Durant is tied for the NBA lead in technicals at 10 with Anthony, but Melo's techs are primarily for whining to the refs—Durant has earned his. Look for someone with a nasty streak of his own (leading candidates: Metta World Peace and Stephen Jackson) to push back at Durant and force the NBA scoring machine to put up or shut up. I think he'll put up.
What's your take on the second half, Patrick?
–Jake
Jake,
Sorry, but Kevin Durant has as much chance of getting into a fight as Wayne Gretzky once did: The moment an opposing player attempts to—in hockey parlance—take liberties with the Oklahoma City star, one of his teammates will swoop in and do the fighting for him, NHL enforcer-style. (My money is on glowering, take-no-crap Thunder center Kendrick Perkins). Of course, I doubt that will happen, either. Not when the NBA has worked long and hard to erase the memory of both the Malice at the Palace and the violent scrums that once were as much a part of the game as short shorts. If Durant or Carmelo Anthony or anyone ends up in a heated confrontation, it will likely play out like this: Someone will pretend to be mad enough to throw a real punch, and his teammates will pretend to hold him back, and that will be that.
But I digress. Predictions for the rest of the season. I have a few. Hampton, as good as Damian Lillard has been, I don't think the Portland point guard is a shoo-in for Rookie of the Year. Not when Washington guard Bradley Beal is improving on what seems like a nightly basis. Yes, the Wizards got off to a bad start of epochal proportions; yes, Beal struggled through much of that; yes, living in the District makes me biased. Still, it's impossible to deny that Washington is a much better, downright competitive team since guard-cum-franchise-savior John Wall returned to the floor after missing the first 33 games of the season with a knee injury, and that his presence has helped Beal look more and more like the versatile, level-headed sharpshooter who was the third pick in the NBA draft—a well-regarded young talent who reportedly could have netted the Wizards eventual Houston Rockets guard James Harden in a trade.
I agree with Jake: Unless LeBron James gets hurt, no one in the Eastern Conference has the talent to challenge Miami, particularly now that Boston is without Rajon Rondo. I suppose the New York Knicks could give them a competitive series, provided the team rediscovers its hot-shooting early season form; I guess the Brooklyn Nets would have a puncher's chance at not getting swept, provided point guard Deron Williams rediscovers his game circa 2009. In the Western Conference, I like the Thunder to return to the Finals, largely because each of their rivals has a fatal postseason flaw: San Antonio relies too much on the three-point shot; the Los Angeles Clippers play too much one-on-one offense in their half-court sets; Memphis is trying to settle in after a recent series of salary-shaving trades; Denver plays best at a rapid, decidedly non-playoffs pace; and the Los Angeles Lakers flat-out stink. (No, really. They're terrible. Forget the injuries and personality clashes; they simply can't guard anyone).
Oh, and James won't just be named MVP; he'll be named Finals MVP, too. And probably earn an ESPY, a People's Choice Award, an honorary Harvard degree, an invitation to Davos, and full knighthood in the United Kingdom. Because he's just that good. Fair enough?
–Patrick