A Team of LeBron James Clones Would Beat a Team of Michael Jordan Clones
But if we're going to be rational adults in the most important hypothetical basketball debate of our time, neither man would rate as the greatest player in the sport's history.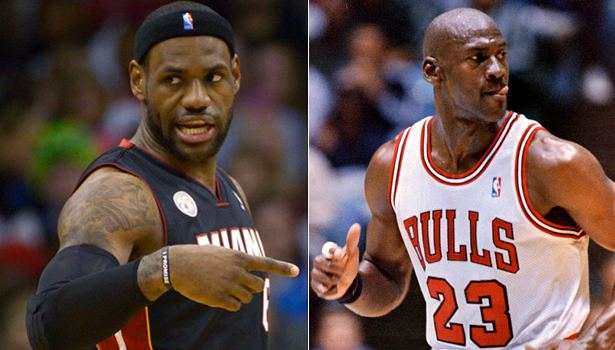 AP
As if the Miami Heat needed anything more to assure their position as postseason favorites to go all the way—the San Antonio Spurs have a better won/lost record, but few are taking them as a threat to Miami—LeBron & Co.'s defeat of the Cleveland Cavaliers last night ought to convince. No one is taking anything for granted, certainly not the Heat, but in basketball more than any other professional sports, what is supposed to happen does happen. The team that looks like the best in later winter is usually the team that comes out on top in June.
Assuming that Miami will make the championships gives everyone plenty of fodder for the favorite debate topic of this NBA season: Who's better, LeBron James or Michael Jordan? Actually, it's probably the best basketball debate in nearly half a century, when it was Bill Russell vs. Wilt Chamberlain. And Jordan vs. James is more fun because they have more varied skills than those great centers of the '60s and can do more on a basketball court.
There are those in the last few weeks who have insisted that you can't compare players from different generations, especially when the statistics are so influenced by their teammates and opposition. I acknowledge this point but am going to disregard it. It's too much fun to argue the merits of such all-time greats, and anyway, there's not much else to do in what has been an otherwise uninteresting NBA season.
The real problem is settling on the terms of the debate. The first topic generally tossed out is the respective number of championship rings: Jordan had six, James has one. But we won't know how valid that comparison is for several years. Jordan didn't win his second ring till age 28, and James, who turned 28 at the end of December, will be right on par with Jordan if the Heat win their second straight championship this year.
Let me pause for a moment. Only in basketball is the number of championships regarded by so many as the ultimate test of greatness. Few would argue that Bart Starr was a greater quarterback then Johnny Unitas even though, from 1958-1967, Starr's Green Bay Packers won five championships to the two won by Johnny U's Baltimore Colts. (I would give the nod to Starr, but that's an argument for another day.) Mickey Mantle and Willie Mays, two ballplayers nearly the same age who plays the same position and who had virtually the same skills, have been the subject of endless comparisons. but I don't know anyone who thinks that Mantle's seven World Series rings automatically makes him superior to Mays, who had just one.
Yet in basketball, probably because there are only five starting positions and a great player is thought to have more impact on the outcome of a game than players in other sports, rings begin and end the argument for some analysts and fans. Okay, in that case we'll just have to wait and see how things pan out for LeBron.
Meanwhile, I think it's perfectly fair to compare the two across nearly three decades. Yes, Jordan, who played from 1984-2003, competed in an NBA that had more big men, and James—who began his career in the 2003-2004 season, a year after Jordan retired—has on the whole played against smaller, faster, more athletic men.
James suffers slightly in a season-by-season statistical comparison because, unlike Jordan, he didn't have the advantage of two years' seasoning in college ball and came into the NBA at just 19, two years younger than Jordan, who was 21. But if you take them both from age 21 through 28 (though LeBron hasn't finished this season yet) they're remarkably similar.
Jordan was a slightly better scorer, 31.3 to 28.5—but then, he averaged more shots, 23 to James's 20.2. So I don't how one can distinguish between the two as scoring machines; Jordan shot a bit more often, LeBron passed a bit more often. James's career per-game assists average is 6.9 compared with Jordan's 5.5 for his first eight seasons. That's pretty much a dead heat.
LeBron is, however, a better rebounder—so far, from age 21 on, he has averaged 7.2 per game while Jordan, over the same age span, averaged 6.0.
The numbers can be tinkered with even further, but when two players are as closely matched as these two, it becomes a case of splitting hairs. (For instance, James from 21-28 has averaged 0.86 blocked shots per game while Jordan averaged 0.85). I conclude the comparison this way: In scoring and assists, they are, at similar points in their careers, virtually even, while James is a slightly better defensive player.
Let's put it another way. LeBron James is a bigger and stronger version of Michael Jordan, (6-8, 240 pounds to Jordan's 6-6, 200 pounds) and gives away nothing to Michael in speed and quickness.
Stated yet another way: If they were matched against each other at age 28, I think James would be more effective in containing Jordan than vice versa.
And one final way: After watching them both and studying their stats, I'm convinced a team of LeBron James clones would beat a team of Michael Jordans.
But while both men are offensive and defensive forces on the hardboards, modern commentators are being all too glib in calling the winner of a comparison the greatest player in the game's history. If I had to pick one player at his peak to get me through a season, I'd take Wilt Chamberlain. Over the course of his career, 1959-1973, he averaged the same 30.1 points/game as Jordan and pulled down an average of more rebounds, 22.9, which is more than Jordan and James combined.
How many shots did Wilt block? We'll never know, as they didn't record that stat back then—Chamberlain is the reason they started keeping it. Plus Chamberlain is the only NBA player to score 100 points in a single game, on March 2, 1962, when his Philadelphia Warriors beat the New York Knicks 169-147 (beating the 78 points he scored in a game earlier in the season).
He wasn't as athletic, and his technique wasn't as smooth as either Michael's or LeBron's. But if I had to pick one player to get me through seven NBA seasons, it would be Wilt. From 1959-1960 through 1965-1966, Wilt scored an average of 39.5 points and pulled down an average of 25.1 rebounds per game. Oscar Robertson, himself one of the 10 or 12 best players in league history, put it best when asked whether Wilt was the best ever: "The books don't lie." And whatever happens with the Heat in the next few years, that's not likely to change.