A Moral Crisis for 'Community' Fans: Should We Keep Watching This Show?
Network execs fired the creator of the fiercely beloved NBC series and replaced him with a team of conventional-sitcom showrunners. Would supporting the new season be a betrayal?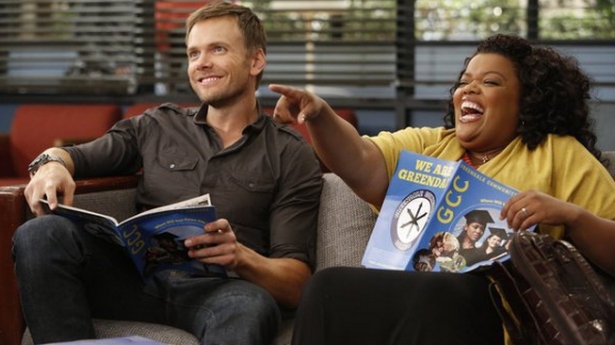 NBC
Community may quite possibly have the most passionate fan base in TV history. But now, its devotees face a surprisingly tough moral dilemma: Whether or not they should keep watching the show.
Related Story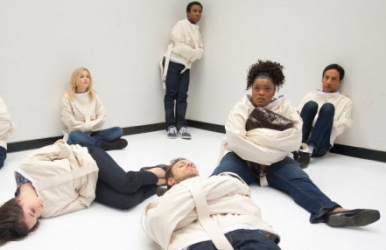 The surreal-yet-sincere NBC sitcom—ostensibly about a community college study group, but really a musing on human interaction via increasingly inspired storytelling devices— returns tonight for its fourth season premiere, following a longer-than-initially-expected break. One day after the last new episode of the show aired this past May, series creator and showrunner Dan Harmon announced that he had been abruptly fired by production studio Sony Pictures Television, with sitcom vets David Guarascio and Moses Port named as replacements.
This news came after a series of moves that had already tested the considerable optimism of the show's fans, who were just starting to get over the leaked voice mail-strewn feud between Harmon and cast member Chevy Chase. NBC renewed Community, but with a truncated order of 13 episodes; moved it to the "Friday Night Death slot;" and paired it on the schedule with Whitney, exactly the type of business-as-usual TV comedy that the show's audience likes to see subverted. The news that Harmon—whose distinct sensibilities defined the idiosyncratic nature of the series—was out, and guys who worked on Just Shoot Me were in, cemented the notion that the entire renewal was a "Monkey's Paw"-esque example of "be careful what you wish for."
Now, the new episodes are here, and Community diehards face a tricky choice. Watching the new season is effectively endorsing a hostile corporate creative takeover of what many believed to be the cleverest show on network TV. But sitting it out would mean abandoning the characters and storylines that fans adore. It'd also mean prejudging a season that actually could, despite the bad blood, end up being pretty good.
Community wasn't created by executives, or a revival of an intellectual property that had been sitting around NBC: It's an original concept with Dan Harmon wired into its DNA. The show was inspired by his own experiences with a community-college study group, and its humor, experimentation, and compassion are all reflections of Harmon himself—as seen in any of his outside output, from short film site "Channel 101" to his Tumblr blogs.
The reasons for Harmon's firing haven't been specifically spelled out—he has a reputation of being difficult to work with, and the show has never been much of a ratings performer, even given the diminished expectations of NBC—but it's all ambiguous and backstage-y enough to further upset his supporters. Last July, The Hollywood Reporter quoted NBC entertainment chairman Bob Greenblatt as saying, "Every so often it's time to make a change with a showrunner... Sometimes you want to freshen a show."
No one involved in the series—even Chase—seemed happy about the news, with cast and crew members making their Harmon appreciation known on Twitter. His dismissal led to several of his close associates declaring that they'd also no longer be involved in the show, like Dino Stamatopoulos, who played Starburns and was a writer and consulting producer, and Rob Schrab, Harmon's frequent collaborator who directed last season's Law & Order homage "Basic Lupine Urology." No matter what shape the new Community season takes, it won't be the same show as it was under Harmon. It's just not possible, and it's clear that NBC and Sony don't want it to be.
For viewers, the most distressing part of this might be the knowledge that Harmon's vision for how the show should evolve and end will never be seen, and whatever happens instead—regardless of content or quality—may not feel like the "real" conclusion. Fans will wonder what could have been, and there will always be a nagging question of authenticity from this point forward.
Despite all of that, it's not like it's easy for a Community fan to just avoid these new episodes.
There have been Community art shows. Scads of fan art, with the cast reinterpreted as Street Fighter characters or X-Men. A convention is scheduled for this weekend in Los Angeles. Sure, people were bummed when Aaron Sorkin left The West Wing, but it didn't inspire any flash mobs, as took place on both coasts after the show was put on an indefinite hiatus during Season Three. The amount that Community has mobilized its small-but-loyal audience is remarkable, with viewers crafting video games and web series inspired by the show. No matter what the 13 new episodes are like, it's more of what these fans—at this point starved for new material—love, and that's hard to resist, no matter the circumstances.
Though Harmon's gone, several of the show's writers who worked closely with him remained on board for the fourth season, including Megan Ganz, who wrote fan favorites like the aforementioned Law & Order riff and "bottle episode" "Cooperative Calligraphy." (After this season wrapped, she took a gig on Modern Family.) Based on the clips released thus far, it appears that all the basics are there: Jeff is still putting up with embarrassment in order to finally get his degree, Troy and Abed are still having endearing adventures, and Britta is still "the worst."
Then there's the cast. The main players are back, even Chase, who left the show in a mutual agreement with the network during production of this season, but will reportedly appear in all but two episodes. Though the contributions of Harmon, the directors, and the writing staff are undeniable, the show has a gifted ensemble that has been essential in making Community truly special, whether they're appearing in an 8-bit video game, stop-motion animation, or as actual people. Is it really fair to the impeccable work of these folks to give up on Community?
And while it's easy for a sitcom sophisticate to snicker at some entries in Guarascio and Port's IMDb pages, they've worked on quality material like ABC's reliably hilarious Happy Endings, and Aliens in America, which only got one season on the CW back in 2007-2008, but showed a similar capacity for sweetness and laughs as has defined Community. Judging before viewing doesn't seem true to the show's underdog spirit, and this new season could very well be good on its own merits.
Community fans know adversity, but now they're facing a genuine ethical quandary. If enough of them decide it's too distasteful to keep tuning in, "six seasons and a movie"—a second-season Community joke that turned into a rallying cry—will remain out of reach.