You're in Good Company, Lennay: 6 Other Famous People Who Didn't Exist
As the Manti Te'o dead-girlfriend hoax proves, you don't have to be real to be a celebrity.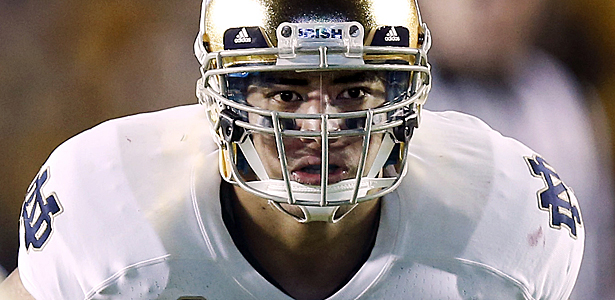 AP / Winslow Townson

MORE FROM MENTAL FLOSS
---
Deadspin published a bizarre report Wednesday night about Notre Dame linebacker Manti Te'o's girlfriend, who reportedly died tragically last year at the age of 22. It was one of the most heartbreaking stories of the college football season. But it turns out the whole thing was a hoax. In the coming days there'll surely be more information about who exactly was involved. For now, here's a list of some other fictional people who made a name for themselves.
The Dream Student
George P. Burdell was a man born of a simple mistake. In 1927, someone in the admissions office at Georgia Tech accidentally sent student Ed Smith two registration forms instead of one. Sensing an opportunity for mischief, Smith filled out one form for himself and the other for George P. Burdell—a student he completely made up. When Smith arrived at school, he kept the ruse going by enrolling Burdell in all of his classes and even turning in assignments under his name. In fact, Smith did so much work on behalf of his imaginary friend that Burdell eventually graduated.
When other students found out about the hoax, they helped keep Burdell's story going. According to his resume, Burdell flew 12 missions over Europe during World War II and served on MAD magazine's Board of Directors from 1969 to 1981. In 2001, when Burdell was supposedly 90 years old, he nearly became Time magazine's Person of the Year after garnering 57 percent of online votes. Today, Burdell is one of Georgia Tech's most celebrated alums. He even has a page on Facebook, where he keeps in touch with almost 5,000 "friends."
The Fantasy Hockey Player
Like many hockey players drafted in the 11th round of the 1974 NHL Draft, Taro Tsujimoto never actually made it to the big time. But unlike the other players drafted with him, Tsujimoto didn't exist.
His name is in the record books because of Punch Imlach, the former general manager of the Buffalo Sabres. Imlach was so fed up with tedious late rounds of the draft that he decided to poke some fun at the league. He pulled a Japanese name from the local phone book and made up an imaginary team. Then, he simply told NHL President Clarence Campbell that his draft pick was Taro Tsujimoto of the Tokyo Katanas. Sure, no one had ever heard of Tsujimoto, but that didn't stop the NHL from making the selection official. Several weeks later, Imlach revealed his prank, but Sabres fans didn't care. For years after the draft, Buffalo crowds would break into chants, demanding "We want Taro!"
The Elusive Artist
Sometimes life imitates art, and sometimes life mocks it. In 1998, Scottish novelist William Boyd wrote a book called Nat Tate: An American Artist 1928-1960. The book was pure fiction, but Boyd released it as a biography because he wanted to see how long it would take the art world to figure out that Tate never existed. To help sell the story, Boyd enlisted some powerful friends, including author Gore Vidal (who is liberally quoted throughout the book) and rock star David Bowie. When the book debuted, Bowie threw a huge party in Tate's honor, inviting the most elite members of New York's art scene. Journalist David Lister, who knew that Tate was fake, made the rounds at Bowie's party and asked people what they thought of the artist. When they inevitably spoke of their familiarity with his work, Lister would hear them out, then let them in on the joke.
The Mysterious Aborigines
In the early 1990s, two Australian artists had the same bad idea completely independently: to sell their work by pretending to be Aborigines.
One of the two artists was Leon Carmen, a cab driver living in Sydney. He invented a new identity for himself as Wanda Koolmatrie, an Aboriginal woman abducted from the bush in the 1950s and forced to live in white society. Carmen wrote an autobiography as Koolmatrie, and the book went on to win praise for its "distinctive new voice." But when Carmen tried to write a sequel in 1997, the publisher caught on, and the incident became a national scandal.
The other artist, painter Elizabeth Durack, had more luck with her fake identity. In 1994, she began signing her work Eddie Burrup, supposedly a male, Aboriginal ex-convict. The paintings were selected for indigenous art exhibitions and won numerous prizes. But when the paintings began to draw serious interest from art collectors, Durack revealed herself as Burrup, claiming that she understood Aborigines well enough to paint as one of them. Aborigines disagreed, and they demanded that galleries stop selling her work. Strangely, the artist continued to paint as Burrup until her death in 2000.
The Fictional Critic
Very few film critics had anything nice to say about Rob Schneider's 2001 comedy The Animal. One exception: movie reviewer David Manning of the so-called Ridgefield Press, who called the movie "Another winner!" In reality, Sony marketing executives created the fictional critic to promote the company's worst films. In fact, The Animal was just one of many box office bombs that Manning enthusiastically praised. He also lent his critical support to Hollow Man, Vertical Limit, and The Patriot.
After reading about the deception in Newsweek, two California movie lovers, Omar Rezec and Ann Belknap, decided to sue Sony. They filed a class-action lawsuit on behalf of all filmgoers who saw movies based on Manning's "reviews." In the end, Sony settled out of court.
---
A version of this post originally appeared on Mental Floss, an Atlantic partner site.