Why Tom Brady Is Already the Best Quarterback Ever
He's the best in the regular season, the best in the post-season, and the most complete QB in the league. Even if Brady never wins another game, his legacy is secure.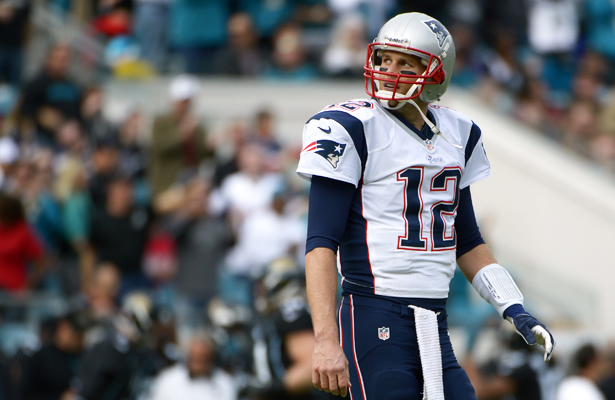 AP / Phelan M. Ebenhack
The football topics of choice at water coolers everywhere heading into the NFL's conference championship weekend, other than Ray Lewis's long goodbye, is how Tom Brady's legacy would be affected by a fourth Super Bowl victory. Only Joe Montana and Terry Bradshaw have won four Super Bowls as NFL quarterbacks, and with a win in Super Bowl XLVII Brady would join them. Most people say a fourth ring would make the New England Patriots' signal-caller the best quarterback of his generation, as well as one of my favorite sports clichés, "one of the greatest of all time."
But Brady's legacy is secure no matter what happens in the AFC Championship Game against the Ravens on Sunday, or in the Super Bowl two weeks later. Even if Brady never wins another game, he is the greatest quarterback in NFL history. Better than Montana. Better than Bradshaw. Better than Johnny Unitas. Better than everybody.
Related Story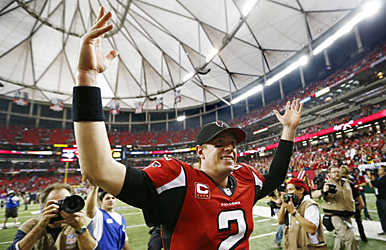 Brady's regular-season and postseason numbers are each singularly spectacular. In 2007, Brady put up the best statistical regular season by a QB in league history: 50 touchdowns (most all-time), eight interceptions, 4,806 yards (12th all-time), a 68.9 completion percentage (ninth all-time), a 117.2 passer rating (third all-time) and a 16-0 record. Though the Giants shocked the Pats in Super Bowl XLII, Brady's season remains the gold standard for quarterbacks.
The veteran QB's playoff record is even more gaudy, especially where it matters most: wins. At this moment, on the cusp of another conference championship and potentially another Super Bowl title, Brady already holds a slew of postseason records. He's tied with John Elway for the most Super Bowls started in NFL history (five), and when he takes the field Sunday he will equal Montana's record for the most conference championship games played (seven). In AFC Championship games and Super Bowls, Brady is a combined 8-3, and the Pats were leading with 90 seconds left in all three losses. If David Tyree hadn't made the Helmet Catch in Super Bowl XLII and Wes Welker had caught a third-down pass from Brady in Super Bowl XLVI, Brady would have five rings and I wouldn't even have to make an argument about his "greatest of all time" candidacy.
Brady has been blessed with a legendary coach in Bill Belichick. But Belichick is primarily a defensive mastermind, and for most of his career Brady has operated with the same freedom at the line of scrimmage as Peyton Manning. As for personnel, Brady got one great year from Randy Moss and five very good years and counting from Welker. But he's never played with an elite running back, and only in the last two years has he had athletic tight ends to work with. Bradshaw had Franco Harris, Lynn Swann, and John Stallworth for his Super Bowl wins; Montana had Jerry Rice and Roger Craig; Brady had Kevin Faulk, Corey Dillon, and Troy Brown.
What makes Brady the best qualitatively? He has the tactician's mind of Manning, the arm strength of Elway, and the winning mentality of Montana. Even this year, at 35 with more than a decade of NFL hits and a surgically repaired ACL, Brady is extremely tough to stop. Jam his receivers at the line? He'll call a double move down the field and launch a 60-yard bomb that falls perfectly over his receiver's shoulder. Keep your safeties back and protect against the deep pass? He'll check down to backs and tight ends and grind out a drive seven yards at a time.
Brady's one weakness is his relative lack of mobility outside of the pocket compared to young stars like Russell Wilson and Robert Griffin III. That leaves him vulnerable to big hits by opposing linemen and linebackers, which over the course of a game forces him to get rid of the ball more quickly. The Giants worked this strategy to perfection in their two Super Bowl wins over the Pats, but Big Blue had elite pass-rushers in their prime (Justin Tuck and Osi Umenyiora in 2007, and those two along with Jason Pierre-Paul four years later). The San Francisco 49ers' top-flight defense may have what it takes to beat down on Brady if the two teams meet in the Super Bowl, but a defensive front seven has to play a flawless game to stop Brady when it counts.
Critics point to Brady's grisly playoff losses over his career, notably a 33-14 loss to the Ravens in 2009 and a 27-20 loss to the Jets in 2010. But no great quarterback has an unblemished postseason record. Montana lost to the Giants 49-3 in the 1986 postseason; Bradshaw lost to Raiders 24-7 in the 1976 playoffs and posted a horrendous stat line for the game (14-35, 176 yards, no touchdowns, one interception). Overall, Brady has won more postseason games than any other quarterback in NFL history, and his 17-6 record is remarkable given the quality of competition in the later rounds of the playoffs.
Brady was at his most sublime last Sunday, when the Pats stormed out to a 38-13 lead over the Houston Texans and cruised to a 41-28 victory. He posted a spotless stat line (25-40, 344 yards, three TDs, no picks) and kept Houston playing from behind for virtually the entire game. But it was a single fourth-quarter throw that demonstrated why Brady is the best ever. Trailing 31-13, the Texans gambled on a fourth-and-one in their own territory and didn't convert. Brady took over at the Houston 33-yard line, knowing a touchdown would seal the game. On the first play of the drive, he lofted a literally perfect pass to running back Shane Vereen, and that was that.
There are a thousand ways to try and sum up the je ne sais quoi that is sports greatness, but my favorite is the saying that the greatest players have "a sense of the moment." That throw, at that time, with his team smelling blood and the Texans ready to deflate, is the latest example of Brady's unparalleled sense of the moment. Some say Montana and Unitas had the same sense, but neither of them would have had the combination of arm strength and touch to place that sideline throw in Vereen's breadbasket, where only he could catch it. Brady did. He has it all. And he's the best ever.