Why the New Movie About 'Deep Throat' Could Be Important
The directors of Lovelace, a movie about the star of the famous porn film Deep Throat, have an opportunity to start a conversation about rape culture. Hopefully, they'll take it.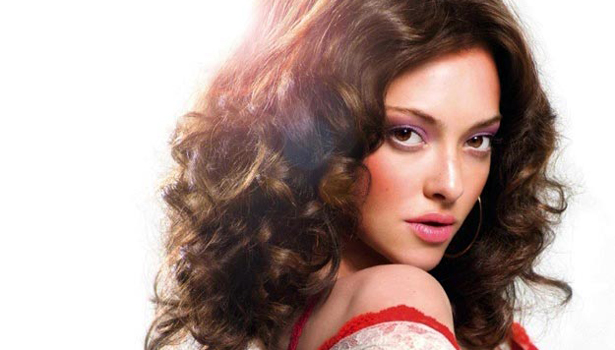 Millennium Films
The movie posters for Lovelace are out. Actress Amanda Seyfried poses in a lacy red bra, seducing the audience with bedroom eyes. She plays the lead in the forthcoming biopic chronicling the life and times of Deep Throat star Linda Lovelace, premiering at Sundance in a few weeks. The saga of the small town girl who partied with Hugh Hefner and Sammy Davis Jr. in the freewheeling 1970s just might be the hottest ticket in Park City. Sex, drugs, fame. Pass the popcorn. I'm in.
But beyond the entertainment factor, the film has the potential to kickstart some serious conversations about sexual consent, possibly becoming this generation's The Accused. And in the wake of The Central Park Five, Ken Burns's nuanced documentary about the wrongful convictions of five defendants in the infamous 1989 Trisha Meili case, the moment is ripe for films that analyze sexual assault. Ideally, directors Rob Epstein and Jeffrey Friedman will deliver a multi-layered treatment that honors Linda's story while using it to build a bridge to the bigger issue of women's continued vulnerability to rape. Of course, this is no simple task.
Lovelace was the quintessential male fantasy of the girl next door, with wavy brown hair, average good looks, and a burning desire to perform fellatio. Deep Throat introduced a generation to the joys of kinky sex through the depiction of a woman's unabashed search for the Big O. But as I argue in my book Battling Pornography, she also ignited feminist debates about the perils of the sexual revolution. At first, some women resented her. They were suspicious that the revolution was a rip-off, designed to erode a woman's right to say no through the use of new shaming labels: frigid or prude. "Linda loves oral, what's wrong with you?" Then, after revealing that she filmed Deep Throat against her will, she became an epic cautionary tale, a reminder that the flip side of sexual pleasure for women was the constant, lurking threat of danger.
Linda died at 53 after a Denver automobile accident, but her account of sexual slavery on the set of Deep Throat is preserved in her 1980 autobiography, Ordeal. If Epstein and Friedman stay true to her story, which has always had its doubters, Lovelace will recreate a series of brutal rapes. She spoke about this at a press conference to publicize the book, flanked by anti-pornography activists Andrea Dworkin and Susan Brownmiller. Clutching a small white teddy bear with a satin ribbon around its neck, Linda described Deep Throat as a documentary of abuse engineered by her violent husband, Chuck Traynor. Stills from the film reveal massive purple bruises up and down her thighs. In 1986, Linda testified in front of Attorney General Edwin Meese's Commission on Pornography. "Virtually every time someone watches that movie, they're watching me being raped."
How ironic that Linda really does turn out to be the girl next door. More than 200,000 American women will be sexually assaulted this year, and like the heroine of Lovelace, many will be held responsible for their victimization. Arizona Judge Jacqueline Hatch played the blame card last September, chiding a woman who was sexually abused in a bar by an off-duty police officer: "If you wouldn't have been there that night, none of this would have happened to you."* By this logic, the 23-year-old Indian premed student gang-raped by six men on a Delhi bus just a few weeks ago invited her fate by going to a movie with a friend, rather than staying home. For more than 30 years, Linda's detractors have argued that she was a free agent who could have walked off the Deep Throat set or told someone about the abuse, ignoring Traynor's loaded gun. Others accused her of crying rape to make money from a sensational autobiography. As a society, we are invested in challenging women's assertions of sexual violation because they pose a threat to sexual freedoms that men hold dear. Aryeh Neier, a former national director of the American Civil Liberties Union, wrote in 1980 in response to Ordeal that he worried that Linda's revelations might provide adequate legal justification for censoring pornography.
Writer Hart Williams coined a term for women who cite coercion to seek redemption for their time in the porn industry. He called it the "Linda Syndrome." Feminists have a different term: rape culture. Anti-violence educator Jackson Katz explains this concept in his book, The Macho Paradox. We live in a society where females are treated as sexual objects and sexual violence is common. Rape is accepted as a fact of life for girls and women, a nuisance that simply won't go away. Public figures like Rush Limbaugh, who hurled the epithet slut at a female law student, are part of the problem. So are BBC executives who quashed a special broadcast exposing British media personality Jimmy Savile as a serial rapist, and aired tribute programs instead.
From all reports, directors Epstein and Friedman tackle the rape question head on. The film emphasizes Traynor's brutality, which included forced acts of prostitution, gang rape, and bestiality. Actor Peter Sarsgaard reportedly turned away from the role at first, disturbed by the degree of violence he would have to portray. His character is full of menace, casting a "sinister gaze" as Seyfried basks in audience approval following a Deep Throat screening at Hef's place.
This may sound encouraging, like Lovelace will plumb their abusive relationship to shed light on the myriad ways our culture supports and condones rape. And maybe it will. But if the movie focuses solely on conflict between Linda and Chuck, it is more likely to limit our understanding. Viewers exposed to social problems framed as private problems tend to support individual-level solutions, such as putting a rapist in jail or hiding his intended victim. When social problems are linked to broader cultural conditions, like the sexual objectification of women, viewers endorse macro-level solutions such as gender discrimination education in schools.
This is a tall order for Epstein and Friedman, akin to merging director Brian Gibson's 1993 domestic violence drama What's Love Got To Do With It? with documentary filmmaker Morgan Spurlock's 2004 indictment of the fast food industry, Super Size Me. Like Gibson, who emphasized Tina and Ike Turner's tumultuous relationship, Epstein and Friedman are assured of viewer interest in an explosive duo, Linda and Chuck. Like Spurlock, who used his one-man McDonald's eat-a-thon to shed light on the causes of the American obesity epidemic, they have the opportunity to connect the specificity of Linda's experience, including lack of education and opportunity, a naïveté that made her a perfect target for sex trafficking, and powerlessness against male violence, to systemic cultural conditions that support the global persistence of rape.
I suspect that Lovelace will be more Gibson than Spurlock, doing more harm than good. Rape victims sometimes describe the interrogation by police, hospital personnel, and the criminal courts as a second rape. I think that's how Linda would respond to the sight of Seyfried performing oral sex on a popsicle (faux penis prop) positioned between Sarsgaard's legs, and joking with Conan O'Brien on late night television about the additional "slurping noises" she recorded in the studio. Perhaps Epstein and Friedman can pull this off ethically, finding a way to tell Linda's story without contributing to her exploitation. Maybe the Sundance audience will walk away with an understanding of rape culture, rather than just adding insult to the physical and emotional injuries she sustained. That would be a nice legacy to associate with the memory of Linda Lovelace, but don't bet your lift ticket on it.
---
* This post originally stated that Arizona Judge Jacqueline Hatch made comments in regards to a case about rape, not sexual abuse. We regret the error.